Liberian legislature must ensure Lands Rights Act protects rural landowners
A Statement Issued By Global Witness
Global Witness calls upon the Liberian legislature to pass a Land Rights Act (LRA) that protects the land rights of rural Liberians and reject any versions of the LRA that strip rights from these communities. Jonathan Gant, Global Witness campaigner said: "The LRA, if passed, should recognise that communities own their land and ensure local communities – and only local communities – have the power to say where their lands are and how they should be managed." Global Witness believes that any Act that does not protect the ownership and management rights of rural landowners should be rejected by the legislature. If the legislature passes a law that does not protect these rights, the law should be vetoed by President Ellen Johnson Sirleaf.

Syria: A Testament To International Moral Bankruptcy
By Dr. Alon Ben-Meir
Much has been written about Syria's civil war which has engulfed the country for the past six years, but sadly the mounting death and destruction in Syria has long since become mere statistics. The international community grew comfortably numb to the horror, the likes of which we haven't seen since World War II. Both internal and external players have been nurturing their vested interests by prolonging the deadly conflict, hoping to improve their position to serve their long-term objectives. The irony is that none of the external main players - Russia, Iran, US, Turkey, and Saudi Arabia - and the domestic actors (the Assad regime, Sunnis, and Kurds) will end up with such lasting gains that outweigh the horrifying losses that have been inflicted on the country and its citizens.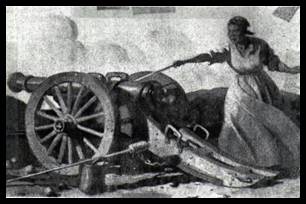 The Matilda Newport Historical Lie
Liberia's Congor and Country Divide Is What Racism is to America!
By Siahyonkron Nyanseor
There is this African proverb that says: "The first thing a person who is about to travel put in the suitcase, is his/her behavior". A person's or a group's behavior cannot be hidden for long. This was the case with the former slaves that migrated to present day Liberia in search of freedom and dignity; yet they brought with them the inhumane prejudices they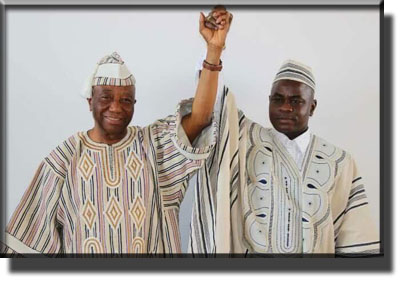 VP Boakai (L) & Speaker Nuquay (R)
Unity Party Campaign "Dream Team": Where Is The Platform?
Editorial
At last, a campaign team for VP Joseph Nyuma Boakai's bid for the presidency in the ensuing 2017 General Elections has been constituted. Considered in some quarters as his dream team, it comprises high - profile Boakai supporters, and we are told that more names may be added to the list. In a word, this is a good start although it is apparently a little too late. But, we would have imagined, what Liberians and Boakai well-wishers want is not a mere list of names comprising, perhaps, a combination of credible and corrupt individuals alike lining up for a job fair. Liberians are longing for a plausible cum achievable platform, an expressed set of core goals about how the VP is going to tackle the country's numerous socio-economic and political problems if elected a successor to President Sirleaf.
Who Will Be Liberia's Next Imperial President And How?
By James Thomas-Queh
I had been wondering why an American official made a statement recently that the United States does not support anyone candidate in the Liberian elections. Now I guess it was to pre-empt the Madam that as a "democratically" elected President she should not be going around like some dictator telling her "colleagues" who will inherit her throne. Instead, she should have been reassuring them that the Liberian voters were mature and wise enough to elect the best leader to succeed her and rule the country effectively.
Contribution to the Ongoing Debate over Dual Citizenship
By Kpan S. Dinko
The intense conversation regarding dual citizenship reminds me of the Liberian proverb, "Teeth and tongue may fight; they cannot separate". Indeed, how many times during their occasional battles in our mouths haven't we felt an excruciating pain? You see, when God created man, by design, God intended each part of His handmade to work together. One may ask, why? The answer is found in that aforementioned proverb. And, for example, organs such as the mouth, cheek, tongue, teeth and throat need each other like links on an assembling line in a manufacturing plant. Thus in order for them to perform as Our Almighty Father stipulated they have to cooperate
The Kurds' Treatment In Turkey Is Indefensible
By Dr. Alon Ben-Meir
The below article is a response to a public letter written by Ibrahim Kurtulus, criticizing my previous article about the plight of the Kurds in Turkey. Kurtulus is a member of the Federation of Turkish American Associations, Inc. You can find a link to his letter in full here.
Liberia's 170th Independence Day Oration, "Sustaining the Peace" by Herman Brown
Reaction by Joseph Johnson
The Orator has a good topic for all Liberians, especially for those who the political and the social system has cruelly relegated to the rank of chronic poverty and growing inequality in our midst. But my great disappointment is that Dr. Browne has killed my interest in his oration when he chose to use a contemptuous Liberian national anthem as thesis statement for his topic: "with hearts and hands our country's cause defending; we meet the foe with valor unpretending." I make this argument for reason simple and clear is that the national anthem contains bitter and hateful language of ungrateful Konguah or Americo-Liberians.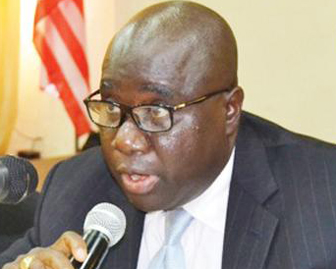 Jerome Korkoyah
Liberia October 10, 2017 Elections May Be Undermined By A Flawed Voters Registration Process And Unreliable Voters Roll
By John H.T. Stewart Jr
This piece is intended as a wake-up call to all civil society leaders including religious leaders, political leaders and aspirants in the upcoming elections to look ahead to see the immense potential danger that awaits us as a nation if we do not correct the huge mistakes made in the Voters Registration exercise that have now produced a non-credible and highly unreliable Voters roll.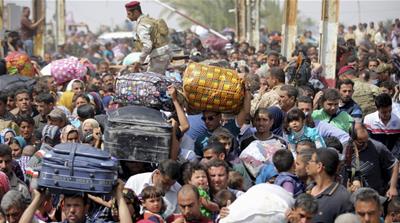 Ending Iraq's Humanitarian Crisis
By Dr. Alon Ben-Meir
Iraq, once the cradle of civilization, has and continues to experience one of the most horrific violent conflicts in modern history that defies any semblance of civilized humanity. It is hard to imagine the mammoth death and destruction that has been inflicted on the Iraqi people by foreign powers and domestic terrorism. Yet, the country can still overcome the horrors of the past 14 years, provided its leaders correctly reassess the changing regional and domestic dynamics and agree to allow all Iraqis, regardless of their sect and cultural orientation, to choose their own political and civil structure.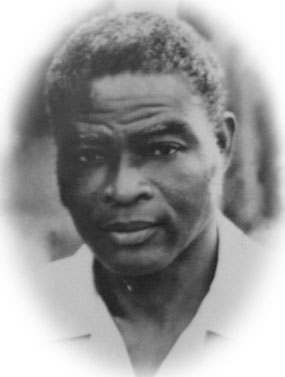 Philip Robinson
(A Liberian Soccer Star)
Saying Goodbye to Philip Fanieh Robinson, a Liberian Football Giant
By Benedict Nyankun Wisseh
In recent years, the Liberian football community has lost some of its most prominent individuals to death in recent years. Those who have travelled that road gently are Mass Sarr, Garretson Sackor, John "Monkey" Brown, George Sackor, Gladstone Ofori, David Momo, Philip "Cocha" Davis, etc. They have now been joined by Mr. Philip Robinson. Mr. Robinson's family, with the deepest of sadness, announced to the public that he passed away on July 14, 2017, at the Hopkins Manor Nursing Home in Providence, Rhode Island.
Abraham and the Angels: Rembrandt at the Frick Collection
By Sam Ben-Meir, Ph.D
Visitors to the Frick Collection in New York City will likely be familiar with the magnificent Self Portrait (1658) of Rembrandt that hangs in the main gallery. The artist presents himself as an imposing father-figure, like some patriarch of old. His dress is formal, and utterly distinctive – a gold apron, a red sash – while his prominent and imposing hands proclaim his trade. And yet beneath that intimidating, almost royal, exterior is an unmistakable vulnerability, a strength borne of having suffered life's calamities, and emerged from the awful trials that the world inflicts upon one and all.
Open Letter to:  All Liberian Nationalists, Progressives, Clergy and Patriots
By J. Patrick Flomo
Eight score and ten years ago, Liberia was conceptualized, conceived, and birthed as the land of freedom, liberty, and dignity of man. For the freed black American slaves, it symbolized release from the scourge and the bondage of human slavery in the American South. The American Colonization Society (ACS) established this new nation, the second black Republic in history, on the West Coast of Africa, bringing the autochthonous into the realm of western civilization.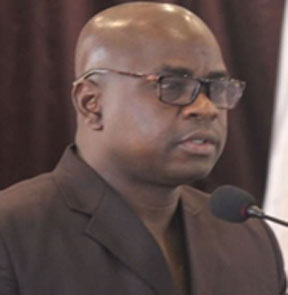 Speaker Emmanuel Nuquay
Open Letter To Speaker Emmanuel Nuquay
By Martin K. N. Kollie
Liberia Belongs to Liberians – As the House of Senate violates Chapter V Article 34 of our Constitution to protect foreign interest; the House of Representatives must reject US$59.5 million Pre-Financing Loan Agreement in favor of a bogus Chinese-owned Company, East International Group Incorporated.
Liberia: Transformative Social Change Through Youth Development and Sustainable Agriculture
By Francis W. Nyepon
The most vital and clear-cut pathway to propelling transformative social change and inclusive growth in Liberia is through youth development and sustainable agriculture. It is no secret that agriculture is the backbone of our economy with over 80% of our people living in abject poverty, earning less than US$2 per day, and relying primarily on small-scale subsistence farming as their primary source of income, food, nutrition and survival.
The Euphoria Of Independence Day Celebrations
By Bai M. Gbala, Sr.
On yesterday, Wednesday, July 26, 2017, we, Liberians, celebrated the 170th Birth Anniversary of the Liberian Political State, with the usual, historical pomp and pageantry. The back-slapping, family gatherings, gifts-giving and merry-making festivities of self-praise, feel-good and self-glorification now leading to another political hoopla for vote-rigging planned for the forthcoming general and Presidential Elections, scheduled for October, 2017.
Gaza - A Disaster In The Making
By Professor Alon Ben-Meir
It has been ten years since Hamas defeated the Palestinian Authority in Gaza and assumed control over the territory. Today, the socio-economic conditions in Gaza are so horrendous that if nothing is done immediately, the whole area is bound to explode in the face of Hamas, Israel, and the international community. When that happens, you can count on Israel's and Hamas' leaders to blame the other for allowing the situation to deteriorate to this perilous point. Both sides are equally guilty of an egregious betrayal of their own people.
Consolidating Sustainable Liberian Communities in the Diaspora
By Dr. Al-Hassan Conteh, Ph.D
I would like to thank the Executive Governor Kaduna State, His Excellency Malam Ahmad Nasir El-Rufai, for the kind hospitality that his dynamic government accorded me and my delegation, and the Organization of Liberian Communities in Nigeria (OLICON) in Nigeria to facilitate its second annual convention in this productive city of Kaduna.  The relationship between Kaduna and Liberia may be seen in the role Kaduna State and its leaders have played in promoting the bilateral relations of Nigeria and Liberia...
Liberian Presidency Transfer: "Who Owns Papa's Land?"
By J. Yanqui Zaza
Hopefully, Liberian Presidency will be transferred on October 10, 2017 to a Native person or a Congo person. Appropriately, he or she will receive all of the emoluments of the presidency; twenty-one gun salute, speaking and negotiating on behalf of the Nation-State, attending and visiting official nations and conferences, etc. The question is will the new President have the will power to get a reasonable share of the revenue from the "Papa's Land" in the form of government revenue to finance infrastructure, education, social programs, etc. similar to the kinds of benefits Botswana government gives to its citizens.
Open Letter: Weep Not, Mama Liberia!
By Abraham M. Keita
Monday, July 26, 1847, it was - you seized the moment and declared unto yourself independence, making you the first African and second black nation to do so. On that day, freed slaves became founders of a nation – a near-nightmare and impossibility for those once sold into slavery, hopes were born and dreamers thought their dreams of freedom, liberty and equality could now be realized.
Liberian Democracy and the Scourge of Political Patronage
By Joe Bartuah
The 2017 general and presidential elections slated for the second Tuesday in October, as mandated by our organic law, will offer an almost unprecedented moment for power brokers in the country and the  Liberian electorate at large, to be manifestly assured, or to assure themselves, that every bona fide citizen of the country who has attained the requisite age, qualification and competence, actually has an equal opportunity in seeking the presidency, irrespective of one's socio-economic, political, or ethnic background, if such person is preferred by a majority of the voters, as might be reflected in their vote.
Definition Of Politician In Liberian Parlance
Sonkarley Tiatun Beaie
In a contemporary Liberian society, many people often misconstrue the meaning of politician and define it in any way to appraise their political agenda or at their individual levels of understanding. I hesitated once in addressing my audience when this question, "Would you consider yourself to be a good politician for Liberia?" was posed to me. First, my mind was focused on Webster's definition, but remembered quickly that my mother and sister who couldn't distinguish between a pen and pencil...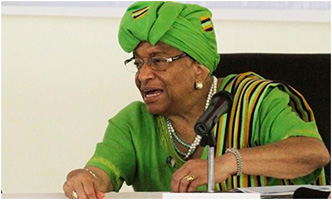 President Ellen Johnson Sirleaf
CODE OF CONDUCT AND POOR LIBERIA: A nation dubbed and manipulated for 12 years 'til the end
By James Thomas-Queh
The National Code of Conduct (CoC) - a 22-page document - should have been this regime's Magna Carta to moralize Liberia's political life now and the future. It should have been signed by every government official, framed in gold and hanged along with the picture of the imperial President behind the desk of each state  official and in all public places for posterity. But, like all the hundreds of national documents and agreements drafted with millions of dollars evaporated in thin air - while the nation is abandoned to bleed and suffocate in mass poverty, hopelessness and disorder - it too was forgotten since enactment in 2014.
A Nation of Irony, Misery and Obscurity after 170 Years of Independence
By Martin K. N. Kollie
Another Independence Day is just 48 hours away, but what is there to celebrate? Independence Day is not just about celebrating age, but celebrating fulfilled promises. Our sovereignty as a country goes far beyond THE DECLARATION OF INDEPEDENCE. It epitomizes how far we have come as a nation in terms of achieving genuine prosperity, reconciliation, peace, justice and equality. It commemorates socio-economic parity and eulogizes political freedom. Is Liberia different from what it was 170 years ago? The fact after almost 2 centuries is that Liberia and Liberians are free on the PAPER, but not free in RELITY. Independence is not merely about celebrating age in poverty and misery, but celebrating longevity in prosperity, equality and justice for ALL.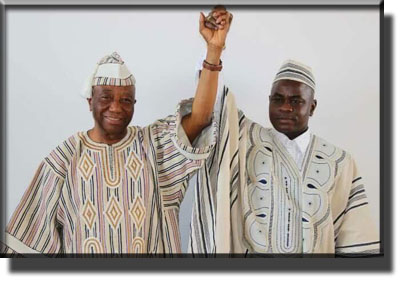 VP Boakai (L) & Speaker Nuquay (R)
Dissecting Winners & Losers In Boakai's Vice Standard Bearer Pick - Part II
By Sherman C. Seequeh
Despite the few riotous reactions to the opinions in Part One, there is something crystal clear beneath the dark armpit of the UP architecture: Unity Party as it was before the Nuquay pick, along with all the euphoria for a Boakai presidency from within and without, is never going to be the same again. Crisis has set in. Disgruntlement never thought off is seething about. Harmony has shrunk and ongoing efforts to downplay the aftereffects of the Nuquay selection and to heal the resultant internal disquiet and instability will hardly return the party to status quo ante.
Liberia Nation-State: A Ticking Time-Bomb
Given the century-long, continuous path of hypocrisy and political infidelity by the nation's political rulers, the Liberian State is heading to an explosion much, much more deadly and all-inclusive than we have seen and experienced in the past, we argue and predict that, if and only if, nothing is done, now, to arrest and prevent the prevailing risen/rising level of lies, deceit, thievery, dishonesty, graft & greed, and indeed, general moral decadence on the part of the very same political rulers and their associates.
Afghanistan: A Morally Corrupting War
By Professor Alon Ben-Meir
Sixteen years have passed and we are still fighting a war in Afghanistan which is not only the longest in American history (at a cost approaching one trillion and the blood of thousands of brave soldiers), but one which is morally corrupting from which there seems to be no exit with any gratification but shame. It was necessary to invade Afghanistan to destroy al-Qaeda following 9/11, but once it was defeated we should have departed, leaving behind some residual forces to clean up the mess.
Maintaining The Peace And Keeping The Tolerance, The Best Option For All Liberians
Daniel Tlokon Bestman
It was to raid The Americas of black domination after the abolition of Slave Trade, that the U.S. Congress through public opinion passed a resolution in 1819 to empower the American Colonization Society (ACS) to purchase a land for the establishment of the territory called Liberia today. One Hundred Thousand United States dollars (US $100,000) obtained from American citizens taxes was given to the ACS by the U. S. Government for the establishment of a land that could host the replica of her creed ---her flag, anthem, allegiance pledge, justice system, bicameral legislature, and constitution etc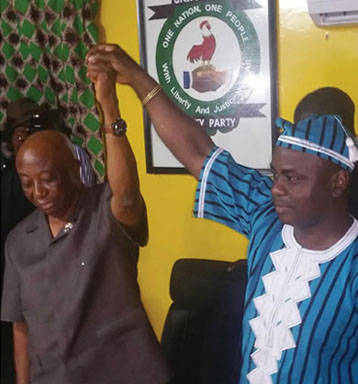 VP Boakai (L) & Speaker Nuquay (R)
Photo - Courtesy of FPA
Dissecting Winners & Losers In Boakai's Vice Standard Bearer Pick - Part 1
An Analysis By Sherman C. Seequeh
Nothing eloquently exposes the hollowness of Unity Party's sermonized pledge of forming a coalition of new progressive forces, others call it rainbow forces, towards building an inclusive government than Vice President Joseph Nyumah Boakai's vice standard-bearer pick. The political sermon paraded by proponents of the party before the deadline-choked pronouncement of Margibi County's Emmanuel Nuguay was that a new Unity Party was being built to replace President Ellen Johnson Sirleaf's "exclusive and vindictive regime" - a regime they believe hardly forgives its critics and which keeps traditional political foes on the national leadership margin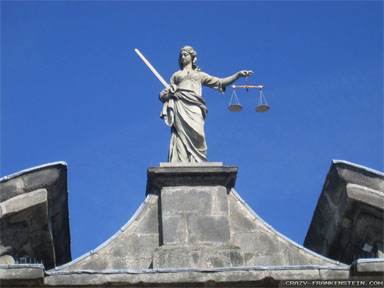 Revelations And Discoveries: New Perpetrators Listings For Potential War And Economic Crimes Prosecutions In Liberia
By Jerome J. Verdier, Sr.
The Truth and Reconciliation Commission (TRC) process and its recommendations did not identify these perpetrators at the time because of limited time and resources. Notwithstanding, the TRC Report recommended further investigations, which are now currently ongoing, into the activities of perpetrators who lied to the TRC, avoided the TRC or were completely unidentified by the TRC. And under these recommendations, any persons, perpetrators, groups or individuals found to be in the same position or standing before the TRC process as those already named or identified by the TRC, are subject to the same findings, determinations and recommendations of the TRC...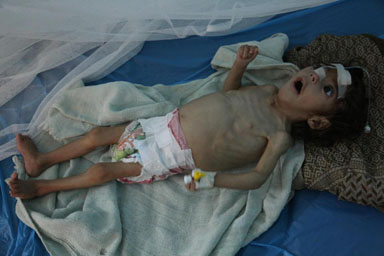 Yemen's Calamity Is Of Damning Proportions
By Professor Alon Ben-Meir
It is hard to imagine that along with the catastrophe that has been inflicted on Syria for the past six years, another calamity is unfolding in Yemen of damning proportions while the whole world looks on with indifference. What is happening in Yemen is not merely a violent conflict between combating forces for power, but the willful subjugation of millions of innocent civilians to starvation, disease, and ruin that transcends the human capacity to descend even below the lowest pit of darkness, from which there is no exit.
Liberians Deserve To Own And Control Their Economy
By: Tibelrosa Summoh Tarponweh
Foreign control of Liberia's economy, especially essential businesses is not only a threat to the social and economic development of our citizens, it is a significant national security risk that if left unaddressed, will continue to deprive and subjugate Liberians, thereby reducing them to be mere spectators of developments in their country. This is a violation of their basic rights. Liberians must own and control their economy that would allow them to succeed in their country and ensure the safety and prosperity of the nation. I am not against foreign investment, who would be? But it has to be done in a way that embraces our foreign partners while at the same time ensuring Liberians' ownership and control of the overall economy.
The People Must Have a Victory Against the Money and Power greedy President & Lawmakers
A Letter to the Editor from Moses Uneh Yahmia
While 34 out of 38 members of the House of Representatives voted in favour of granting a national counterproductive tax break favouring a Lebanese business firm, some senators have rejected the president's request to grant such an anti-country tax incentive to her foreign crony. We want to not only commend the resilience of those leaders who stood against the Madam Ellen's kleptomaniac but we are also urging those senators to remain firmed on their decision to ably protect the interest of this land and it's people and graduate from protecting foreign monopoly capital against ordinary Liberian entrepreneurs that are left struggling.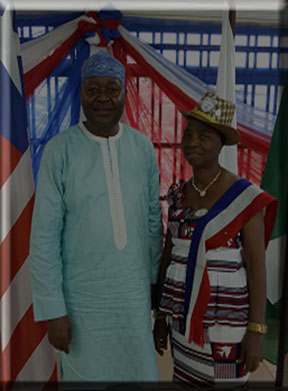 Amb Conteh & Mrs. Mulbah
Liberian Nurses End Conference in Abuja; Take Leave of Ambassador
Source: Liberian Embessy, Nigeria
Bidding farewell to the Liberian Ambassador to Nigeria, Professor Al-Hassan Conteh, in Abuja on Saturday, the nurses expressed their gratitude to the Ambassador and staff for receiving them at the Embassy.  Speaking on behalf of the group, WACN's Liberian Chair, Mr. Joseph Gono, lauded the Ambassador for the reception in their honor, the release adds.  He praised his colleagues for the organized and competent manner in which they participated in all the College's deliberations.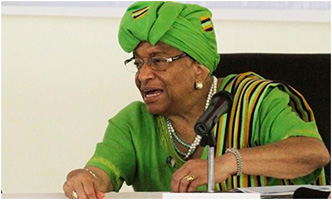 President Ellen Johnson Sirleaf
The Proliferation of Gambling in Liberia: A Promise Betrayed - Can President EJS Salvage her Legacy?
By Martin K. N. Kollie
Engraving a heroic legacy is historically fundamental to almost every President or Head of State especially when his or her tenure is ending. The interest of every patriotic leader is to leave behind a legacy full of dignity, pride and public honor. Time is running out for Africa's first female President to salvage her legacy after almost 12 years of democratic rule and 14 years of ceaseless peace.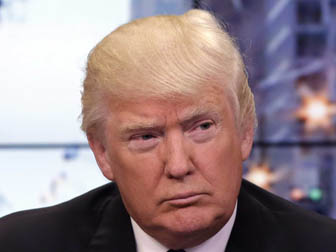 President Donald Trump
We The People Hold These Truths To Be Self-Evident...
By J. Patrick Flomo
We the People Hold These Truths to Be Self-Evident. This is the quintessential refrain that has caused people everywhere to perceive the United States as a "Shining City upon A Hill" from George Washington to Barack Obama. This pedestal of American iconic standing or perception has been blighted by the most un-American presidential character (in the last 50 years) --- telling lies as President of the United States.   Does this iconic American phrase have any intrinsic value meaning to conservative Republicans and the religious, right?  What is perplexing is that under George W. Bush, the United States sunk to its lowest position in the international perception since WWII.  It took Barack Obama five years to restore America's standing in the world as a defender of democracy and international security. 
The Lebanese-owned Farmington Hotel that is set to get 30 years tax break in Liberia
Liberia: Lebanese Businessman Abi Jaoudi's Gold Mine with Aunty Jenny Bernard presiding as 'de facto' Prime Minister - Part 1
By Martin K. N. Kollie
When voters cast their ballots for political predators and economic vultures, they self-crucify themselves and bear the excruciating pain thereafter. Such is the case with Liberians, especially eligible voters. Can any Liberian-owned hotel be given even 1-year tax holiday in Lebanon even after investing US$20 million? Can any Liberian construction company get even US$1 million contract to pave a 1-mile interior road in Lebanon? Can a Liberian businessman be given the leverage to import even toothbrushes to Lebanon? Liberia has become a mafia state under Nobel Laureate EJS.
The Kurds Under Erdogan's Tyrannical Governance
By Professor Alon Ben-Meir
Tens of thousands have been killed over 40 years of bloodletting between Turkish forces and the Kurdistan Workers' Party (PKK), and tragically there seems to be no end in sight. In May 2016, President Erdogan stated that military operations against the PKK will continue until "the very last rebel is killed." What is alarming about Erdogan's statement is that he still believes he can solve the conflict through brutal force. Erdogan does not understand that he cannot wish the Kurdish problem away—a problem that will continue to haunt him and the country for countless more decades unless a solution is found that respects their cultural and fundamental human rights.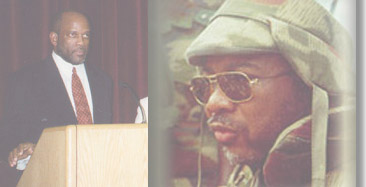 Charlie Brumskine & Charlie Taylor
Insider Trading NASCORP Admits paying US$1.4million for Brumskine-Karnwea's Dead Company Takeover - New Democrat
The state, through the National Social Security and Welfare Corporation (NASCORP) used US$1.4million to reorganize a collapsed company with link to the presidential candidate and vice running mate of the opposition Liberty Party, the corporation officials have disclosed.Mr. Harrison Karnwea and Cllr. Charles Brumskine are owners of the Nimba Rubber Incorporated; the firm established four months after the March, 2016 labor unrest at the Cocopa Rubber Plantation Company.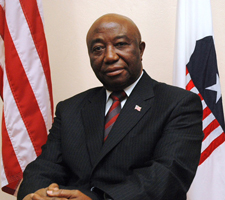 Vice President Boakai
Open Letter To Vice President Joseph Nyumah Boakai
By Martin K. N. Kollie
In search of a flourishing democratic space with new hope which propels our nation towards an irreversible dais of equality, justice, economic freedom, national unity and peace, I profoundly bring you thoughtful compliments ahead of Liberia's 170th Independence Day celebration. With just 21 more days for Liberians in country and abroad to memorialize yet another Independence Day, I thought to cautiously evoke your conscience as a prominent statesman whose voice and action could change a lot in Liberia. With confidence and optimism, I hope you embrace this communiqué in good faith.
Donors, EU, IMF, UNDP, USAID & WBank: The Problem Of Dependency And Under-Development In Liberia
By Bai M. Gbala, Sr.
While we appreciate and welcome direct foreign investment and donor assistance in Liberia, but we argue that Donors, EU, IMF, UNDP, USAID, WBank, etc., constitute the main "bag of bribery, corruption and related, political/economic ills" that keep Liberia and other developing countries in the state of continuing, continuous dependency and profound under-development.
The Lebanese-owned Farmington Hotel that is set to get 30 years tax break in Liberia
The Crucifixion of Liberianization: Why Give a Whopping 30-Year Tax Break to a Lebanese-owned Hotel?
By Martin K. N. Kollie
In a bid to be re-elected in 2011, Africa's first female President signed an official contract with all Liberians through a solemn pledge consisting of twenty promises. As part of those 20 promises, these were Madam Sirleaf's words to all Liberian voters during the campaign period in 2011...
The Capitalism And Socialism Debate
By J. Yanqui Zaza
Many thanks to you all for your contribution to this important debate. Well, brother Sylvester Moses, I assume that Mr. Andrew Worth does not share your view that many countries have instituted a mixed economy. For instance, the United States provides welfare programs for the poor and it also assists big businesses through cash contributions during financial meltdowns (i.e., 2008 financial debacle) or it initiates and, or finances research, which ends up generating huge profits for companies such as Microsoft.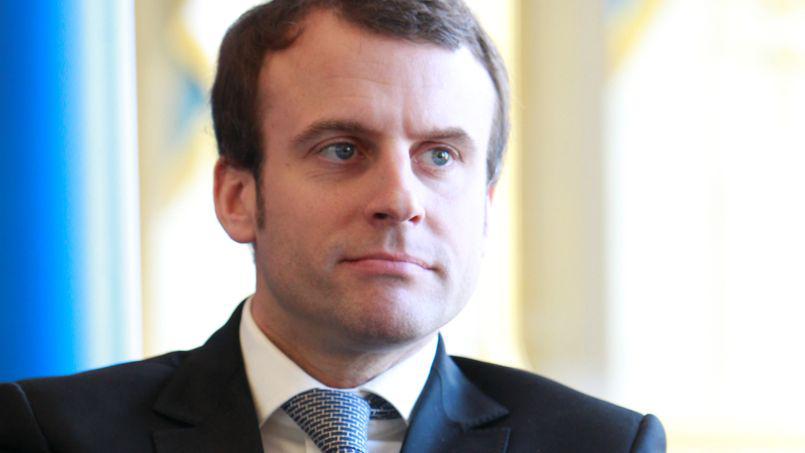 Pres. Emmanuel Macron
The Israeli-Palestinian conflict and the role of President Macron
By Gilles Pargneaux, MEP, and Professor Alon Ben-Meir, New York University
Over the years, the Israeli-Palestinian conflict has been characterized, and for good reasons, as the most intractable and irreconcilable conflict since the Second World War. The status quo erodes every day the prospect of a solution, but the changing geopolitical winds in the Middle East have created a new opportunity to resume peace negotiations. The newly elected French President, Emmanuel Macron, has a golden opportunity to take up the initiative on the basis left by his predecessor.
| | |
| --- | --- |
| Karl Marx | Adam Smith |
World Leaders Condemn Capitalism. Africa Or Liberia, Which Way?
By J. Yanqui Zaza
Is capitalism having a bad coverage? Well, many voters under capitalism are having more doubts about the benefits of this economic system or "trickle down theory." In a 2016 Poll, Harvard University found that 51 percent of young American voters rejected capitalism and have positive views about socialism, similar to the conclusion of the 2011 Pew Poll. President Donald Trump, then U.S. presidential candidate stated that, "America's economic system is rigged;" U.S. Senator Bernie Sanders stated that had Americans been under socialism the price of a medicine would not have increased from $40 in 2001 to $40,000 in 2016. In the 6/14/17 NY Times newspaper, he concluded that capitalism "is a dismal failure."
Bridging The Gap And Going Beyond Rhetoric To Protect Liberian Children
By Martin K. N. Kollie
With immense pleasure and honor, I am glad to be with all of you to celebrate the resilience of the African children worldwide. On this 26th anniversary of the Day of the African Child, we have assembled once more on this ELWA compound to reaffirm our unhindered commitment to protect the rights and welfare of every child in Africa and Liberia. In memory of this historic occasion, we have come to pay homage to Liberian children and renew our promise once made to them.
The Last Thing Lawmakers Must Do – The Masses Are Watching Ahead of 2017 Election
By Martin K. N. Kollie
Why give a 30-year tax holiday or tax break to a Lebanese hotel – The Farmington Hotel owned by Lebanese businessman George E. Abijaoudi when no Liberian-owned hotel has even received a tax holiday for 1 year or even 6 months? Why go into a US$59.5 million Pre-Financing Loan Agreement with a bogus foreign company and at the same time serve as a guarantor with just 6 months to go? With few months to go, there is a huge rush to bag millions without any respect for established laws/rules and the sense of patriotism.  The LAST THING lawmakers must do is to reject these shady deals, 4G agreements and glaring economic conspiracy against the people's interest.

After Fifty Years Of Occupation, What's Next: An open letter to President Mahmoud Abbas
By Alon Ben-Meir, PhD
Last week I sent an open letter to Prime Minister Netanyahu, criticizing him in the strongest terms for pursuing policies that prolong the occupation of the West Bank rather than searching for ways to end it by resolving the Israeli-Palestinian conflict based on a two-state solution. I must hasten to say, however, that you, along with Hamas' leaders, have contributed your own share to the continuation of the occupation that has deepened the plight of the Palestinian people.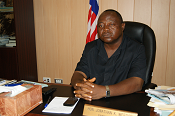 Jonathan K. Weedor
Commissioner, NEC
NEC Commissioner Jonathan Weedor Decries Chairman Korkorya's Scam That Will Lead To Rigged 2017 Elections In Liberia
Position Statement Issued By Commissioner Weedor
On 14 Ju.ne 2017 at a Press Conference, NEC Chairman Jerome Korkoya announced that individuals with Voter Cards who are not captured or  listed on the final Registration Roll will be permitted to vote during the pending October 10, 2017 Elections. Chairman Korkoya's statement was in response to the alarming problems associated with the current provisional Registration Roll as discovered during the ongoing exhibition exercise. It is important to emphasize that the essence of the exhibition exercise is to provide individuals who participated in the Voter Registration exercise the opportunity to vet the provisional Roll aimed at establishing a final Registration Roll that is reliable and credible
President Sirleaf Is Installing Charles Walker Brumskine To Run Liberia (The Congua Money Making Plantation)
By Jerry Wehtee Wion
I hope it is not too late now for crying out loud. I have organized and led protest rallies against Ellen at the United Nations in New York City and in front of the White House in Washington, DC, but Liberians are always "too busy working" to show up. Then they ask you, "how many of you were at the protest?" I then tell them everyone was there except YOU.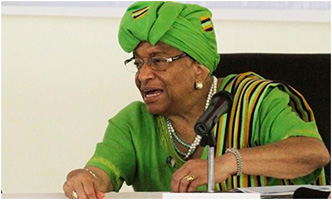 President Ellen Johnson Sirleaf
Our Reaction To: "Natives Are Not Perfect…"
By Bai M. Gbala, Sr.
We admit that many of us, indigenous Liberians, who fled from our home towns and villages of Rural Liberia, mainly, to the Capital City of Monrovia for the purpose of education, economic betterment, personal growth and development in preparation for service - public or private - have become unmindful of that responsibility after achievement of education,  joined the traditionalists, the African-American, immigrant-settlers or Americo-Liberian Rulers, in exploitation of the citizens, the overwhelming majority of the nation's population for socio-cultural, economic and political gain. But they were not allowed national policy-making power and authority, only emerged/emerging political, indigenous class.
Open Letter To President Ellen Johnson-Sirleaf
By Martin K. N. Kollie
Madam President, I read a headline story published in The In Profile Daily Newspaper on May 29, 2017 titled "Questionable Contracts". This publication is implicating Ministry of Public Works into a web of Conflict of Interest with a foreign Chinese-owned company – East International Group. As an advocate, I chose not to anchor my thoughts only on what was published in The In Profile Daily, but to go beyond by digging out some fundamental facts.

NDC Takes Jerome G. Korkoya To Court
A Press Release Issued by NDC
In furtherance of its resolve to remove Jerome George Korkoya as Chairman of the National Election Commission due to his illegal and dubious citizenship status, the National Democratic Coalition (NDC) and other collaborating parties have finally dragged the NEC criminal suspect to court. We have prima facie evidence that the current Chairman of NEC is an American, not a Liberian citizen. Dual citizenship is illegal and is criminal in Liberia. He lied under oath to be confirmed by the Liberian Senate as Chairman of NEC. As a foreign citizen serving as the Chair of NEC, Korkoya has also violated the much talked about Code of Conduct, which he promises to enforce to the letter.  These, among other violations, make Korkoya a criminal suspect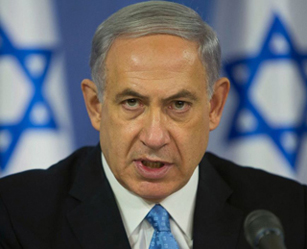 Prime Minister Netanyahu
The Unfinished Six Day War: An open letter to Prime Minister Netanyahu
By Alon Ben-Meir, PhD
Since you celebrated the fiftieth anniversary of the victory of the Six Day War, did you ponder what this triumph has done to the Palestinian people and to the moral character of the state of Israel? I am not sure how harshly history will judge you, but one thing is certain - I, like millions of Jews around the world, deeply believe that no prime minister of Israel has done more damage to the country's future security and wellbeing than you have. The sad irony is that for you, the facts on the ground are freely expungable in your morally distorted universe.
Dr. Togba-Nah Tipoteh
Tipoteh takes Korkoya to Court
AND NOW COMES PETITIONER IN THE ABOVE-ENTITLED CAUSE OF ACTION and petitions this Honorable Court for a writ of prohibition against the hereinabove-named respondent for the following legal and factual reasons, to wit:That petitioner is a citizen of Liberia that is historically known for standing up for justice, peace, human rights and upholding the law for more than Forty Years (40) of his life through the work of the Movement of Justice for Africa (MOJA). The court is respectfully requested to take judicial notice of this   publicly known and undoubted historical fact.
2 Political Blocs I Dislike In 2017 Elections
By Sherman C. Seequeh
Let me venture into a seemingly potentially catastrophic political terrain today: talking about highly sensitive stakes and about desperately determined political blocs in the crucial 2017 election. No doubt, everyone has his political dislikes and the reasons for them in any elections. I do have mine which surely overarch and resonate with many Liberians. The difference is, others dare talk about them openly as I do now. Despite the swarm of political parties toward election date and all the claims of one being different from the other, a careful scrutiny narrows them all. And that comes out in two great wars that will be fought but silently or subtly - not overtly.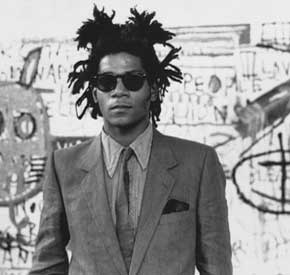 Jean-Michel Basquiat: The Anatomy of Suffering
By Sam Ben-Meir
ROME, Italy - The Chiostro Del Bramante, a cloister-turned-gallery in the heart of Rome, is currently presenting "Jean-Michel Basquiat: New York City" – a generous selection of work spanning the short, but immensely prolific, career of this extraordinary artist. The extensive exhibition includes nearly one hundred significant works on loan from the Mugrabi Collection, which includes acrylics and oils, as well as drawings, silkscreen prints, and ceramics completed between the years of 1981 and 1987
Korean Elites Thwart Reform; So Do Liberian Real Estate Owners Too?
|By J. Yanqui Zaza
The rapid increase in rent or mortgage, which makes up a significant portion (45%) of the high cost of living (www.citylab.com), is making life difficult for citizens as well as governments around the world. And the high cost of living, experts complain, creates an unfavorable economic environment for good-paying job-investors. Instead of debating a reform policy in order to reduce the housing cost, politicians look for a scapegoat.
On The Destruction Of Public Institutions A Reaction To New Democrat Editorial
By Bai M. Gbala, Sr 
In an Editorial entitled The Destruction of Public Institutions in Liberia, the newspaper New Democrat ( May 22, 2017) moans "Liberia's backwardness rooted in an indecent culture wherein  thieves, murderers and hyper dishonest people are celebrated and often rewarded with public (government) offices". The Editorial chronicles the events that:
Trump's 'Historic' Visit To The Middle East: Much Ado About Nothing
By Dr. Alon Ben-Meir
Sadly, President Trump's visit to the Middle East only confirmed my skepticism about what might come out of it. Trump went to the region with nothing to offer to mitigate the Israeli-Palestinian conflict and received no commitment from either Israeli or Palestinian leaders to resume the peace negotiations in earnest, but he received lots of platitudes and empty good-will gestures.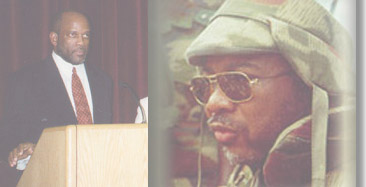 Charlie Brumskine with Charlie Taylor
Small And Narrow Minds: The Real Disease In Liberia?
By Jones Nhinson Williams
Some sicknesses are physical and others are psychological. And when you talk to theologians or pastors, Imams, and Rabbis, they might tell you to add morality and spirituality to the list. Liberia is a unique and pitiful environment because our real sickness is not that we are that bad a people, or that we don't have a human mind and the five senses needed to think and solve our internal social, economic, political and lack of development problems.
Advice To Liberian Presidential Candidates
By: Jarwinken Wiah
Legacy-driven leader: The Liberian people are looking for a "fighting president." The fighting president is the one that is willing to fight to give all Liberians "equal fighting chance" for better livelihoods. He or She is the one who is willing to summon a new dawn to mark a renewed beginning for Liberia by ending the "semi-godly presidency" and the "oligarchy governance structure", which is now in place.
People's Response To Liberty Party PolicyOn Anti-Corruption
By Bai M. Gbala, Sr 
In an article on corruption, entitled, Anti-corruption Policy Speech (Analyst Liberia, May 12, 2027), "Small Brother" Charlie Brumskine, Counselor-at-Law, Political Leader of the LIBERTY Political Party and declared Candidate for President of Liberia, wrote what is an apparent LIBERTY Party's major diagnostic policy prescription on "combating corruption", the universal vice declared as "Liberia's public enemy no. 1" by the nation's current President.
What's education without a flicker of light?
Monrovia- Electricity plays a cardinal role in every thriving nation and the ones on its road to recovery. For the private sector, it's considered the key to an economic boom. Without it, industries cannot be built and powered to keep the wheels of the economy turning. Kids cannot learn in dark classrooms during the rainy season when the weather is all but good. Market women stretching out their services till the night hours feel safer with a fluorescent bulb to keep them safe and visible.
Some Thoughts On African PhDs
By Bai M. Gbala, Sr 
In her recent article, Reshaping African PhDs (New Democratnews, May 18, 2017), Vice Chancellor Cheryl de la Rey of the University of Pretoria, South Africa, underscored "The growing recognition that knowledge and innovation are critical contributors to national wealth and welfare, postgraduate education – specifically doctorial training – has become a priority for African higher education". Chancellor de la Rey strikes at the core of 21st century issues concerned with knowledge – classical knowledge for the sake of knowledge, as it were, and/or "knowledge & innovation" as critical contributors to national wealth (Adam Smith) and welfare.
Reviving Israeli-Palestinian Talks Now Will Go Nowhere
By Dr. Alon Ben-Meir 
President Trump's... visit to Israel and Palestine - during which he hopes to revive the Israeli-Palestinian peace process - will go nowhere unless he fully understands the complexity of the conflict and why previous attempts by successive American administrations to negotiate a peace deal have failed. Recently, he stated that "I want to see peace with Israel and the Palestinians. There is no reason there's not peace between Israel and the Palestinians - none whatsoever." Trump's over-simplification of the conflict suggests he has no clue about what it would take to make peace and why the mere resumption of peace talks is dead on arrival.
Unification Monument in Lofa
A Hopeless Unification Day
By Martin K. N. Kollie
Even on a national holiday like Unification Day, the masses were selling coldwater and crushing rock under hot sun while bourgeoisies and elites lavished the nation's wealth at Royal Grand, Boulevard Palace, Palm Spring, Havana Lodge, Kendeja Hotel, Golden Key, etc. Is this how Liberia will be unified? How can we celebrate Unification Day when drug abuse, gambling, rock crushing, sand mining, pen-pen riding, prostitution and begging have become the order of the day?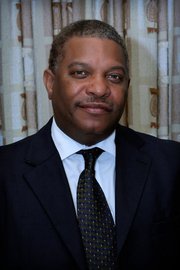 James Sirleaf
Our Response To James Sirleaf's Threat & "Desist Order"
By Bai M. Gbala, Sr 
In a recent outburst, Mr. James Sirleaf, son of President Ellen Johnson-Sirleaf, threatened court action with a "Desist Order" against "former members of the Doe administration".As the visible, former member of the Doe (the late former President, Samuel K. Doe) administration under threat of a court action, I submit this Response to Mr. Sirleaf. In his article, My Reply to Francis Kwarteng (Analyst Liberia, May 9, 2017),Mr. James Sirleaf writes:
The Disunity Of Israel's Opposition Parties Is Serving The Occupation
By Dr. Alon Ben-Meir 
Israel will soon reach on June 5th the grim milestone of fifty years of occupation of the West Bank. Many Israelis have become complacent and succumbed to the government's argument that the continuing occupation is necessary to safeguard Israel's national security. Others are lamenting the day, as they view the occupation not only as a gross violation of Palestinian human rights, but a real menace to Israel's democratic nature and Jewish national character.
Allegiance, Loyalty & Patriotism: The Highest Requirement Of A Politician
By Bai M. Gbala, Sr 
Increasingly, the credibility of the forthcoming 2017 General and Presidential (democratic) Elections is being called into question with the Chairman of the National Elections Commission (NEC), Cllr. Jerome Korkoya, at center of charges and counter-charges that he is citizen of a foreign country, a violation of Liberian law, including elections law.
"Liberia and every Liberian could prosper if public finance is managed in the most disciplined way," Says IMF Christine Lagarde
By Martin K. N. Kollie
In a period of 12 months (FY2016-2017), Liberia is spending over US$10.2 million on just six (6) public offices, namely: President, Vice President, Speaker, Senate Pro Tempore, Deputy Speaker and Chief Justice. The budget of these six offices far exceeds the two biggest referral hospitals in Liberia: JFK Medical Center (US$5.3 million) and Jackson F. Doe Hospital (US$2.9 million). Where does the interest of the people lie? The budget of these six offices in 12 months could pay 571 medical doctors per annum (a doctor currently receives US$18,000 per year in Liberia). Even though Liberia has a broken health sector with just 298 medical doctors to a population of 4.5 million people (1 doctor to 15,100 people in contrast to WHO's doctor-patient ratio of 1 doctor to 5,000 patients),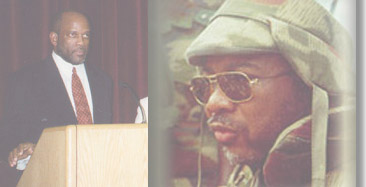 Charlie Brumskine with Charlie Taylor
An Opened Letter to Cllr. Charles Walker Brumskine
By Moses Uneh Yahmia
Cllr Brumskine, as we move towards a very pivotal epoch (October 10, 2017) in our country's existence, I am one of those in the youth and students' community that elected not to dive into superficial political debates. This is because they are immaterial to the poverty and misery of the mass of Liberians. In these ensuing elections, I have always stressed that the debate in our political theatre should always highlight candidates' history of service and the ideas they bring to the table. If this is inculcated in our political culture like in other democracies in the region, it will augur well for us as a nation and people.
The Tragedy of Liberian Media
By Martin K. N. Kollie 
An American Politician, Christopher Dodd once said, "When the public's right to know is threatened, and when the rights of free speech and free press are at risk, all of the other liberties we hold dear are endangered." The media in Liberia remains an integral and indispensable embodiment of our democracy. Allowing World Press Freedom Day to pass on without honoring the legacy, courage and resilience of Liberian Journalists would be a disservice.

Who Do We Follow? The Insipid-Coalitions Or The UP- Continuity Of Leadership
By Daniel T. Bestman
We are approximately one-hundred sixty (160) days plus away to the issuance of the expiration verdicts to those political convicts whose manifestos seem opposite to the plights of the people. The wide range of disagreements and condemnations that have stretched through corridors of the nation's social, economic, and political hemispheres flavored the outcome of these Elections to be crucial and above all a boost for our struggling democracy. Yet, the vast of people are still in a state of dilemma as to who to entrust with power come October 10, 2017.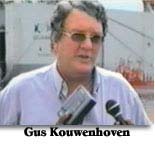 Liberia: Justice For All Criminals Is A Must – Without favor or Privilege
A Press Release From Jerome J. Verdier, SR
Mr. Govenhoven, without regards to human suffering, war crimes committed in Liberia at the time, which warranted the imposition of arms embargo and other sanctions on Liberia by the international community, was trading arms mainly in exchange for Liberia's timber resources which was fueling the war machine of former president Charles Taylor of the defunct National Patriotic Front of Liberia (NPFL). Chairman Jerome J. Verdier said the 19 year jail sentence given Mr. Govenhoven...
Lawyers, The Liberian Lawyers!!
By Bai M. Gbala, Sr.
Deeply-concerned and troubled by the quality of some candidates-for-President of our nation come October, 2017, qualities such as crooks, liars, thieves, dishonesty with profound moral decadence, war-mongers/warlords, rebels, lawbreakers and above all, dual citizens, disloyal and unpatriotic to the Republic, beholden to corrupt practices, the US greenbacks, British pounds, German marks, French francs, etc., etc., and their presently-prevailing socio-political activities...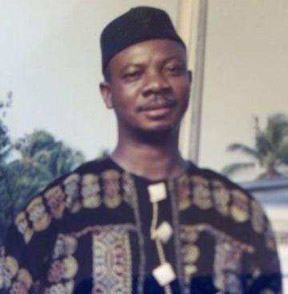 The Late Gedimina Flomo
Tribute To Gedimina Flomo
By Ms. Argbah Momolu
Friday, March 17, 2017 was one of those days the family had hoped that Gedimina Flomo (popularly known as GG) was succeeding in the fight against death. We felt somehow optimistic because GG, about two weeks ago, had escaped from the traps of death. News about the death of GG had gone global through social media. Later we learned that GG's condition was critical, but was still alive. So, yes, when GG's physicians informed us about his improvement the night before, we had hope that the Almighty God would save GG from death
Talking Elections 2017
By Jarwinken Wiah
The 2017 general and presidential elections are more important than ever before for all Liberians at home and outside the country. This is because in nearly 170 years ordinary Liberians are yet to experience the ascendency of legacy-driven individuals to positions of power. Instead, the political and economic predatory ones.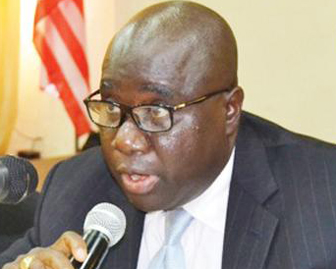 NEC Chairman Jerome Korkoyah
NEC Chairman Korkoya Falsified Liberian Citizenship, Lied Under Oath and Violated Other Laws of the Land
A Letter Sent to President Sirleaf by the National Democratic Coalition
The National  Democratic Coalition  (NDC), comprising  two  of  Liberia's  foremost  political Parties - the New DEAL Movement and the Free Democratic Party (FDP), both signatories to the Accra Comprehensive Peace Agreement (CPA) that successfully brought peace to Liberia, has in its possession, prima facie evidence that the current Chairman of the National Elections Commission, Cllr. Jerome George Korkoya, is a citizen of a foreign country, the United States of America.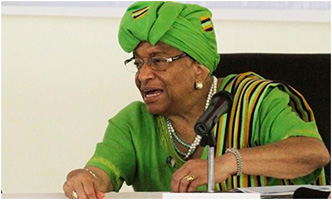 President Ellen Johnson Sirleaf
Liberia's War Lord Queen: The Bloodstained Career of Eleanor Sirleaf Johnson - American Herald Tribune
By Thomas C. Mountain
President Johnson is the queen of the warlords, for she has granted fiefdoms to many of Charles Taylor's top Capos in todays Liberia. This is the Charles Taylor that is an incarcerated war criminal having been found guilty of crimes against humanity by that pack of western lickspittles enthroned at the International Criminal Court.
Liberia's International Airport Road is a National Disgrace and a Death-Trap
By: Tibelrosa Summoh Tarponweh
Liberia may be famous for its barbaric 14-year civil war, but it's also known with the exception of Ethiopia as the oldest and the first independent nation on the continent of Africa. The latter usually comes with high expectations for first time visitors and tourists to Liberia. Those expectations are immediately dashed upon seeing the underdeveloped state of the Roberts International Airport (RIA) road while in route to the city.
Charles Taylor, Jewel Taylor and George Waeah
CDC And Charles Taylor
By Bai M. Gbala, Sr.
In Liberia, there were, also, political war crimes against humanity that were committed by the Charles Taylor-led NPFL/INPFL, in which not only an estimated quarter of million Liberians were killed, massive looting, theft of public/private properties and mind-boggling destruction of the nation's meagre infrastructure, but also, that known perpetrators of these crimes are still running around in Liberia and the world community with characteristic impunity and ordained as "Honorables".
A Sad Day For Turkey
By Dr. Alon Ben-Meir
The razor-thin victory (51.3% to 48.7%) of Turkey's President Erdogan in the referendum held on April 16 in fact denies Erdogan the mandate to govern with the sweeping powers the new constitution grants the President, especially when the results of the referendum are seriously contested. Even if there was no outright fraud or irregularities in the votes (which by all accounts were rampant), the conditions under which the referendum was held made a mockery of free and fair elections. Given Erdogan's domestic and foreign policy conduct leading up to the referendum, the US and the EU must now seriously reevaluate Turkey's role in NATO
Town Trap Is Not for One Person: The Case of 'Code of Conduct'
By Duannah Siryon
The highest court of the land, the Supreme Court on Friday, March 3, 2017, upheld a "Legislative Approved" controversial Code of Conduct law which was challenged by Bong County Superintendent Selena Polson-Mappy as "unconstitutional." One must understand that the ruling by the Supreme Court, if it should be enforced by Cllr. Chris Massaquoi's established special Ombudsman Committee, there must be emphasis on those key languages in the document, which by far, affects most government officials in the coming presidential and Representative elections.
Crafting a new Motto that Embraces and Recognizes all Segments of Society
By lex Quermorllue
Excepting for nuances in messaging style, the pitching themes of the various candidates for President in the upcoming elections have become so similar, it's almost impossible to distinguish their strategies for electoral victory come October, 2017: Jobs & more jobs, affordable education for all, fighting & eliminating corruption in government, infrastructure building, improved healthcare delivery for all, increased food production, etc. etc.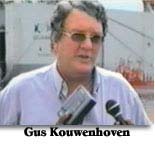 Dutch court makes legal history in sentencing timber baron Gus Kouwenhoven to 19 years for war crimes and arms smuggling during Liberian civil war
Press Release Issued by Global Witness
The conviction of Gus Kouwenhoven by the Dutch Appeal Court for war crimes and arms smuggling during the height of Liberia's brutal civil war is an historic victory for the Liberian people, said Global Witness today. The landmark ruling sends a clear message that those who profit from war will be held to account, and sets a significant legal precedent in recognizing that trading arms for natural resources is a war crime.
Charles Taylor
Investigative Report on Oriental Timber Corporation - Special To The Perspective
This article, originally published by The Perspective, on March 20, 2000, was the first major article that exposed the crimes of Charles Taylor, Gus van Kouwenhoven and Kouwenhoven's OTC-
Gus van Kouwenhoven, a businessman of Dutch origin, succeeded in buying up or otherwise acquiring 5 concessions in Southeast Liberia (Grand Bassa, River Cess and Sinoe counties) in the late 1990s, totalling a good part of the SE Liberian forest block. With these large holdings in hand, many other concessions (mostly inactive?) were seized to put together a concession stretching from just north of Buchanan east across River Cess county and into Sinoe county (perhaps up to the boundary of the Sapo National Park according to one report). No maps of the concession area are publicly available, however, it varies between 2,500,000 acres (900,000 hectares) to 4,000,000 acres (1.44 million hectares). Mr. van Kouwenhoven reached a "management agreement" with FDA for this forest area; again, this agreement is not publicly available and may not withstand contestation in court.
Charles Taylor, Jewel Taylor and George Waeah
When Greed and Desperation Overshadows Rationality; A Response to Opposition Political Parties Declaration of Support for Jerome Korkoya
By Jappah Maxwell Hooks
Liberians are anxious to see how a CDC Government will project itself at the helm of governance and how it will take steps towards achieving critical policy and law enforcement issues when it takes state power in 2018, with specific reference on clamping down on criminals who will violate our laws when CDC and its leadership have remained blatantly inconsistent on critical national issues that have the potential to and continue to harm the progress of our country and people.
Mother Mary Nema Brownell
The Legacy of a Heroine Par Excellence
By Martin K. N. Kollie
Liberia has been a historic nation popularly known for procreating genuine voices and iconic advocates, some of whom have engraved an immaculate legacy of heroism throughout human history. It is with this pride and elation I have chosen to pay homage to a fallen heroine – a HEROINE par excellence.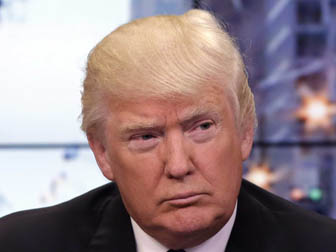 President Donald Trump
Trumpism and the ethics of climate change denial
By Dr. Sam Ben-Meir
In recent years, President Donald Trump has used his Twitter account @realDonalTrump to share his thoughts on climate change – for example, in December 2013 he tweeted: "…global warming is a total, and very expensive hoax." And in January 2014, Trump asked: "Is our country still spending money on the GLOBAL WARMING HOAX?"
The Struggle for Social Justice and Economic Freedom Lives on after PATEL
By Ivor S. Moore
Again, the Sirleaf government, through cunning machinations, has bought itself some time from falling under the quantum weight of the triumphant march of the masses of Liberians onto the stage of history. It now shamelessly celebrates its perceived victory over the people's struggle for economic freedom, thus confirming its anti-democratic credentials.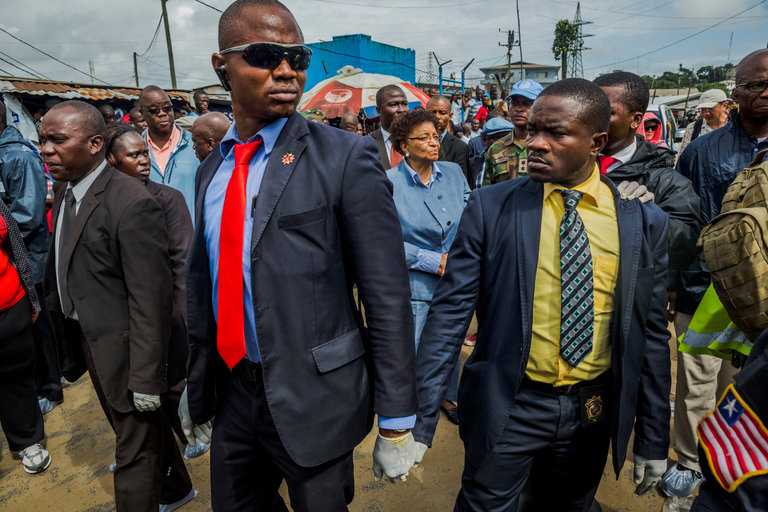 President Ellen Johnson Sirleaf of Liberia, center, surrounded by heavy security visiting to quarantined neighborhood in Monrovia, Liberia, in 2014. 

Credit: Daniel Berehulak for The New York Times
Stop Treating Liberia's President Like a Hero. She's a Human - New York Times
The Ebola crisis is often presented as an epilogue to a broadly successful and inspiring feminist political career. However, Ms. Johnson Sirleaf's early history as a crusader for reform has been tarnished by a decade of rule in which her judgment and integrity have been repeatedly called into question. Official corruption continues to be a constant source of local headlines and outrage. It doesn't help that her stepson runs the Liberian National Security Agency, another son is chairman of the Central Bank and yet a third ran the national oil corporation.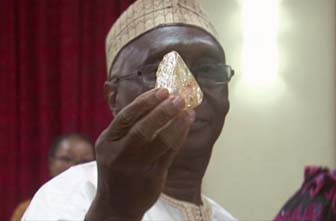 Diamond found by Rev. Emmanuel Momo
Diamond Revenue: Sierra Leone Gets Less; Can Liberia Get More Diamond Revenue After The 2017 Elections?
By J. Yanqui Zaza
Liberians, once again, are hoping that a change in leadership after 2017 their country will address Liberia's issues: generate adequate revenue, finance electricity to entice good-paying-job investors, finance social programs, fight corruption, etc. Yet, the candidates are focusing on the issue of personality or ethnicity rather than the issue of adequate revenue, for example. Why does Liberia, with significant deposits of natural resources such as diamonds, continue to rely on excise taxes (i.e., money taken away from the pockets of citizens) to finance its budgetary documents?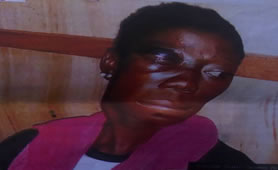 Letter To Inspector General Gregory Coleman of Liberia National Police
By Martin K. N. Kollie
Col. Coleman, on January 4, 2017 precisely, a young and industrious Liberian woman whose name is Sonah James, 26 years old, was severely brutalized by some officers of the Police Support Unit (PSU) around Buchanan Street, central Monrovia. Sonah, a vendor of sandwich bread, had come from selling after the County Sports Meet on the Antoinette Tubman Stadium (ATS) when this unfortunate incident occurred. While en route to her residence almost 40 feet away from Buchanan Street, she was raided, knocked down and whipped with a rattan in her right eye.
Overview of the 2017 LSA Conference
Click the link above for an overview of the 49th Annual Conference of the Liberian Studies Association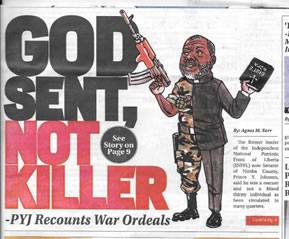 PYJ, War Lord and Rights
Violator turned "Politician" & "Preacher of the Gospel"
The Concepts Of "Vote-Rich Nimba County" And "PYJ Messiah Controls Nimba County Votes"
By Bai M. Gbala, Sr.
Indeed, the notion of "Vote-Rich Nimba County" is the expression of reality. It is the statement of the number of eligible, voting-age citizens in the county.  But, the notion of "PYJ, as the Messiah or Savior of the County and its citizens, who controls the votes of Nimba County " is something else - debatable at best, and a myth at worse.
Amos Claudius Sawyer: Keynote Speaker at the
LSA 2017 Conference
The Liberian Studies Association's 49th Annual Conference
The 49th annual conference of the Liberian Studies Association (LSA) held last week at Ramapo College of New Jersey was highly inspiring, engaging and memorable. It provided wonderful opportunities for Liberians and other participants to reflect on, in light of the theme of the conference, the challenges and prospects facing the country. A number of scholars, policy researchers, social critics and political activists, including former President Amos Sawyer, participated in presenting and discussing several papers, films and posters on a variety of topics relevant to the theme of the conference.
Prince Yormie Johnson (PYJ) Confesses Rights Violations: Implications In The Context Of Liberian Polity
By Bai M. Gbala, Sr.
The facts of history of the Liberian political experience show... that the Republic of Liberia is still locked in a dangerous transition from dictatorship, seeking liberal, progressive democracy, following the defeat of the Republican Party in 1876;... and the overthrow (of the one-party state) of the True Whig Party  in 1980, all of the African-American settlers; and the nightmare of the African-American settlers-planned, -led and -executed civil war of plunder, destruction, human suffering and death, with that transition... still continues!!" to this day.
PRINCE JOHNSON:   Liberia's Most Notorious Murderer
By Jerome J. Verdier, Sr (Cllr)
"A tree is identified by its fruit. If a tree is good, its fruit will be good. If a tree is bad, its fruit will be bad. You brood of snakes! How could evil men like you speak what is good and right?"His killings of innocent civilians outside the theater of war, coupled with other crimes of war against humanity was egregious and a moral outrage. The incident of murders committed by Hon. Prince Johnson during the civil war in Liberia was outstanding in a class of its own, having no match or comparison to any other warlord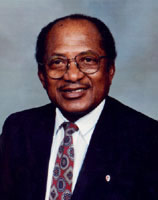 Interpreting Liberian Laws is Replete with Flaws & Biasness: Liberia Could Slip Again if Allowed to Continue
By Jappah Maxwell Hooks
Many years ago, Bishop Bennie D. Warner asserted that, "we (Liberians) are our own problems". At first I found it perplexing to agree with the learned Bishop and concluded that the Bishop was eluding the realities of a failed system in which he participated and had embarked on a "blame game" syndrome, blaming every Liberia instead of those with whom we entrusted to lead our country, manage our resources to benefit every Liberian and to provide Liberians the opportunities to pursue happiness beyond other African nations.
Cllr. Frances  Johnson Allison, former head of the National Elections Commission
The "Necessary And Proper" Clause Of Article 34 L Of The Liberian Constitution Renders The Enactment..., And The Supreme Court Opinion Constitutional:A Rebuttal To Former Chief Justice Frances  Johnson Allison's  "Point Of View" And The Editorial Of The Daily Observer
By Dortu-Siboe Doe
When the standard bearer of the Alternative National Congress (ANC) said Section 5.2 of the Code of Conduct Law "is not applicable" to him because he made known his intention to contest public elected office prior to his presidential appointment on the Board of BWI, we simply laughed.
President Ellen Johnson-Sirleaf posed with government officials in Julijuah, Bomi County
A Marriage Between Promise and Pretense: Cabinet Retreat Without Action Is Worthless
By Martin K. N. Kollie
Liberia has a lot to learn from Tanzania especially under the administration of a patriot par excellence, President John Pombe Joseph Magufuli. The United Nations made no mistake to have named Magufuli as the best President on planet earth just in a period of 12 months of his presidency. This global and prestigious accolade came as a result of "Less Talking" and "More Action". It came as a result of setting proactive public policies, people-centered priorities and achievable targets.
Will Deal Maker Trump Reach A Deal With Liberia?
By Jerry Wehtee Wion
This is a catch 50/50 situation facing our people. But the great deal maker Trump can reach a deal with Liberia. Just keep reading. The Liberian refugees didn't ask to come to America but were forced to leave Liberia because of the few power-hungry politicians who lived in America only to study/plan the destruction of their own country through war. They've gained political power through the barrel of the gun and only to enrich themselves while our people wallow in grinding poverty and misery.
The Looming End To The Western-Turkish Alliance
By Dr. Alon Ben-Meir
The growing tension between Turkey and its Western allies, which was further heightened during the Obama administration, is narrowing the space for cooperation between the two sides and in fact is progressively worsening. Erdogan's hope that he and President Trump would improve their ties as members of NATO has dramatically diminished. Washington and the EU still deeply disagree with Ankara on a host of issues, which are unlikely to be resolved on a mutually gainful basis any time in the foreseeable future.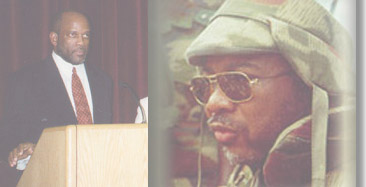 Charlie Brumskine & Charlie Taylor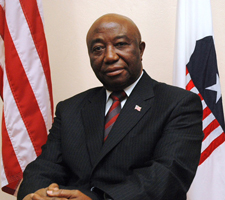 VP Joseph N. Boakai
NDC Decries Charles Brumskine's Distortion And Attacks On Vice President Boakai
A Statement Issued By The National Democratic Coalition (NDC)
The National Democratic Coalition (NDC) calls on Liberians everywhere not to be disinformed by Cllr. Charles W. Brumskine and the Liberty Party about the sociopolitical realities of Liberia. In addressing rumors that President Ellen Johnson Sirleaf prefers and is quietly supporting Cllr. Brumskine to succeed her as the next President of Liberia, the Liberty Party political leader, Cllr. Brumskine, mischaracterized Vice President Joseph Nyumah Boakai and wrongly depicted him as someone employing the "Congo–Country divide" in politics in Liberia! Sadly, Cllr. Brumskine, who was once a strong supporter of Charles Taylor whose record is unhidden regarding the destruction of Liberia and his plan to destabilize the sub-region, tacitly likened Vice President Boakai to self-serving individuals
The Battle Over Syria's Future
By Dr. Alon Ben-Meir
As we approach the sixth year of Syria's civil war, the whole international community remains completely inept and has failed to join together in the search for a solution that could end the horrifying slaughter of thousands of innocent civilians each month. Sadly (but for obvious reasons), each of the countries and other groups involved, including Russia, Iran, Turkey, Saudi Arabia, the US, the Assad government, and the rebels, are focused solely on what best serves their own national interests.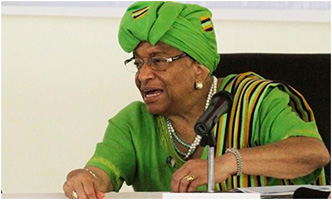 President Ellen Johnson Sirleaf
LIBERIA: Fighting Corruption War Without Weapons Or Ammunitions
By Jerome J Verdier, Sr (Cllr)
On January 16, 2006, when Ellen Johnson Sirleaf became President of Liberia, she raised the hopes of many Liberians of a new day in Liberia and inspired the confidence of the International community when she declared "war against corruption as public enemy number one." The President dashed the hopes of the Liberian people and the international community, further in government's commitment to fighting corruption when she failed to reappoint former Auditor General John Morlu.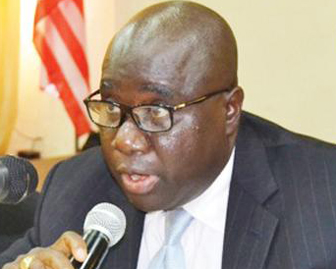 NEC Chairman Jerome Korkoyah
The Code of Conduct-Potential Recipe for Conflict in 2017
By Jappah Maxwell Hooks
I followed recent developments regarding the March 3rd Ruling of the Supreme Court on the Code of Conduct and your subsequent press statement in public media of your determination to uphold and/or enforce the Code of Conduct as a constitutional prerogative to which the NEC is obliged. What has drawn my attention, Mr. Chairman is how you intend to enforce the Code of Conduct in ways that will not plunge our country into an abyss of chaos, political instability and civil crisis.
ICT, Digital Liberia And E-Government
By Bai M. Gbala, Sr.
At a recent gathering of Liberian dignitaries – the big names, including the US Ambassador accredited to Liberia, USAID Executives, line Ministers and others – at a local hotel, with the Honorable, Dr. Fredrick Norkeh, Minister of Posts & Telecommunications, R. L.., the host in collaboration with the United States Agency for International Development, USAID, the funding partner.  They launched what is called the E-Government and Digital Liberia Project, or the Information and Communication Technology (ICT).
Liberia's 2017 Presidential Election: The Danger of Identity Politics and Tribalism
By Jones Nhinson Williams
In defense of decriminalizing marijuana use globally, former United Nations' secretary general, Kofi Annan, once wrote on February 23, 2017 in the U.S.-based Huffington Post online journal: "In my experience, good public policy is best shaped by the dispassionate analysis of what in practice has worked, or not. Policy based on common assumptions and popular sentiments can become a recipe for mistaken prescriptions and misguided interventions."
"Opinion Of Taxes In The Republic Of Liberia And Its Effect On The Liberian Economy"
By Samora P.Z. Wolokolie
Referenced resolution of February 1, 2017 under the banner of the Patriotic Entrepreneurs of Liberia (PATEL), in which some burning issues affecting Liberian businesses and the well-being of the Liberian people in general were highlighted and presented to the National legislature and the Executive branch for their intervention to curtail the situation, I hereby again provide some detailed explanations with recommendations that will pacify the situation to wit:
Moroccan Cultural Preservation and the Jewish Experience
In the Kingdom of Morocco, there are a number of sustainable development programs and policies that display innovation and promote social solidarity. These participatory democratic initiatives are designed to catalyze people's development that meet multiple human needs at the same time.
I am told to vote him
By Sheikh Al moustapha Kouyateh
Knowing that he doesn't regard our constitution. I am told to elect him. After he conceded failure by his previous retirement. I am told he's the Chosen One. Because he once claimed to have been the anointed one.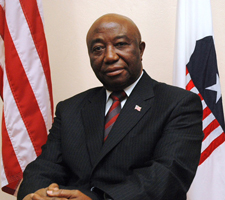 VP Joseph N. Boakai
Youth And The Southeast: The missing links to Joseph Boakai's Presidency
By Urias S. Goll & Stephen R. Johnson
It is a hoary and a trite concept that presidential election is won by the collective value and message of the team (presidential and vice presidential candidates). A single candidate, no matter the marquee status and position in society, cannot match the well-suited and strategically positioned combination of two individuals with seamless attributes for overall success. In 2005, it was not only the international acclamations and "iron lady" traits that won the elections for Madam Sirleaf.  It took the president considerable time to invest in the thoughtfulness of choosing someone who could fill out and connect the missing links to her grand cavalcade as Africa's first democratically elected female president.
Revisiting the Oracle: Turner at the Frick
By Sam Ben-Meir, Ph.D
J. M. W. Turner is one of those rare artists who seem always to be ahead of us – as with Shakespeare, he remains somehow ever beyond our reach. Turner's Modern and Ancient Ports: Passages through Time is a thrilling exhibition currently on display at The Frick Collection in New York City, bringing together six oil paintings and some two-dozen watercolors from the artist's middle period. This was a turning point in Turner's career, the beginning of a shift towards 'colour for colour's sake'
NASSCORP: Poor-Pensioners' Money Invested In Risky Portfolios?
By J. Yanqui Zaza
The United Nations (UN) estimates that by 2050, there will be 2 billion people over 60 years old (i.e., would-be pension-benefits-recipients) worldwide, and 80% of the 2 billion will be living in developing countries, especially Africa. With such an increase in old age, coupled with the fact that one in five live on less than a dollar a day, Africans should not only institute social programs such as retirement fund, rather effective retirement funds that will help to alleviate poverty amongst the elderly, the UN advised.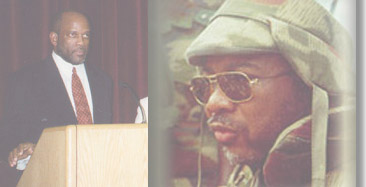 Charlie Brumskine & Charlie Taylor
Answer To Cllr. Brumskine: "Da Kongo-Countryman Business Man Will Eat"?
By Bai M. Gbala, Sr.
As an eternal, political animal and one of the most visible supporters of the Vice President, I deny, categorically, not only introducing but also, "preaching divisive countryman politics". But I took note, continue to take note as I have done elsewhere in my extensive writings and public speeches regarding Liberia's historical policies of ethnic/tribal, indigenous exclusion by one of the founding/political ruling groups of the Liberian state...
Charles Brumskine's guilty Outburst
By Jerry Wehtee Wion
He was born with a golden spoon in his mouth more than 60 years ago, into the tiny but powerful minority ruling class of the exclusive Americo-Liberians/Congua. He never denounced the repressive policies of the Congua-only one party state hegemony that turned natives/tribal or country people into slaves. President Charles DB King sold natives as slave. His kind forced natives to pay taxes when the lack of good roads, schools and healthcare, but he now professes to care about were the sole entitlements of his congua elites in their urban locals, and nonexistent in the natives countryside.
The Divide Between: "Americo/Congo" And "Country-Indigenous" Liberians
By Bai M. Gbala, Sr.
There had been, and is, rigid reality of a Divide – Socio-cultural, Ethnic-indigenous - between Liberians. It is the core of Liberia's socio-economic and political under-development since 1847. No level of academic and intellectual verbal rationalizations can wish away this reality.

Patriotism: The Highest Qualification for National Leadership
By Martin K. N. Kollie
In most of Africa of which Liberia is of no exception, education is most probably considered as the leading qualification for national leadership. Overtime, this mentality has proven false and futile. In some countries, even the most educated or academically qualified have failed miserably and performed dismally. Liberia is a perfect case to reference under President Ellen Johnson-Sirleaf

The Gloves Are Off:  The New Dawn In Analyzing Liberia's Failure, Post Taylor
By J.  Nhinson Williams
My 9-year old daughter asked me recently: "Daddy, why was your country's president honored last week by all its ambassadors from countries around the world?" I had no reasonable and honest answer to provide. 
Keynote Speaker:
Former Interim President
Amos Claudius Sawyer
Former Interim President Amos Claudius Sawyer To Serve As Keynote Speaker At The Liberian Studies Association's 49th Annual Conference
Dr. Amos Claudius Sawyer served as President (1990-1994) of the Interim Government of Liberia following the assassination of its embattled leader, Samuel K. Doe. Dr. Sawyer is currently the Chairman of the Governance Reform Commission in Liberia, which has y become the Governance Commission. He has several published peer reviewed articles and books, including "African Politics and the Future of Democracy" (2015), "African Development in the 21 st Century" (2014), "Challenges of Governance Reform in Liberia" (2013), and "Beyond Plunder: Toward Democratic Governance in Liberia" (2005), which explored the development of multi-party democracy in the country
Liberian Studies Association 49th annual Conference Call for Proposals
A Press Release Issued By Liberia Studies Association
The Liberian Studies Association (LSA), the largest body of scholars working on Liberia, invites proposals for papers, panels, and roundtables related to theme and subthemes of its 49th Annual Meeting scheduled to take place at Ramapo College of New Jersey from March 30th – April 2nd, 2017. Theoretical and empirical papers, action research and case studies on the above theme and subthemes using a range of scholarly approaches including qualitative, quantitative and critical methods with data‐driven conclusions are welcomed. Subthemes:
Can Israel Fight A War On Three Fronts? A Nightmarish Scenario
By Dr. Alon Ben-Meir
Although Prime Minister Netanyahu is known for his focus on the Palestinian and Iranian threats to Israel's national security, in recent months he has increasingly sounded the alarm over Iran in particular rather than the Palestinians. As the defeat of ISIS in both Iraq and Syria is all but inevitable, Netanyahu's main concern now is that Iran will insist on maintaining a strong foothold in Syria by establishing a significant military presence as recompense for its continuing support of the Assad regime throughout the civil war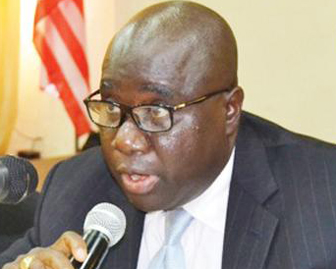 NEC Chairman Jerome Korkoyah
The Stakes Have Never Been Higher!
By John H.T. Stewart, Jr.
The stakes have never been higher in Liberia's recent political history. For the first time ever since the death in 1971 of President Tubman and the smooth peaceful accession to power of his vice president, the country will be witnessing what is expected to be a peaceful transition of power from a 12 year ruling incumbent to a new democratically elected successor.
Century Of Moral Decadence, Public Dishonesty & Under-Development Continue In Liberia
By Bai M. Gbala, Sr.
We begin this report (predicated on the latest headlines of March 9, 2017) with the Ministry of Finance & Development Planning (MF&DP). In several articles, we held that the new, tongue-twisting Super Ministry (merging of the Ministries of Finance and Economic Affairs) and its former Bureau of Revenue, now the Liberia Revenue Authority (LRA), had been, and are the nation's...
Mills Jones, Others, Wait For 2023 Elections
By Jerry Wehtee Wion
It is over for Dr. Mills Jones and others who are trapped under the weight of the Code of Conduct (COC) law. In the 2023 presidential elections, we will be talking about precedent set under the COC law and the finality over the law based on this ruling by the Supreme Court of Liberia on March 3, 2017. And so we move on to the potential next hurdles: the 10-year residency clause and the dual citizenship role of contestants.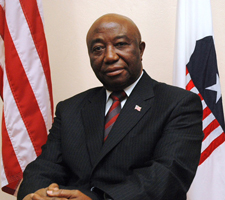 VP Joseph N. Boakai
Echoes From The Hill-Top: VP Boakai On "Splitting Point"
By Bai M. Gbala, Sr.
In an exclusive interview by the FrontPagenewspaper, Vice President Joseph Boakai left no stone unturned in making clear his personal and official relationship with Mrs. Ellen Johnson-Sirleaf as a friend; as President of the Nation; and as Head of their Unity Party, and he, as Deputy President of the Nation (Front Page Africa, March 1, 2017).

I Sense A Plethora Of Lawsuits: 2017 Elections Results Could Be Challenged
By Jerry Wehtee Wion
The National Elections Commission of Liberia (NEC) must be smart enough and must know better to uphold the Code of Conduct law and the Supreme Court of Liberia decision or else the NEC could face legal actions in court that will seek to invalidate the outcome of any elections outcome if the NEC puts on the ballot name or names of candidates who fall short of satisfying the Code of Conduct Law.

Literally, The "Call To Arms" That We Tribal People Validated
By Jerry Wehtee Wion
I have been vindicated by VP Joe Boakai's statement that President Ellen Johnson Sirleaf is not supporting him to succeed her. Thank you, Vice President Joseph Nyuma Boakai. This validates literally the "call to arms" that we tribal people need to unite to contest the presidential elections in October. Ellen and the Americo-Liberians/Congua see Liberia only as their money-making plantation.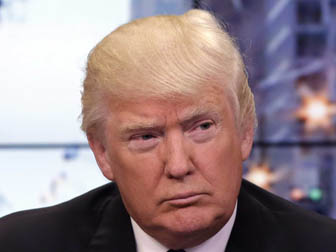 U. S. President Donald J. Trump
Trumpism And Anti-Semitism
By Dr. Sam Ben-Meir
The United States is witnessing a disturbing rise in anti-Semitic acts, which are sweeping over the country in wave after wave. In St. Louis, more than a hundred tombstones were tipped over; similar hate crimes have taken place in Philadelphia and New York. Attacks are taking place not only in cities across the country, but also in small towns.
Have Liberians Forgotten About Past Fraudulent Elections?
By Jerry Wehtee Wion
Apparently most Liberians have forgotten about the fraudulent nature that characterized both the 2005 and 2011 presidential elections by the National Elections Commission.
Open Letter to Chairman Jerome G. Kokoya of NEC
By Martin K. N. Kollie
In an effort to sustain long-lasting peace, uphold democratic values, promote national unity and pursue a new era of social justice and economic parity through patriotism, nationalism and fraternal love, I reverently extend my sincere compliments and courtesy to you and your fellow commissioners.
Artist Unkown
A Legislature of Indigenous Vampires – Part 2
By Martin K. N. Kollie
During her 10th State of the Nation Address on January 26, 2015, President Sirleaf was correct when she renamed corruption from public enemy number one to a vampire of development and obstruction of progress. Corruption is not only when one illegally converts public resources into his/her personal account, but it is when a group of public officials unpatriotically...
President Sirleaf's Reported Request For 25% Reduction In Salaries & Benefits For Senior Officals Of Government: Our Response
By Bai M. Gbala, Sr.
Indeed, our Country had been, and is, a quagmire, as we observed recently, elsewhere that a "quagmire is an awkward, hazardous and complex situation; it is a muddled up, mixed-up, messed-up predicament; a difficulty, quandary, entanglement, imbroglio and a fiasco in many African, socio-economic and political affairs". So it had been, and is, the state of affairs of the Republic of Liberia since its founding in 1847, throughout succeeding political administrations up to the day
Erdogan Exploits Islam For Personal And Political Gain
By Dr. Alon Ben-Meir
Anyone who follows Turkish President Erdogan's political career cannot escape the conclusion that he has carefully and systematically crafted policies framed in Islamic clothing. He uses religion to present himself and his political agenda as if it is being sanctioned by a higher authority, surreptitiously uses Islamic symbols to indoctrinate the population with religious precepts, and promotes Islamic studies in schools in order to cultivate a new generation of devout Muslims loyal to him.
The NAKED Truth About 2017: An Analysis
By Stephen Johnson
The dawn of 2017 signals a new beginning for many Liberians. In addition to the many New Year's resolutions, it is the year in which Liberians are expected to go to the polls to elect a president along with 73 representatives for the next six years. The process that has commenced with a voters' registration exercise has seen many first-time voters forming long queues just to exercise their right as Liberian citizens. While it is true that many are reluctant and do not see the need to vote, others have mustered the courage to effect the change they believe will continue the country's path to upward mobility
Former Bank Governor Mills Jones & President Sirleaf
"The Government Has Failed," Says Mills Jones
By Jerry Wehtee Wion
"The government has failed," says another Presidential candidate, Mills Jones who also milked the system with his reported US $20,000.00 a month salary plus benefits as Governor of the Central Bank of Liberia. And as Governor of the Cental Bank, Mills Jones helped President Ellen Johnson Sirleaf to fuel the failure of the government by unlawfully and unconstitutionally diverting "over $10 million" of our money into Ellen's so-called private "development agenda account" at EcoBank
The Irony and Tragedy of Liberia's Political Leadership: Promoting Pillagers and Dispossessing the People
By Moses Uneh Yahmia 
In an attempt to curb this economic enigma, the government decided to increase taxes on the already poor people. From amendments made to the Liberia Revenue Code of 2011 by the National Legislature about two months ago, taxes on goods and services were increased. Thus, the cost of production of goods like water, juices, and alcoholic beverages, as well as telecommunication services in the economy is now very high. Tariffs on goods imported by our mothers and fathers have been increased. To free a container of goods from the Free Port of Monrovia is extremely expensive.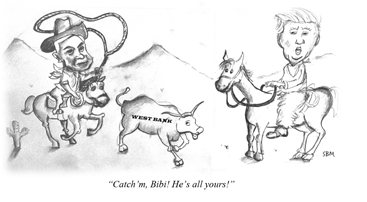 Trump And Netanyahu: Embracing Illusions, Ignoring Reality
By Dr. Alon Ben-Meir
President Trump remained true to his customary flip-flopping on just about every issue when he stated during a joint press conference with Prime Minister Netanyahu that he is "looking at two-state and one-state, and I like the one that both parties like… I can live with either one." By stating so, Trump gave Netanyahu what he was hoping to get - a departure from the two-state solution.
Politics is local, interest-based, race-based and ethnicity-based
By Jerry Wehtee Wion
If not, why do the Gios and Manos in Nimba County always vote for Senator Prince Johnson; the poor for George Weah and his CDC; and why do we say that Grand Bassa is expected to go to Charles Brumskine; Lofa will go to VP Joe Boakai; and Bong may go to Weah-Taylor or to Cummings-Sulunteh if Sulunteh is VP to Cummings, etc?
NEC Chairman Jerome Korkoya Must Stop Casting Blame and Deceiving The Liberian People
By John H.T. Stewart
The statement by NEC Chairman Jerome Korkoya that the United Nations Development Program (UNDP) is to blame for the purchase of faulty camera equipment for the Voters Registration Exercise, the shortage of Optical Marked Recognition (OMR) forms as well as his disclosure to Prime FM reporter that NEC...
Liberian Lawmakers: Are They Fighting Over Money?
The Liberian Legislature: An Unholy Political Theater of Unrepented Crooks –Vote Them Out – Part I
By Martin K. N. Kollie
Why must a poverty-stricken nation like Liberia spend over US$170.8 million in 4 years on just 103 Lawmakers alone when education is a mess?  It is somehow difficult to determine which branch of the Liberian government is the most corrupt and the most unpatriotic, but one would reasonably crown the Legislative branch with such characterization. Undeniably, Liberia has one of the most corrupt and unpatriotic Parliaments in the World.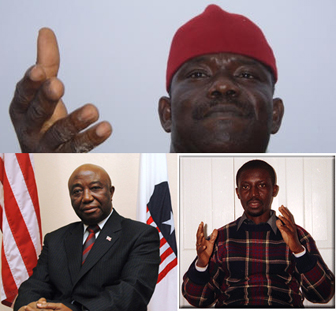 Sen Prince Johnson, VP Boakai and Clr. Gongloe
Can Prince Johnson Backed Boakai - Gongloe Ticket Save The Day For VP Boakai & Liberia?
By: Jerry Wehtee Wion
Should I have waited and kept my mouth shut until Charles Brumskine and VP Boakai pick their VPs? Then the damage would have gone beyond repair. So, our fellow native Liberian politicians, please hear me. But what I don't understand about these native political figures is, why must they run to political parties headed by Congua only to lobby for VP positions? Why? Are they not good enough to head the ticket and ask Congua or whoever to be VP to them?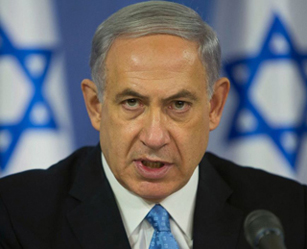 Prime Minister Netanyahu
There Will Be No Palestinian State Under Netanyahu's Watch
By Dr. Alon Ben-Meir
President Trump should not be swayed by Netanyahu's duplicitous argument, however convincing it might sound, that he is committed to a two-state solution when in fact he has opposed and will continue to reject in principle the creation of an independent Palestinian state under any circumstances.
The International Criminal Court, United Nations, Member-States, And The African Union (AU): The Case For Democracy Under Law
By Bai M. Gbala, Sr.
The Court is designed to complement existing national judicial systems and may, therefore, only exercise jurisdiction where and when national courts are unwilling or unable to prosecute suspects, when the UN Security Council or individual states refer cases to the Court. The Court began operations on July 1, 2002, the date on which the Rome Statute, a multilateral treaty which serves as the ICC's legal authority and governing document,came into force.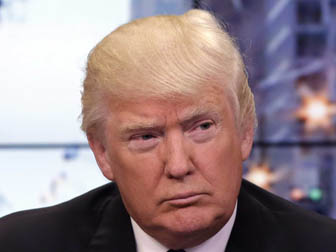 President Trump
Relocating The American Embassy To Jerusalem: Attaining a major breakthrough from a potentially disastrous fallout
By Dr. Alon Ben-Meir
Should President Trump fulfill his campaign promise to relocate the American embassy from Tel Aviv to Jerusalem, it would have major regional and international repercussions. The Trump administration is currently reevaluating the implications of such a move and no final decision has been made. Given the sensitivity and far-reaching consequences, if he nevertheless decides to relocate the embassy it is critical that he concurrently takes a balancing act to prevent the potentially disastrous fallout.
Liberia's Ear-Breaking Silence To Africa Union Threatened Withdrawal From The International Crime Court (ICC)
By Bai M. Gbala, Sr.
On October 12, 2013 at the Extraordinary Summit, the African Union (AU) declared that the "ICC should not prosecute sitting African leaders . . . that the indictment of H.E Uhuru Muigai Kenyatta and H.E William Samoei Ruto, the President and Deputy-President of the Republic of Kenya respectively...
Liberia National Police at GVL, Butaw
- Courtesy of FPA
Wilmar Has Violated The Rights Of The Kapa Indigenous Community Of West Sumatra, Concludes RSPO
A Press Release Issued By the Forest Peoples Programme
Editor's Note: Wilmar owns 27% shares in SIFCA, a company that operates Maryland Oil Palm Plantations and Cavalla Rubber Plantations in Pleebo-Sodoken District, Maryland County.  Wilmar is a member of the Roundtable on Sustainable Palm Oil. As a member of the Roundtable, Wilmar is obligated to operate in accordance with the objectives of the Roundtable. One of the objectives of the Roundtable states that "plantations apply accepted best practices and that the basic rights and living conditions of millions of plantation workers, smallholders and indigenous people are wholly respected." But SIFCA argues that Wilmar does not own majority shares in the company, so the company is, therefore, not obligated to abide by the rules of the Roundtable, thereby leaving the hapless people of the district hopeless as the GOL continues to pay deaf ears to the rigor of plight of the people of Pleebo-Sodoken District. More besides, can the Roundtable apply the same formulae used in Kalimantan in 2015 and now in Kapa to Golden Veroleum, which is a member of the Roundtable,  operating in Southeastern Liberia?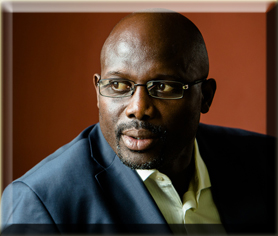 George Oppong Weah
A Passionate Appeal to George Oppong Weah: Please Don't Run for President of Liberia
By Jones Nhinson Williams
The Constitution of Liberia guarantees all natural born Liberian citizens, age 35, and with good standing, the freedom to seek the Office of President of the Republic of Liberia, provided they also meet the requirements of the National Elections Commission (NEC) of Liberia. Such requirements include registering one's candidacy, and fulfilling certain demands etc.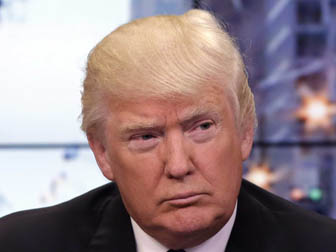 President Trump
U.S. Congress Votes For Corruption By Overturning Historic Transparency Law In Gift To Big Oil
A Press Release Issued By Global Witness
Today's decision by the Republican-led U.S. Senate to overturn a rule designed to stop oil companies striking corrupt deals with foreign governments is a grave threat to U.S. national security and an astonishing gift to big oil, said Global Witness. The news comes just two days after Rex Tillerson, a longstanding opponent of the law while CEO of ExxonMobil, was confirmed as Secretary of State, and the day after the U.S. eased sanctions on Russia.
Trump's Determination To Cut Aid To Corrupt And Rogue Regime Around The World
By: Jerry Wehtee Wion
I have been warning the Liberian government that U.S. President Donald was about you cut off the American taxpayers' free money pipeline to corrupt and rogue regime around the world. That governments around the world that depend on American free money needed to adopt new measures to be financially self-sufficient in running their countries. And those that didn't take the warning seriously are now in for a rude awakening.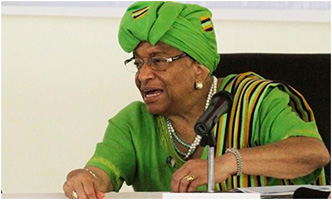 President Ellen Johnson Sirleaf
President Sirleaf's Favored Citizens: Monrovia-Landlords
By: J. Yanqui Zaza
Favoritism or Special Interest! President Dwight Eisenhower, in his farewell speech, on 01/17/1961, warned Americans about many issues such as protecting special interest. In Liberia, the warning about special interest came by way of three separate violent actions: the Rights and Rice Demonstration on April 14, 1979; the military coup on April 12, 1980; and the fourteen-year civil war launched on December 24, 1989.
Erdogan: A Classic Case Of How Power Corrupts
By: Dr. Alon Ben-Meir
Much has been written on the endemic corruption in Turkey which involves virtually every social strata - including political, judicial, government administration, private sector, civil society, business, and military - and which stands in total contrast to President Erdogan's grandiose vision to make Turkey a significant player on the global stage.
President Trump's Moral Harm
By: Dr. Sam Ben-Meir
During President Trump's first full week in office he has begun to dismantle America's moral standing on the international stage. From his reconsideration of CIA 'black sites' to his insistence on vast voter fraud, to his inhumane ban on immigration from Muslim countries, Trump seems to be intent on normalizing discredited policies, adhering to blatant falsehoods, and waging an assault on human dignity.
Charles Taylor, Jewel Taylor and George Waeah
CDC Bringing The Charles Taylor Regime Back To Power?
By: Jerry Wehtee Wion
"And now here coming out of the woodworks is the blunt talking NPP former Secretary General to affirm part of the Taylor prophecy about promised return of Taylor the Messiah. Cyril Allen says this about the George Weah-Jewel Taylor combo: "Well, they should bring the Taylor regime back; it's nothing wrong with it. It is part of the political process and the (ugly) political history of Liberia. I don't see nothing (anything) wrong with that. The NPP is a political party united under a coalition (and) if there is a victory, don't you think the NPP should be part of the governing process of Liberia?," Allen asked.
Manipulation Hurts, How Could Liberia Avoid Manipulation Of The 2017 Elections? (Part ll)
By: James Thomas-Queh
The experiences from our countless national tragedies  since the death of President Tubman in 1971, are memorable testimonies that applying the usual unorthodox political combinations or manipulations to facilitate the continuity of new elites in power have proven disastrous for our nation. Therefore, Madam President,  do everything possible within your power to permit our people to vote free and fairly for their choice of a President in October 2017.
Dr. Togba-Nah Tipoteh
Unfair practices of the National Elections Commission (NEC)
The 2017 Annual Message To The People Of Liberia Delivered By Dr. Togba-Nah Tipoteh
Unfair practices of the National Elections Commission (NEC) contribute to the election of bad persons, persons who are corrupt and do not have the interest of the poor people at heart.The unfair practices of NEC are seen in allowing foreigners to run as candidates in elections, allowing foreigners to vote in elections, placing the wrong names of candidates on ballot boxes and determining a favored political party in advance of the 2017 election, when NEC announced publicly that the All Liberian Party is a civilized party. All peaceful efforts must be used to change NEC because the present NEC is not capable of organizing Fair Elections, especially in 2017.
Capacity Building to Sustainable Development Depends On A Functional System
A Speech delivered by Amb. Rufus D. Neufville
The significance of capacity building to sustainable development can well be stationed on a system that is functional and not one that merely survives. Professionals in most parts of the world work towards the sustainability of a system. In Africa, especially Sub-Saharan Africa, we build systems and try to sustain them at the same time.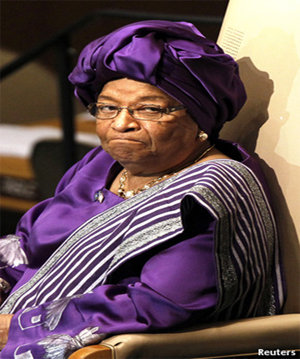 President Ellen Johnson Sirleaf
President Ellen Johnson Sirleaf's Annual Message
As you commence the sixth and final session of this august body, we will be submitting a number of bills for your consideration. These include: A Bill to Decriminalize the Violation of the Right to Freedom of Expression and to Repeal certain Sections of the Penal Law of 1978, and PRC Decree 88A; A Bill to Create the National Bureau of Concessions and State-owned Enterprises; A Bill to Amend the Act Creating the Monrovia Consolidated School System; A Fisheries Bill; A Bill to establish a specialized Court dedicated to cases of corruption and financial crimes;  A  Corruption  Offenses  Bill,  designating  corruption  and  specific  acts  of corruption as criminal offences under Liberia's Penal Code;
Response To The President's Final Message
By: Bai M. Gbala, Sr.
The facts of Liberian History tell us that Mrs. Ellen Johnson-Sirleaf, the current, retiring President of Liberia and presenter of the Final Message, began her political career as an "Ideological Under-study & Foot-Soldier" of the True Whig Party (TWP) of our founding Fathers, the African-American settlers.
Erdogan's Lust For Power Is Destroying Turkey's Democracy
By: Dr. Alon Ben-Meir
This is the first in a series of articles based in part on eyewitness accounts about the rapidly deteriorating socio-political conditions in Turkey and what the future may hold for the country.During the past few months I interviewed scores of Turkish citizens who escaped from Turkey following the unsuccessful military coup, fearing for their lives. Many of them left their families behind, terrified of what to expect next.
Former President Yahya Jammeh
The Gambia political crisis: Some lessons from international law
By: Wonderr Koryenen Freeman
Yahya Jammeh has finally left The Gambia – of course with so much credit to the resolve of ECOWAS that the will of the Gambia people must be respected. Is this Africa coming of age or is this just an aberration for a continent better known for its failures and misadventures? Jammeh started out with the old dictator refrain of non-interference and chest-pounding of his ability to fend off any invasion by ECOWAS' forces.
Manipulation Hurts, How Could Liberia Avoid Manipulation Of The 2017 Elections? (Part l)
By:James Thomas-Queh
Perhaps already gone with the winds, but few weeks ago the outgoing  US President, Barack Obama,  was outraged when he  accused the Russian President, Vladimir Putin,  of "manipulating" the US presidential elections. A high treason, no doubt, and  his  reaction was immediate and retaliation commensurable.  And for us  who have been  subjected to manipulations since eternity,  I believe we could learn a lot from this script of these two World Powers, and take cue to re-direct our national future.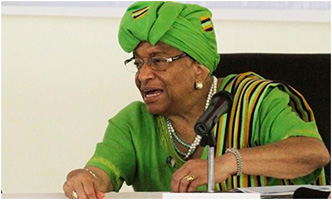 President Ellen Johnson Sirleaf
Matter of Ethics
By: Bai M. Gbala, Sr.
Indeed, the unprecedented, present-prevailing rising/risen tide of flagrant dishonesty, decadent, moral rectitude of deceit, lies, thievery, graft and greed by highly-placed officials of the Liberian government – the National Legislature, Executive, Judiciary, all other agencies of government, the recent wave of resignations and flight/departure from Liberia - raise serious critical, crucial questions about the credibility, integrity, loyalty, patriotism and Legacy ("to be appreciated") of the "democratically-elected" chief executive officer of the Liberian Nation, Mrs. Ellen Johnson-Sirleaf.
Rex Tillerson Shares Exxon's Tax Transparency Problems
By Zorka Milin
United States citizens need to know that the people running our country respect the fundamental principles of our democracy. So it matters that former ExxonMobil CEO Rex Tillerson is refusing to provide his tax returns before becoming secretary of State. President-elect Donald Trump didn't provide his tax returns before he was elected either, unlike every other presidential candidate in recent history.
U.S. Senate Must Seek Answers From Former ExxonMobil CEO About Questionable Oil Deals And Key National Security Issues Before Approving His Appointment
Global Witness
The U.S. Senate Committee on Foreign Relations must probe ExxonMobil's record of questionable oil deals, attempts to undermine anti-corruption policies and allegations of misleading the public on climate change, Global Witness said...
Price Gouging/Minuscule Price Offering: Liberia Paid $4M Or $17M For One Megawatt But Guinea Paid $2.3m; Americans Pay $38,000 For A Drug Today That Was Sold For $40 In 2001
By J. Yanqui Zaza
Once again, Liberians, in 2017, will be electing new leaders to shape the country's destiny. And, of course the voters are frustrated with the state of the country and are hoping that a new leadership will fulfill the promise of financing social programs. Regrettably, unlike many other countries where politicians...

Task Force Say No "Sufficient Evidence" Former Sen. Wotorson; Rep. Fahnbulleh and National Security Agency Director Fomba Sirleaf
Montserrdo County Attorney Daku Mulbah who also serves as the lead Prosecutor in the case, said that the investigation continues, and will not close until there are convictions in the matter.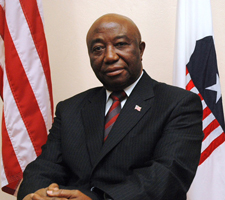 VP Joseph N. Boakai
An Introspective Look at the Liberian National Election (2017)
By Theodore Hodge
As a new national election season gets underway in Liberia, all parties, citizens and stakeholders must realize that a lot is on the line; perhaps it is fair to say everything is on the line. The upcoming election and the administration chosen following the EJS era will probably be the most important to glue together the nation's tapestry, especially its fragile peace that hangs in the balance. That is the optimistic perspective. However, on the other hand, if we blow this chance and choose recklessly, there is a potential to plunge our nation back onto the edge of the abysmal pit of self-destruction. George Santayana, a Spanish-American philosopher, essayist, poet and novelist left the grim reminder on the wall: "Those who do not remember the past are condemned to repeat it."
Ensuring The Success Of The French Initiative
By Dr. Alon Ben-Meir
Recent developments in connection with the Israeli-Palestinian conflict demonstrated the huge gap between the Israeli government and the international community's position about the settlements in the occupied territories and the prospect of a two-state solution. United Nations Security Council Resolution 2334, followed by Secretary of State John Kerry's speech condemning the Israeli settlements and characterizing them as a major obstacle to peace, were largely on the mark.
Donald Trump, US President-Elect
2016: A Year of Surrealism (Part II)
By Theodore Hodge
In part one of this article, we discussed Merriam-Webster Dictionary's word of the year, surreal, and its impact on our collective sensibilities. It will not be a stretch to proclaim Donald Trump's successful presidential campaign as the most surreal event in the world. Yes, although only a domestic election, is it not written that "When America sneezes, the rest of the world catches a cold"? Besides the word surreal, we shall also examine two other words: 'post truth' and 'xenophobia', chosen by Oxford Dictionary and Dictionary.com, respectively.
The Scepter of Justice Hangs over Liberia: Signs of the Time!
By Ivor S. Moore
Time is the ultimate rewarder of the deeds of man, whether good or bad or whatever there may be besides these two. Solomon, the wisest human in bible history, hit the cord of this maxim harmoniously when he writes in one passage in the Ecclesiastics that "for everything there is a season, a time for every activity under heaven."
Anarchy Looms…
By D. Garkpe Gedepoh
"Turning and turning in the widening gyre, the falcon cannot hear the falconer; things fall apart; the centre cannot hold; mere anarchy is loosed upon the world, the blood-dimmed tide is loosed, and everywhere the ceremony of innocence is drowned" (William Yeats).
Liberia: Face to Face with the Consequences of Careless Provocation
By: Francis W. Nyepon
The Ellen Johnson Sirleaf administration is setting the stage for civil disobedience in Liberia. And if the administration is not careful, the economic, social and political issues facing Liberia will again reached a boiling point, which could become a matter of life or death for many innocent people. During the last few months of 2016, the Christmas holiday shopping season was a nightmare for over 80% of the Liberian people. The government's abrupt austerity measure to raise revenue on the backs of the people so as to avert budgetary shortfalls created by neglect, mismanagement, corruption and carelessness was seriously unnecessary.
2016: A Year of Surrealism (Part I)
By Theodore Hodge
For the past several decades, lexicographers and other linguistic organizations have observed a tradition of naming a word, or a group of words, as word(s) of the year. This year, the Merriam-Webster Dictionary has chosen the word "surreal" as its word of the year. A short definition reads: "very strange or unusual" or "having the quality of a dream".
America's Weimar Moment
By Dr. Sam Ben-Meir
This month commemorates seventy-five years since the attack on Pearl Harbor by the forces of Imperial Japan - an attack in which 2,403 Americans were killed and directly led to the United States' entry into World War II. By December 11th, the United States was officially at war with Japan, as well as Germany and Italy. The war lasted four years, and by the end over four hundred thousand Americans were killed - approximately sixty million people worldwide.
Mt. Coffee Hydropower Plant
Dealing With The Razzmatazz And Euphoria of Mount Coffee Hydropower Plant
By Martin K. N. Kollie
National Debates must be characterized by Patriotism, Sincerity and Substance. We must hold our leaders accountable by what they say they will do for the people. We must never run away from speaking the truth even if it hurts. The debate surrounding Mount Coffee Hydropower Plant is becoming increasingly interesting and I thought to weigh in from where I sit. This is just an initial analysis, but I shall endeavor to publish a full column of my thoughts in due course
If I Were a Gift at Christmas: I Would be a Little Light Bulb
By Mwalimu-Mku Moses Blonkanjay Jackson
If I were a gift at Christmas, I would be a little light bulb to shine a light around people in this doggone troubled world, who do not have anybody to give them gifts this Christmas, while others are receiving lavishly. I would shine a light so bright that they would put aside their woes and lay their sorrows at the Compassionate Savior's feet and hum the tone of the great 17th Century hymn, "Come ye disconsolate, where'er ye languish, come to the mercy seat fervently kneel…earth has no sorrow that heaven cannot cure" But I would not stop there.
Unveiling environmental safeguards provisions within the Petroleum Exploration and Production Law of Liberia - 2016
By Urias Goll
In 2002, the government, under the leadership of President Charles Taylor, made a knee-jerk decision to accelerate an oil and gas program through the establishment of NOCAL and enactment of the New Petroleum Law 2002. Some who believe that the country was desperately in need to find additional funding sources to build up its revenue base for socio-economic development heralds this decision. I disagree because most, if not all, of the revenue generated in Liberia, were redirected to providing security and fill the pockets of the few elites against the wishes of the rest of the citizenry considered at the time as "riffraff".
Diaspora Social & Economic impacts- the Liberian Experience
By Jimmy Suah Shilue
Liberia's resurgence following paralyzing brutal upheavals and resilience against the recent Ebola epidemic was not possible without the collective efforts of both home-land and its Diaspora populations. This brings into perspective on-going debate about Diaspora in relation to their transnational contributions to their home economies- a discourse which has been gaining immense attention both in the academia and in development circles. The debate has been further enhanced by Globalization- which has created or simplified the relationship between relatives, sojourners, migrants and country of origin. This phenomenon gives opportunities for Diasporas to emerge, to survive and to thrive.
"Gaging Anti-Corruption Efforts in Liberia"
By Cllr. Tiawan S. Gongloe
While corruption, as our president has observed on many occasions, can be found in the family, in places of worship, in community organization, etc, our focus in highlighting the issue of corruption is on government because it is government that leads a nation and signs international treaties and protocols, including those on combating corruption. It is official of government that take oath, committing themselves to seek the collective interest of the people, to obey the laws of the country, including laws against corruption and to maintain good moral good while serving the people.
Selective Obedience-Disobedience To Laws: The Case Of Liberia's Recent Past & Present-Prevailing Activities
By Bai M. Gbala, Sr.
Rules, Regulations, Public Policies and Laws are made to guide action in protecting society for peace, security and stability; and to do so, governments are instituted to enforce, protect and defend the laws so made in the effort to ensure peace, security and stability, with specific, particular emphasis on "international peace and security", during these fast-paced, modern days of the 21st century.
An Education and Teaching Regulatory Authority: Laudable Effort by President Sirleaf to Cement her Legacy
By Moses Blonkanjay Jackson (MsEd, EdM)
As a national mantra that is apparently not based on research, the education sector of Liberia is in a "messy" condition and has yet to achieve its goals as enshrined in the 2011 Education Act in spite of many missed opportunities for improvement. Admittedly, since her ascendency as President, education reform has been challenging and therefore prompted Madam Sirleaf to make frequent changes of administrators starting from Dr. Korto to George Werner.
"No Front-Runner For 2017": A Commentary
By Bai M. Gbala, Sr.
In Liberia, nothing is done without the agreement with and/or practical participation by the President. The analysts' assessment says that "the President appoints nearly (we say, all executive) public officials . . . seen as (the classic example of) winner-take all contest which could be (in fact, will be) highly contentious, as was (had been, and is, throughout Liberia's 169-year history) the case in 2005 and 2011". This power of the President was cast in iron, enshrined in the Constitution in 1847 and encapsulated in the doctrine of the Unitary Structure
| | |
| --- | --- |
| President-Elect Donald Trump | President Ellen Johnson Sirleaf |
Diametrically Differing with President Ellen Johnson-Sirleaf over President-elect Donald Trump's Victory
By Martin K. N. Kollie
It has been barely 3 weeks now since millions of Americans headed to the polls to decide the successor of President Barrack H. Obama who has served for two terms (8 years) as Commander-in-Chief of the most powerful nation in the World, the United States of America. Even though the race for Presidency is over between Trump and Clinton, but this gone election sent a lot of messages about politics and its dynamic nature.
Questions And Answers About Some Of The Raging Events In The Middle East (Part II)
By Dr. Alon Ben-Meir
I challenge anyone who can point out a leader anywhere in the world who has the qualities to lead with vision, courage, tenacity, and strength and know where he/she is leading and can, in fact, change the course of history in a very positive and effective way. Where are the Lincolns, the Churchills, where are the Ben Gurions and the Anwar Sadats? The question is, will new leaders rise up in response to the people's frustration?
Of Frustration, Self Interest and Contradiction
By Ivor S. Moore
The election of Donald Trump as the 45th president of the United States of America was obviously received with unprecedented anxiety shockwaves not only by citizens and immigrants within its borders but by all nations of the world. Despite his pacifying victory speech calling for unity and offering to work with all countries wishing to work with America, uncertainties reduction in the wide and threat-worthy statements of the Trump's Phenomenon of making 'America great again' cannot be guaranteed
Liberia at a Glace after 27 years of UNCRC: The Harsh Realities That Require Concrete Remedies
By Martin K. N. Kollie
I am elated to form part of this event, but I am also sad, because even as I speak to you now, dozens of children around the world are being abused and exploited by cruel elements. The world is yet to find a more concrete and sustainable cure to child labor, force marriage, teenage pregnancy, rape, sexual harassment, infant mortality, child prostitution, sex trafficking, kidnapping, child pornography, neglect and the forceful recruitment of children as soldiers.
Donald Trump's Victory: Will White America Take On Corporate Greed?
By J. Yanqui Zaza
Winners or losers emerge after every competition be it a game, war or election. Some winners or losers might not have supported the victor during the election. Also winners might not have similar views, rather different interest. So, although big businesses, on the one hand, and ordinary white Americans, on the other hand, are rejoicing about President-elect Donald Trump's historic election, big businesses will not cease to exploit them (i.e., for example, Wells Fargo Bank's 5,200 customers).
5 Key Lessons from Trump's Shocking Victory for Liberian Opposition Parties
By Lee H. Williams
You cannot claim to be a 'serious' opposition/oppositions when you are considered or seemed to be considered  insider/insiders harvesting  from the very failed status quo, ruling class and elites you claimed you want to change. In short, you cannot be part of President Ellen Johnson Sirleaf and want to defeat her Vice President Joseph Boakai.
Questions And Answers About Some Of The Raging Events In The Middle East
By Alon Ben-Meir
In a recent conversation I had with students, faculty, and alumni at New York University just before the start of my program "Global Leaders: Conversations with Alon Ben-Meir" on November 3, I had the opportunity to answer some questions concerning the turmoil in the Middle East and America's role in the world. The following is my take on some of these events and how they might further evolve over time; questions and answers have been edited and condensed for clarity.
Trump's Victory and Eventual Presidency; President Sirleaf's Concerns; Where I disagree
By Jones Nhinson Williams
Many Americans have and continue to express serious concerns about their president-elect, business executive Donald J. Trump, Sr.  While some of these concerns may be legitimate, not all are real or based on facts. A good number of them are based on the President-elect's campaign-fever/mood utterances, which contextually and in my understanding, reflect a man who was once a reality TV star that later on happened to become a candidate for president of the United States, and who clearly understood the anger and frustration of his fellow Americans,...
Trump's Daunting Foreign Challenges
By  Prof. Alon Ben-Meir
If nothing else, the 2016 elections have once again reaffirmed America's solid democratic system. Without any major incidents, tens of millions of Americans went to polling stations across the land, voted for the candidate of their choice, and readied themselves, as always, for the peaceful transfer of power. I believe that even those who were deeply disappointed with the results of the election will sooner than later rise above the fray,
Liberia In Liberian National Politics, - Part 1
By  Bai M. Gbala, Sr.
By this analysis, we argue that  the facts of history of the Liberian political experience show, clearly, that the Republic of Liberia is still locked in the dangerous TRANSITION from DICTATORSHIP, seeking  Liberal, Progressive DEMOCRACY, following the dissolution of the Republican Party (of the light-skinned African-American settlers, children of white slave owners) in 1876; the overthrow of the True Whig Party (of dark-skinned African-American settlers) in 1980; and the nightmare of the African-American settlers-led,
DONALD TRUMP COULD PULL U.S. FROM NIGERIA'S BOKO HARAM FIGHT, WARNS WOLE SOYINKA - (Newsweek)
The victory of Donald Trump in the U.S. presidential race could jeopardize U.S. support in Nigeria's fight against Boko Haram, according to Nigerian Nobel Prize winner Wole Soyinka. In an exclusive interview, Soyinka tells Newsweek that Trump's "bunker mentality" could see the U.S. withdraw support for counter-terrorism operations in West Africa.
Liberia's 2016/2017 Outrageous Recurrent Expenditures
By Seltue Karweaye
Liberians heaved a sigh of relief in  May of  2016 when the newly appointed Minister of Finance and Development Planning (MFDP), Boima S. Kamara  submitted the Draft National Budget for 2016/2017 of US$555.9 million, comprising of US$495.5 million for Core Domestic Revenue; US$30.2 million as Grant; and US$30.1 million as Contingent Domestic Revenue. However, between the battle for more money from the Executive and the Legislature branches, President Sirleaf October 1, 2016, President signed into law the National Budget for the fiscal year (FY) 2016/2017.
A Paradigm Project for the Future - Location: Morocco
By Yossef Ben-Meir
What makes for a great development project?  Which qualities imbue an initiative with longevity and sustainability, enabling it to meet a whole range of interconnected material and emotional needs?  Is there a single concept applicable to a specific geographical location that - exceptionally – embodies those qualities? 
"Justice – Reconciliation Quagmire": Some Comments
By Bai M. Gbala, Sr.
The sad, sordid memory of Liberia's historic tragedy of the civil war of plunder, looting, destruction, population displacement, rape, maiming, brutal atrocities of mass murders, extra-legal executions, human suffering and death will live with Liberians who survived the nightmare, as long as they live.
And So, Is the Usual Case with University Of Liberia: Candidates Challenge Results
By Mohammed Salue Sy
The University Of Liberia as the nation's premier institution of learning has come under grave public's questioning in most recent time as she officially released her 2015/2016 entrance and placement results. For so long graduates of high schools profoundly express their anxiety to seek admission at the University Of Liberia even though there are other tertiary institutions that provide similar education. Unfortunately ,thousands of those students anxiety and hope are dashed in the wilderness.
Jeffrey Gbatu Is Not War Criminal
By Bai M. Gbala, Sr.
The newspaper Front Page Africa reports  (FPA, October 28, 2016) that "A deportation date (back to Liberia) has been set for Jeffrey Gbatu, the former Speaker of Samuel Doe's People Redemption Council... The Daily Observer newspaper reported recently that Gbatu was arrested... in Charlotte, North Carolina after Homeland Security alerted INTERPOL, which subsequently charged him (Gbatu) with 'war crimes and crimes against humanity' which he allegedly committed in the aftermath of the 1980 coup
Donald Trump & Hillary Clinton
New York Times Endorsement Of US Presidential Candidate
By Bai M. Gbala, Sr.
In today's Socio-cultural World of culture-in-flux, changing life-styles, cultural diversity, people or population movement and urbanization; Political-Economic World of industrial development, cut-throat competition, excessive consumption; and the Global world characterized by excessive desire for wealth and political power, personality-cult, jealousy, rivalry, lies, deceit, desire/demand for money, bribery, graft & greed, lacking basic principles and beliefs of moral rectitude .
Celebrating Football Legend, Sarkpah Nyanseor, At 60
By Benedict Nyankun Wisseh
In sports, it is common for every former athlete to be referred to as a legend by people who have watched them play. Therefore, in Liberia, it is not strange that we have taken to doing it, greeting and referring to every former athlete as a legend. We do it, undoubtedly, as a genuine appreciation and respect for the athletes. But that demonstration of appreciation and respect becomes an obligation when the athletes have aged and no longer can run again, leaving us to reminisce about their performances in order to comfort and satisfy our inability to reverse the trajectory of the clock on their ages to watch them perform again.
Sound Vote or Perish
By Ansumana Konneh
When the Liberian people voted for Charles Taylor in 1997 under the slogan: "He killed my ma, he killed my pa, but I will vote for him", they did not realize that the consequences of that decision were at the expense of the future of their children and the fabric of the Liberian society. They failed to realize that Taylor was an egoist who wanted to enrich himself at the expense of the masses of our people.
A Personal Tribute To My Friend, Ambulai B. Johnson, Jr
By:James Thomas-Queh
I telephoned "AB" (as he was affectionately called) and Thelma (his devoted wife) on Sept. 21st to find out how both (the patient and the diligent nurse) were doing.  But there was no answer; so I left a message. Immediately after, I called another friend who quickly broke the news that AB had just passed away. Unbelievable, it was a total shock. Then Thelma later returned my call, in tears, to confirm that AB had died peacefully in her arms at home on the night before.
My Recollections of Our Childhood Days: A Tribute to the late Alhaji Saku B. Sillah, MS, BA
By Al-Hassan Conteh, Ph.D
This is a story of my recollections of a fun-filled life growing up with the late Saku Sillah and a host of friends in Monrovia, Liberia, during the Sixties, our childhood years. Saku passed away on August 12, 2016, after a brief illness, during a business trip to Conakry, Guinea. May his soul rest in perfect peace.
Construction Of Ministerial Complex: Who Benefits?
By Bai M. Gbala, Sr.
Rumors and spirited debates regarding demolition of the uncompleted Ministry of National Defense Building on Tubman Boulevard in Congo Town for the construction of a proposed Ministerial Complex on the site have been the subject in executive suites, posh restaurants, cook-shops,  barber shops, beauty salons, street-corner intellectual discourses and residential dinner tables for some time in Monrovia.
How Vice President Joseph Boakai Could Lose the Presidency to Charles Brumskine
By Kewellen Dolleh
Let's face it, Vice President Joseph Boakai's snail-pace style of walking and talking is annoying as it mimics the pace of Liberia's infrastructure development under President Ellen Sirleaf. And more worrying is the fact that the Liberian people are impatient and dissatisfied with the Sirleaf-Boakai administration. You name it:  poor infrastructure, a broken educational system, a blatant lack of healthcare delivery system, massive unemployment are among many reasons why most Liberians will find it difficult to vote for Vice President Joseph Boakai--come 2017.
Police Director Gregory Coleman              LNP pursues Zogos
Fate Of Homeless Liberians And Others Removed From The Streets
CDC Youth League Writes to LNP
There is a level of concern that we have as regards the manner in which these persons have been forcibly and with brutality enjoined from the enjoyment of their liberty by the unilateral directive of Abraham Kromah, one of your deputies. We begin by referring you to Article 20 of the Liberian Constitution which states that "No person shall be deprived of life, liberty, security of the person, property, privilege or any other right except as the outcome of a hearing judgment consistent with the provisions laid down in this Constitution and in accordance with due process of law."
The War against 'Zogos' is Commendable, but must be Holistic and Systematic
By Martin K. N. Kollie
The Liberian society is engulfed with plethora of vexing social perplexities due to numerous of factors. Overtime, holistic and systematic steps have not been taken to address these prevailing challenges. The proliferation of 'Zogos' is just one of those social challenges currently facing Liberia. This revolving social problem continues to endanger public safety and security since peace returned to Liberia in 2003. The nation has been severely hit by this social dilemma.
Professor Dunn Urged "Liberians To Introspect...": Some Comments
By Bai M. Gbala, Sr.
While we appreciate and will remain grateful for the opportunity to learn and benefit from the political, diplomatic, and economic history of the African struggle for freedom from colonial, minority rule in which the Republic of Liberia, its patriotic sons and daughters – statespersons - were frontline leaders, but the facts of history of the South African and the Liberian struggles for freedom show absolute differences and, because of these differences, the "lessons" (of history) – of compromise, give-and-take, negotiated settlement and, indeed, reconciliation
You Want To Be The Next President Of Liberia?
By Bai M. Gbala, Sr.
This Article, as indicated above, is directed, specifically and particularly, to the Announced Candidates for President of Liberia, with invited attention of the Liberian Voter. It is, also, our Response to 2017, the profoundly hyped campaign and expectations.  The article is the edited, revised, updated and condensed version of our earlier Message-Reminder of the requirements-expectations of the Candidate for President, published on April 30, 2014.
Economic Paralysis: the Bane of Liberia
Building a successful middle class is the newest mantra on the lips of policy makers and would be policy makers, but whether the framework to do so has been devised is a question we can ponder over. One knows in time like these good intensions do not address the imploding challenges that are pivoting the masses in the abyss.
WAEC Credibility Questioned
By Mohammed Salue Sy
The issue of education in post-war Liberia continues to be marred by excessive problems which have over the years not been ably addressed by national leaders .There is no doubt that the assertion by Her Excellency President Ellen Johnson Sirleaf that the Liberian educational system is a "mess" has become a fact instead of anyone treating it as a mere personal view. For too long the system has widely been described in every nook and quarter by Liberians in many ways but with little or nothing being done to address the educational maladies.
Youth Unemployment in Post-conflict Liberia: A Recipe for Public Chaos
By Martin K. N. Kollie
Young people account for about 65% of Liberia's 4.4 million population. This means that Liberia has a youthful population that is capable of serving either as a driving force for economic growth and development or a risky channel of violence and insecurity. Creating employment, empowerment and educational opportunities for young Liberians is very crucial to sustaining peace and harmony as Liberia transitions politically in 2017.
Supporting the Kingdom of Morocco
By Dr. Yossef Ben-Meir
In recent decades the Kingdom of Morocco has embarked on a path that fully commits the nation to a development and civil course that is at once progressive and strongly connected to its national identity. The Moroccan model for success - with its core ideals of decentralization, human development, multiculturalism, south-south connectivity, and participatory methods - is essential not only for its own people but also for establishing a viable strategy for the people of Africa, the Middle East, and the world.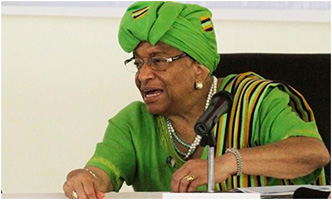 President Ellen Johnson Sirleaf
Liberia Is Virtually Under Siege By Pres. Ellen Sirleaf,,,
I have been pondering over the situation that is currently unfolding in my country. It is so mind bugging that I have to pose the following questions: Is Liberia still a sovereign nation? Has the country been placed under siege? On reflection, I can only say that Liberia has lost her sovereignty and has been placed under siege by Ellen Sirleaf and her criminal gang. And they appear to be very arrogant, refusing to accept the proposition that the interest of the Liberian people supersedes their narrow interest.
World Teachers Day October 5, 2016: Re-Branding and Valuing Embattled Liberian Teachers
World Teachers' Day October 5 is set aside by UNESCO each year to recognize the sacrifices of teachers and honor them; all nations and stakeholders are required to implement programs befitting the essence of the day. According to a UNESCO release, this year World Teachers' Day marks the 50th anniversary of the adoption of the 1966 ILO/UNESCO Recommendation concerning the Status of Teachers. It is also the first world Teachers' Day (WTD) to be celebrated within the new Global Education 2030 Agenda adopted by the world community one year ago.
Statesmanship versus Demagoguery
By Dr. Alon Ben-Meir
The death of President Shimon Peres highlights the stark difference in leadership between him and Prime Minister Netanyahu - the difference between a statesman and a demagogue. Peres never hesitated to change his position and embrace policies from the left, right, or center as long as it served the country's interests and advanced peace, which he always placed above party politics. Netanyahu, however, has proved time and again that he is stuck in the past, holding fast to reactionary policies and putting his personal ambitions and ideological bent above the national interest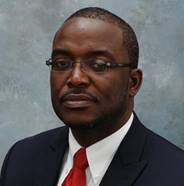 George K. Werner
Minister of Education
Rethinking Short-term Educational Improvement Strategies: Government's Public - Private Partnership Dilemma
By George Wah Williams
Conversations around the introduction of the Public-Private Partnership (PPP) agreement between the government of Liberia and the US-based Bridge Incorporated, continue to draw attention from educational practitioners, civic groups for innumerably justifiable reasons.  While the PPP idea does generate incorporable considerations for contextual inclusion in a national reform program, the current evolution of the program institution by the Government of Liberia will remain typically a monumental flaw in the nation's expressed endeavor towards sustainable social development.
Turkey And The PKK: Mutual Violence Is Not The Answer
By Dr. Alon Ben-Meir
Turkey's President Erdogan has claimed that military operations against the Kurdistan Workers' Party (PKK) will continue until "the very last rebel is killed" What is puzzling about this statement is that after more than 30 years of violence that has claimed the lives of over 40,000 Turks and Kurds, Erdogan still believes he can solve the conflict through brutal force. However, he is fundamentally mistaken, as the Kurds' long historical struggle is embedded in their psyche and provides the momentum for...
The Fatality of Democracy: Why Elections are Rigged in Africa
By Martin K. N. Kollie
Democracy in Africa is difficult to flourish, because there are too many kleptocrats, autocrats and opportunists flooding the political parameter. A free, fair and transparent election on the continent is rare due to anti-democratic precedents mostly devised by failed and corrupt regimes. Democracy in Africa is eclipsed by immaturity, impropriety and intolerance.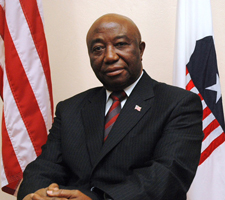 Vice President Joseph N. Boakai
An Enemy of My Enemy is my friend: Liberia's Opposition Parties 2017 Dilemma
By Nyankor Matthew
In December 2014 the Israeli Labor Party, Hatnuah party and Green Movement party formed a center-left political alliance called the Zionist Union to unseat Prime Minister Benjamin Netanyahu. By March 2015 (within three months) the alliance had established a government in waiting. Individuals for the positions of Finance Minister and defense Minister among others, were named announced to Israeli voters. I note with emphasis that within three months, the Zionist Union Party was able to concretize its political ambition.
"From Mess to Best" Education Reform Policy: Is Minister George K. Werner a Reformist or Deformist? - Part I
By Martin K. N. Kollie
Liberia in this age of globalization and modernity is wedged in a web of dilemma due to array of factors. With all of what this country has in terms of natural wealth, it remains a symbol of poverty and illiteracy in Africa, even though it was once seen as the Pride of Africa. Notable among those factors responsible for Liberia's slow-paced development yesteryear and even now are, but not limited to...

The Moral Crisis in Liberia Remains Unabated
By Ivor S. Moore
Finally, Speaker Alex Tyler has recused himself as presiding over the House' plenary. What was said to be a "moral fight" against him over criminal charges resulting from the Global Witness' "The Deceivers" report has ended into jubilancy for the Ant-Tyler bloc headed by Deputy Speaker Hans Baschue, now presiding of plenary with the power of the gavel. It is only time when Tyler is no longer Speaker.
"Hell Is Truth Seen Too Late"
By Dr. Alon Ben-Meir
Senator Bernie Sanders' call during the primaries for a new approach to resolving the Israeli-Palestinian conflict was on-point and necessary. However, his plea for the US to adopt a policy of even-handedness in dealing with Israel and the Palestinians will not suffice. In fact, even if the incoming administration changed its approach by coercing Israel to make important concessions and stop its settlement enterprise, this will not produce the necessary conditions to make peace at this particular juncture of the conflict.
Reflections-Response Counter To "Deepening Liberia's New Democracy"
The Writers argue (FPA, September 8, 2016) that "Liberia has not, historically, been the model of liberal democracy. However, conditions are changing gradually. The seeming end of the Legislative stand-off which resulted in the Speaker's (of the House of Representative)... recusal, symbolizes the strength of our emerging democracy. The state of our unity may be fragmented, but our new democracy has proven to withstand shocks that could have resulted in crisis, under previous governments...
Hon. Speaker Tyler, I Told You So
By: James Thomas-Queh
On my recent pilgrimage to Liberia just few months after the brutal death of Harry Greaves, I expected this tragic event to have still been the much talk of the town, but it was not. However, there was a sort of ominous atmosphere, and despite the severe financial pinch and tax harassment from the Liberia Revenue Authority (LRA), the beach resorts were relatively customers overcrowded. Well, only once I overheard someone around a beer table adjacent to ours said: "What a great lost" - in reference to Greaves' death.
Dr. Togba-Nah Tipoteh
Dr. Togbah Nah Tipoteh: The Fallacy of a Legacy
By Theodore Hodge
Something has puzzled me for a very long time, and perhaps the time has come to share my thoughts with you in this very public manner. Let's pose some relevant questions:  Is it acceptable for a man to build a popular and grandiose legacy on an outright falsehood? Is it worth the deception, just to receive the accolades and praise, knowing that what is attributed to one is in fact a lie? How far must one be willing to go in encouraging the praise singers who call him a "great hero" over and over again?
Africa in Tatters
By Martin K. N. Kollie
The Africa of our dream seems too far from rising above mediocrity, self-pity, conflict, foreign aid and poverty. In this generation and judging from an objective opinion, Africa can best be described as a rich and populous continent with a group of hopeless and choiceless people whose destiny is predominantly dictated by foreign powers and handouts. Africa in my view is like an island in the middle of the sea with its inhabitants experiencing drought.
Dr. Tipoteh Accused Of Being 'On The Wrong Side of History'
By Siahyonkron Nyanseor
When we wanted to reply the "No Name Diaspora Liberian Group" which accused Dr. Togba-Nah Tipoteh of being on the Wrong Side of history for his stance in support of 'Single Liberian Citizenship, we were advised not to because it is a HOT BUTTON ISSUE. Anyway, we're going ahead - opposing views are what make a democracy works. We believe it would've been in the interest of us all had the group members identified themselves so that readers would know their motivation and purpose regarding a topic of concern to many Liberians.
The Tipoteh Sandals: A Powerful Policy Lesson on our Foreign-Dependent Extractive Economy
By Geepu-Nah Tiepoh, Ph.D.
An important theme running through the many tributes made to Dr. Togba-Nah Tipoteh last week, as part of an historic symposium commemorating his 75th birthday, is the fact that during the 1970s he wore and popularized the now famous 'Tipoteh Sandals' – a brand of rubber sandals knitted out of discarded car tires. A few of the tributes published so far alluded to some of the various meanings the sandals symbolized. Siahyonkron Nyanseor, for instance, mentioned that the shoes "injected into our national consciousness an awareness of a lost heritage"; Yanqui Zaza stated how they conveyed to our people the need to transcend material obsession; and Cllr. Tiawan Gongloe stressed that by wearing the shoes Tipoteh taught us to live a simple lifestyle and focus on the critical issues that mattered the most to our people.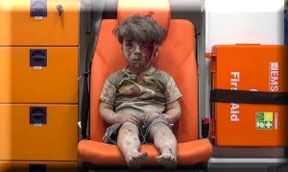 A Moral Outrage That Enraged No One
By Dr. Alon Ben-Meir
The ongoing horror in Aleppo should awaken every global leader with an ounce of courage to step up and do whatever it takes to end the slaughter and inhuman suffering of the Syrian people. The fact that the siege of Aleppo continues unabated only exposes the ineptitude and moral decadence of the international community, who have failed to save innocent Syrians from Assad's killing machine. The US should now take a firmer position on ending the butchery in Aleppo.

Ay-yah! Ah Bai Seedee Gurva Wanneh: A Tribute to Ms. Wynn Seedee of Barclayville
By Ray Martin Toe
It is still heartrending to reflect on the short life of Wynnie Seedee - even three years after her untimely passing in the United States. Wynnie suddenly died on July 26, 2013 in Atlanta, Georgia where she was visiting her daughter. She was laid to rest on August 24 in Highland, Maryland.  If Wynnie had woken up on that July 26 morning, she would have picked up the phone and conveyed her July 26 compliments to her many friends and relatives. She would have certainly done the same on that August 24 had she not lain in state to be buried in a few hours.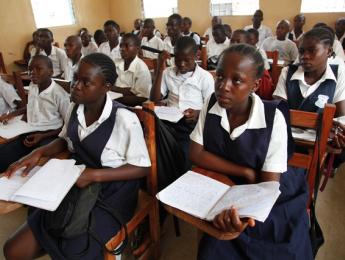 Can The "Savior" Save Liberia's Education System?
By Gerald D. Yeakula
The Ministry of Education (MOE) has decided to tackle the problem at its core with focus on early childhood and primary education. Consolidation of quality at these levels should set the foundation to support onward growth and development of students at all levels. To insert sustainable quality in the system, the MoE wrestles with the idea of fixing the system itself or engaging the expertise of external agents. The latter is being considered and the early childhood and primary levels would be affected. The Ministry of Education has contracted the services of Bridge International Academies, a private company, to adopt 50 schools and pilot its technology-driven delivery of education.
Speaker Alex Tyler has recused himself, but he's still Speaker of the 53rd National Legislature
Once again, I am constrained to address the people of Liberia through the press on the Global Witness Saga that have drifted to leadership and constitutional crisis in Liberia. As you are all aware, Global Witness wrote a report in which the Republic of Liberia and the Republic of Guinea were accused of corrupt practices naming several government officials of both countries as being involved.
Dr. Togba-Nah Tipoteh
Tipoteh and the Struggle for Rights and Rice
By Tiawan S. Gongloe
Dr. Togba Nah Tipoteh, in at the age of 32 established the Movement for Justice in Africa (MOJA) along with Dr. Amos Sawyer and Dew Tuan Wleh Mason then only in their twenties, who were later joined by Drs. H. Boima Fahnbulleh and Nya Quiawon Taryor, amongst others, as a national consciousness movement for the transformation of the social, political and economic condition in Liberia, using the pan-African agenda, with a focus on the struggle for change in Guinea Bissau and Cape Verde, led by PAIGC, Mozambigue led by FRELIMO, Namibia, led by SWAPO, Zimbabwe led by ZANU, South Africa led by the ANC, and Angola led by MPLA.
The Evolving Trouble At The Capitol Building - A Threat To Our Collective Security
By Tiawan S. Gongloe
For a weeks now the Legislature has not been able to function. The situation evolved from a position taken by some members of the House of Representatives that Speaker Alex Tyler should recuse himself from functioning as Speaker because of his indictment by the Grand Jury of Montserrado County for bribery. The speaker in reaction to the request for his recusal took the position that he was innocent and that consistent with the Liberian Law that says that an accused person is presumed innocent until proven guilty, he would not recuse himself. Members of the House of Representatives who were advocating for him to recuse himself then decided not sit under his gavel and vacated the chambers for the regular meeting of the House to another location of the Capitol Building.
Liberia tops UNICEF ranking of 10 worst countries for access to primary school - Thomson Reuters
Liberia has the highest proportion of children missing out on primary school education, the United Nations said on Thursday, with nearly two-thirds of its children never stepping inside a classroom.
The nation mourns when a conscious voice fades - A Tribute to Mamadee Diakite
By Martin K. N. Kollie
The rising sun was gleaming from the bottom of the Atlantic with a humid breeze of disbelief spreading across Monrovia and its environs. The nation woke up once more to an atmosphere of shock and surprise. Almost everyone was in a state of mourning as a result of a loss we are yet to get over. Getting over such a loss may not be anytime soon.
Tribute To Dr. Togba Nah Tipoteh ("Tipoteh Shoes")
By J. Yanqui Zaza
It is a general knowledge that mankind is not only endowed with his/her genes, but endowed with family norms, educational developments, religious upbringings, community influences, etc.; or as Ms. Carolyn N. Kinder of Yale University puts it: "The genes you are born with influence your behavior. Your social environment including your family, school and neighborhood also influence your behavior."
"Better late than never" in Discovering Diamond in Our Backyard
By Siahyonkron Jglay Kpa-kay Nyanseor, Sr.
History is replete with stories of individuals who sacrificed their professions, careers, and even lives in order to serve as examples to be followed, or take the bold steps that motivated many of us to become the better persons, or more comfortable people we are today. In African American history, for example, visionaries and doers such as entrepreneur and sea captain John Cuffee, who used one of his very own ships to transports twenty of his brethren from 1815 racist America to Sierra Leone. Others included John B. Russman, Henry Highland Garnet, Charles Lenox Remond, Frederick Douglas, Dr. W.E.B Du bois, Booker .T. Washington, Dr. Martin Luther King, Sojourner Jones, Harriet Tubman, Bessie Smith, Rosa Parks, not forgetting the son of a Kenyan immigrant who reached the US presidency.
Oil Company: Spent US $138m In 2012/13; No Report In 2013/14
By J. Yanqui Zaza
Liberia's annual budgetary document, like any other budget, should fulfill at least the civil obligation in providing transparent, verifiable information to the public. This practice, used partly to gain public confidence, has been around for centuries. In fact it was the desire for transparency and accountability that gave birth to the idea of capitalism in 1602, according to Jacob Soll, a professor of history and accounting at the University of Southern California
Liberia's National Oil Company Sacks Entire Staff - VOA
By James Butty
The National Oil Company of Liberia (NOCAL) Tuesday sacked its entire staff of 200, saying it did so to save itself from collapse due to declining oil prices. President Ellen Johnson Sirleaf endorsed the cuts, saying they will reduce costs and put NOCAL on a more viable financial footing.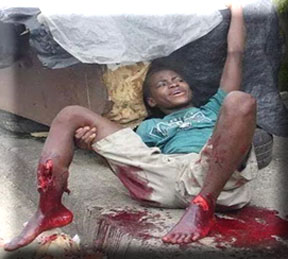 Little Shakie Kamara died in pain
Defense Minister Samukai said Shakie was just cut by barbed wire.
The Unforgotten Story: Shakie Kamara Deserves Justice
By Martin K. N. Kollie
In 2014, Liberia was engulfed by a fatal disease it has never known. The Ebola Virus Disease was rapidly ravaging our nation and posing serious risk to its sovereignty. As a result of this deadly plague, 4,810 of our countrymen had to fall prey. After almost 2 years since this common enemy (Ebola) was axed, its scars remain noticeable across our nation. The orphans, widows, widowers and survivors of Ebola are still in a state of discomfort, disbelief and trauma. Getting over such tragedy may not be anytime soon due to its dreadful and overflowing impact.
Incentives And Peace [Part 2]
By Dr. Alon Ben-Meir
Unless distrust, insecurity, and illusions are first addressed, no incentives - however sweeping and compelling - will motivate Israel and the Palestinians to make the critical concessions needed to reach a peace agreement.
House Speaker Alex Tyler
Fighting On Whose Behalf Speaker Tyler?
By John H. T. Stewart Jr
According to some Legislators, embattled House Speaker Alex Tyler's fight to remain as Speaker is right and just because, in their eyes Speaker Tyler is fighting against Presidential excesses and tyranny. By their logic, the Speaker is protecting the gains of democracy acquired through decades of unrelenting struggle against minority rule in Liberia and is therefore justified in his actions.
Prioritizing Human Security, transforming Monrovia to a "Resilient City"
By James Suah Shilue
Liberia is increasingly confronted with development challenges exacerbated by growing urbanization and the recent Ebola epidemic, which exposed major shortcomings in Liberian society, such as weak social contract, weak institutions, inadequate capacity among public institutions to address uncoordinated rural urban migration and growing crime rate. Monrovia has experienced surge in population from its pre- war four hundred thousand inhabitants to slightly 1.1 million- showing that significant percent of the country's population lives in Monrovia. In addition, Montserrado County,
Eulogy Written on Flag Day: The Audacity to Still be a Liberian Flag
By Moses Blonkanjay Jackson
In my thinking thoughts, I realized it would soon be August 24 and Liberians would be celebrating National Flag Day. I noted that this nation usually observes its Independence Day before the Flag Day making it to appear like the independence was declared before Madam Susannah Lewis and the six ladies completed the knitting of the revere banner. Whatever was the case, in spite of the events which have charted the history of this nation, whether embattled by incidents or thriving peaceably, when others waivered to be patriotic, the Liberian Lone Star Banner always had the audacity to still be the identity of the nation state.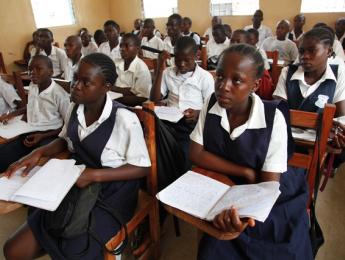 What Do We Teach Our Children In Liberia?
By Nat Galarea Gbessagee
The abysmal performance of Liberian students in the West African Examination Council (WAEC) exams has been a recurring irritant in the Liberian educational system over the last couple of years. It is also an open secret that Liberian students are not performing too well at local high school and college entrances or matriculation tests and at any number of related scholastic and workforce aptitude tests. But this was not always the case. It is the Liberian educational system that produced many of the current cadets of national leaders, educators, lawyers, diplomats, journalists, clerics, and other professionals running Liberia today, and it is the Liberian educational system that produced  the 2016 national independence day orator and medical inventor, and other such Liberians who have excelled...
Incentives And Peace [Part I]
Dr. Alon Ben-Meir
The international conference that was convened by France on June 3rd in Paris to advance the Israeli-Palestinian peace process ended up without concretely establishing specific measures that would persuade both parties to resume negotiations in order to reach a peace agreement. The joint communique issued following the conference stated "The participants discussed possible ways in which the international community could help advance the prospects for peace, including by providing meaningful incentives to the parties to make peace."
Fiddling While The Nation Burns!
By John H. T. Stewart, Jr.
The drama continues - it is all fife and fiddle at the Capitol where members of the House of Representatives are pitched against each other in what appears to be Tyler's last but desperate chance to stave off last ditch attempts by his opponents to remove him from office as Speaker of the House of Representatives. For the past few weeks now normal Legislative business has been interrupted by the continuous hauling and pulling between Legislators, some of who have vowed to remain unrelenting until Speaker Tyler recuses himself or until he is removed as Speaker by majority vote.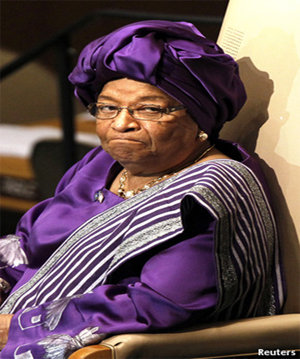 President Ellen Johnson Sirleaf
Epitome of "Systemic" Corruption: Tyler's Removal, Ellen-Brumskine Conspiracy, etc.
By Abraham Z. Mustapha
The current fragile political situation in Liberia continues to worsen due to the treacherous machinations of politicians with naive fantasies of determining who becomes president in 2017, without considering the dangerous consequences to our hard-earned peace for their self-conceited reasons. This determination to orchestrate and superimpose the outcome of the 2017 national elections is one of the devilish interests of President Ellen Johnson Sirleaf and those egregious political masterminds within the inner cycle of President Sirleaf.
Replace the Incompetent Education Minister With Competent Liberian Educator
By Ansumana M.M Konneh
Our country is in awful times; a time when Liberians from all walks of life are basically concerned about the current of state affairs of their country; a time when our economy is in shambles, our peace questioned, and our education system a total "mess" as you've consistently admitted. I must admit, Madam President, that all of these are attributes of your culture; a culture of mere platitudes and empty promises that are designed on the basis of absolute sophism and fretful words.
Liberian Currency
CBL's Monetary Policy Priority: Portability or Stability? Implications of the New LD500 Banknotes
By Paul Columbus Collins, PhD
The Central Bank of Liberia (CBL) recently held a press conference to provide information to the Liberian people on the rapid depreciation of the Liberian Dollar (LD) currency against the United States Dollar (USD) currency.  This appeared to have been a communications strategy to either allay the fears of the Liberian people, who were concerned about the seeming free-fall (depreciation) of the LD currency, or a conference to reassure all that the CBL was aware of the situation, and taking steps to contain the free-fall of the LD.
Progressives Politics did not Fail: A Reminder to the Apologists and Remnants of the Defunct True Whig Party
By: Moses Uneh Yahmia
"No matter how big the lie; repeat it often enough, and the masses will regard as the truth". The denotative meaning of Churchill's words can be credited to unearthing the Ponzi scheme that has been persistently purveyed or parroted by the revisionists of Liberia's history in their attempt to stamp a guilty verdict on the "Progressive forces" for confronting the 133years misrule of the moribund True Whig Party; paradoxically, at the same time, celebrating the brutal and callous restoration of the old order during the latter time of Samuel K. Doe
Standing with the Altruistic Struggle of the Progressives Part II
By Alfred P. B. Kiadii
Throughout history positive societal changes are ushered in by men and women that subscribed to noble causes, who do not allow themselves to be pulled down by the stasis of society they want to change. On the other hand, the conservatives or beneficiary of the status quo will fight to their demise to stop this change in the short run, but insofar the change is reflective of the collectivity of the people, their success at truncating it will only be a respite. Whether they keep it in its tract, like volcano eruption, it is bound to happen.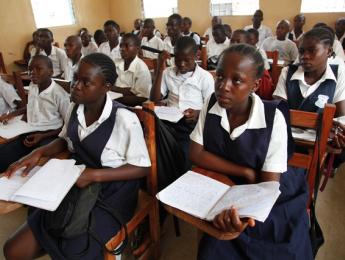 A Failed WAEC Liberia National Office and its Pedagogy of Oppressed Liberian Students
By: Moses Blonkanjay Jackson (MsEd, EdM)
In my thinking thoughts I considered the news that the mass student failure in the 2016 West African Examination Council (WAEC) exams is the worst since 2013. I pondered why people are surprised as it was clear from the onset that our students would fail massively. I also wondered why WAEC-Liberia National Office (LNO) always blames our students who are victims of oppression, and no mention is made of its own foibles and failures.
How Do We Defeat Islamo-Nihilism?
By Dr. Alon Ben-Meir
The Islamic State will ultimately collapse - and indeed it was doomed from the start because it could not offer real hope to the populations under its control, only the relentless fury of destruction and an obsession with perpetual war against enemies real and imagined, coupled with extreme religious interpretations of daily life.
Official Neglect Leads To Liberia's Food Insecurity
By Prof. Wollor E. Topor, PhD
A warning from Dr. Kilo - Resident Representative of the African Development Bank (AfDB) - that 'Liberia invest seriously in agriculture' reported in the Daily Observer's Monday edition of August 1, 2016 is not the first time this has been said to the Madam Ellen 's government. The author listed many attempts which the Daily Observer alerted Liberian Government.
The Limits of Disability
By: Lekpele M. Nyamalon
No one should ever have to undergo discrimination based on conditions beyond his physical or mental power. Sadly, this has been the case in our World. Disability continues to be a tag that has affected thousands of equally, highly gifted and talented individuals. Infact, the world has known and seen some of the finest intellectuals who are considered disable due to physical or mental limitations.
The Afghanistan Quagmire: Time For An Exit Strategy
By Dr. Alon Ben-Meir
Two weeks ago, President Obama announced that the US will draw down its troops in Afghanistan from 9,800 to 8,400, altering his original plan to reduce the number to 5,500. His decision suggests that conditions on the ground are not as promising as he expected them to be, and maintaining a larger number of troops is important as he believes 'it is in our national security interests...
Standing with the Altruistic Struggle of the Progressives, Part I
By: Moses Uneh Yahmia
After slavery was abolished in the 19th Century, Freed African American slaves were given two options: repatriate to Africa, or stay in America and suffer the brutality and bankruptcy of discrimination. Many chose to stay in America and fight for their freedom; because they had no idea of their ancestry in Africa. Few took the option of repatriation due to their aspiration to experience total freedom after centuries of languishing in the cesspool of captivity.
Changing the narratives for Post-Electoral Success in Liberia
By: Wainright Y. Acquoi
The 2017 Presidential and General Elections period is fast approaching in Liberia. As a constitutional mandate, after every six years of a presidential tenure, elections must be held to elect new code of officers to serve the country. During the period of preparations, there are several things that happen in the political sphere.
The Ghost of July 29, 1990
The story of the Liberian civil war remains incomplete when the horrific memory of the massacre at the St. Peter's Lutheran Church is omitted. In the early morning hours of July 29, 1990, cowards-in-arms stormed the sacred edifice of the St. Peter's Lutheran Church and murdered scores of men, women and children in cold blood.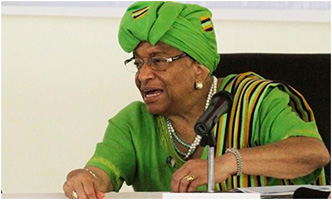 President Ellen Johnson Sirleaf
Ellen's Dilemna
By John H. T. Stewart, Jr.
As the clock ticks to October 2017, so too has the race to replace President Ellen Sirleaf not only begun in earnest but is intensifying with each passing day. Already the number of presidential candidates vying for the nation's top job stands at 12 and the list is not closed yet. As expected, accusations and counter accusations are already being traded and from the look of things, the mudslinging, the parade of lies and half-truths, the posturing, the grandstanding and the continuous spiral into the abyss of what should be a national debate as well as the groveling of critical national issues into the dirt are all likely to continue.
The Liberian Condition: the Election of a Progressive is the Best Way Forward!
By Alfred P. B. Kiadii
Liberia has been a country rocked by complexities of conundrums that inevitably led to the punctuation in the normal rhythm of governance. For some reasons, the entire existence of the state has been characterized by superfluity of contradictions. These contradictions and other attending anomalies created the schism of bloodletting that beset the republic for 14 years.  Our founding fathers, especially the negatively Americanized and Americo-centric bigots excluded the vast majority of the aborigines from the founding of the state.
Defeating ISIS And Ending Sunni-Shiite War In Iraq
By Dr. Alon Ben-Meir
Now that Iraqi forces, with the support of the international coalition, are gearing up to recapture Mosul - ISIS's last major stronghold in Iraq - the question that looms high is what will be the fate of the Iraqi Sunni community following ISIS's inevitable defeat? I maintain that unless the political discussion begins now between the Shiite-dominated Iraqi government and the Sunnis (under the auspices of the US) to determine the fate of the Sunni community, defeating ISIS alone will not end the ongoing Sunni-Shiite civil war in Iraq that has claimed the lives of tens of thousands since 2003.
Liberia after Ebola - turning midwives into surgeons- The Cure
South African Dr Tlaleng Mofokeng travelled to Liberia to investigate. "Liberia has one of the highest maternal mortality rates in the world," she says. "It is estimated that three women die every day from complications during childbirth. Many of these deaths are preventable with simple surgery and adequate equipment. However, a chronic lack of doctors here means that many maternity wards are overstretched and understaffed."
Liberia at 169, A Sad Story
By Seltue Robert Karweaye
Liberia has more natural resources than most emerging nations such as Botswana, Rwanda, and arguably even, Brazil. With the recent exploration of oil, independence in 1847 and having survived the civil war in 2003, the achievements we recorded as a sovereign nation are far below average when you compare the achievements of other countries in Africa such as Rwanda Botswana, South Africa, Ghana, Kenya, Ethiopia, Tunisia, Morocco, Ivory Coast or against other emerging countries like Tanzania, Equatorial Guinea, or, for that matter, Malawi..
Liberia at a Glance: Formal Colonization Instead of Early Independence
By: Moses Uneh Yahmia
All countries in Africa, except Liberia and Ethiopia that are considered least colonized nations on the continent, were colonized either by Great Britain, France, Belgium, Portugal, Spain, etc. Despite my abhorrence for colonialism in Africa, I would have preferred my Country Liberia to have been formally colonized by either of those colonizing European countries, rather than gaining quick independence on July 26, 1847.
Panama Papers Reveal Wide Use of Shell Companies by African Officials - New York Times
Entrepreneurs and corrupt officials across Africa have used shell companies to hide profits from the sale of natural resources and the bribes paid to gain access to them, according to records leaked from a Panamanian law firm.
Dr. Amos C. Sawyer
Chairman
Governance Commission
Disband The Governance Commission
By Teah Jardia
The fourteen-year civil unrest created a circus, politically for Liberia. With no solution yet in sight given the kaleidoscopic atmosphere that has culminated into selective justice and ritualistic killing; the Country's fragile peace, which was cascaded on peace agreement upon peace agreement signed between rebel factions, still hangs in the balance. With the penchant for power at the time, rebel leaders had the tendency of reneging on agreements because they desired to appoint civil servants that would be accountable to them instead of the State.  Against the whirlwind of political uncertainty that was and still looms over the nation with majority of the population still living in squalor...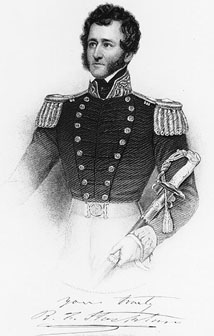 Captain Robert F. Stockton
Has Our Independence Met Its Promise?
By Martin K. N. Kollie
After 167 years of existence, the question that seems too hard to answer in some quarters is "HAS OUR INDEPENDENCE MET ITS PROMISE?" I want to emphatically say NO! The promise of Liberia's independence is still lingering in the wilderness of uncertainty. After more than a century of political endurance, where is democratic inclusion – where is equality – where is economic freedom – where is Justice - where is unity – where is patriotism – where are all these good promises?
President Sirleaf & VP Boakai
Liberia's 169th Independence Day: An Old Nation Continuously and "Appropriately" Celebrating in Turbulence
Moses Blonkanjay Jackson
Over its existence, this small West African state has painfully maneuvered through diverse turbulences. From the day the ex-slaves were offloaded on these shores by the American Colonization Society, to the days of the Ebola Virus Disease and the peculiar Unity Party leadership, there has always been turbulence. For example, NOCAL is bankrupt, ruling Unity Party Chairman Varney Sherman and the Speaker of the House of Representative Alex Tyler are indicted for corruption.

Turkey's Elected Dictator
By: Dr. Alon Ben-Meir
Even before the failed military coup, Turkey's President Erdogan governed like a dictator who had the last word on all state matters. The botched coup was nothing but, as he put it, "a gift from God" to purge what is left of Turkey's democracy and cleanse the army and judiciary in order to ensure the total subordination of all institutions to his whims.
Big Boy 1 and Big Boy 2: The Invisible Twins
By: Martin K. N. Kollie
From the balcony of the Executive Mansion to the bicameral chambers of the National Legislature, there is an increasing wave of corruption, greed, bribery, nepotism and patronage. From the courtrooms of the Supreme and Subordinate Courts to the Correction Centers, justice is on sale at the detriment of those who do not have deep pockets as well as those who are far away from the power that be.
Dr. Togba-Nah Tipoteh
A Tribute to Dr. Togba-Nah Tipoteh on His 75Th Anniversary, July 17, 2016
By Elitha Maning
Dr. Togba-Nah Tipoteh, as you, our leader and mentor, turns 75 years of age on Sunday, July 17, 2016, we who fall under the umbrella called Liberians for Tipoteh (LIFT) thank Our Common Maker, God, Allah, Nngala, Glaypor, Nyihnswa, Kamba, for your long fruitful life and wish for you many more productive years . So, we say Happy Birthday to you Dr. Tipoteh. We know that you are bereaved, as your older Brother, Mr. Patrick Geegbe, Chairman of the Eight Nominating Districts of the Borough of Krutown, has passed away, and so we also say never mind yah Dr. Tipoteh
Dr. H. Boima Fahnbulleh Jr.: Sixty-Seven Years Of A Revolutionary Life In Retrospection
By Ivor S. Moore
Today, July 16, 2016, marks the sixty-seventh birth anniversary of Dr. H. Boima Fahnbulleh Jr. In commemorating the natal day of our leader, teacher and friend, we take cognizant of the risk of berthing into the realm of the "Cult of the Personality", that anti-revolutionary tendency with its history of ruining great leaders and their followers and thwarting their revolutionary struggles. It represents the tendency of fifth columnists and reactionary bourgeois personalities who pride themselves in vainglorious god-like worship.
A Movement To End The Israeli-Palestinian Conflict
By Dr. Alon Ben-Meir
The Israeli-Palestinian conflict has been steadily deteriorating, making the prospect of reaching an agreement on the basis of a two-state solution ever more intractable. What is sorely lacking is effective opposition parties that could present an alternative to Netanyahu's policy toward the Palestinians, and a national popular movement demanding change before the continued entrenchment of Israel in the West Bank becomes irreversible.
Liberian Currency
Should Liberia Dump the USD and Stick with LRD
By Paul Columbus Collins, PhD
It has been reported that a bill is circulating in the national legislature that seeks to make Liberia a single currency (Liberian dollars) economy, a move from the current dual currency regime where both the United States dollars and the Liberian dollars are used jointly as legal tender. This move appears to have been stimulated by criticisms proffered by some renown Politicians, Economists and financial experts who blame the declining Liberian Dollar (LD) against the USD on the dual currency regime, arguing that the Central Bank of Liberia (CBL) hands are tied as it (CBL) does not have control over monetary policy as it should, considering that the dominant currency (USD) is a "foreign" currency.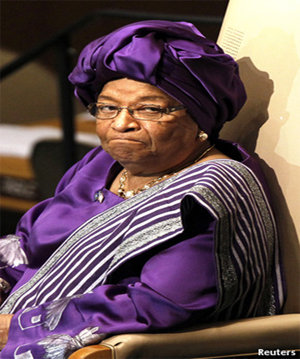 Ellen Johnson Sirleaf
President Sirleaf: Big Businesses Offer Bribes; Really?
By J. Yanqui Zaza
Sable Mining, Mittal Steel, Exxon Mobil, Chevron, Firestone, etc., or predatory investors, as President Ellen Johnson Sirleaf called them, have and continue to offer bribes in order to amass wealth at the expense of society. Consequently, they reduce government's resources to create, etc., jobs; thereby increasing income inequality, hatred, etc., according to David Kingston, the author of the book called "Free Lunch." However, using "Information Propaganda, they have shielded their identities as the thieves that drain government's coffer.
In Search Of The Shepherd: What should be our compass?
By Alston C. Armah
On a recent survey in Liberia's northern Lofa County, an elderly respondent, most likely to be in her late 50's, named roads and safe drinking water as the priority needs of her community. To probe further, the respondent was given two scenarios and asked which one she would choose if it was Election Day. In the first scenario, a presidential candidate says "If you vote for me, I will build your roads and provide safe drinking water for your community." In another scenario, a second presidential candidate gives out a bag of rice and asks you to vote for him. Whom will you vote for? The respondent emphatically said...
CDC Youth League Identifies with Flood Victims in Joe Blow Town & Dolo's Town
The Revolutionary National Youth League of the mighty congress for Democratic Change over the weekend embarked on a two days of cleaning Up campaign as a means of identifying with flood victims of lower Margibi , Margibi County specifically Joe Blow Town and Dolo's Town . As part of it community service engagement, the Youth league of the CDC conducted a vigorous clean up exercise that affected two Towns that was highly hit by the recent flood that left many homeless.
The Birth and Death Of Unity Party Under Ellen and Joe
By Charles Russell
As we go into the 2017 presidential election with Unity Party once again feeding a presidential candidate and being the ruling party, it would be fair to scrutinize and grade the party for the benefit of ordinary Liberians who are catching hell under this UP led Government. It is the poor people who stand in line for hours waiting to cast ballots in favor of candidates who they believe would represent their interests.
Moving Beyond The Quartet
By Dr. Alon Ben-Meir
The report that was recently released by the Middle East Quartet - comprised of the United States, Russia, the European Union, and the United Nations - is a welcome step. The report reiterates the importance of reaching a peace agreement between Israel and the Palestinians on the basis of a two-state solution. Perhaps most crucially, the report concludes with a pointed observation that unless significant and tangible progress toward peace is made, the status quo will inevitably lead to further deterioration in Israeli-Palestinian relations and potentially renewed full-scale violence between the two sides.
Keeping The Promise Of Maintaining Peace In Liberia-An Obligation Of All Liberians
By Cllr. Tiawan S. Gongloe
A few days ago, the United Nations Observer Mission in Liberia ended its duties of peacemaking, peacekeeping and peacebuilding. From October, 2003 to June 30, 2016, the world through the United Nations deployed here in Liberia, members of the military, para-military and civilians to support the United Nations effort to make peace, keep peace and to consolidate or strengthen peace in Liberia. In other words the United Nations brought to Liberia well-armed soldiers, police officers, correction officers, immigration officers, fire service officers, intelligence officers, amongst others.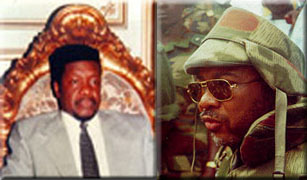 Warlords Kromah & Taylor
Microscoping Liberia's Security Sector as UNMIL Transitions
By Martin K. N. Kollie
Soldiers loyal to ex-President Charles G. Taylor and various warring factions were never willing to put an end to bloodletting and butchery in Liberia as straight bullets, mortars and grenades could not just spare our people. There was a loud cry out for rescue from the compound of Greystone as LURD and MODEL invaded Monrovia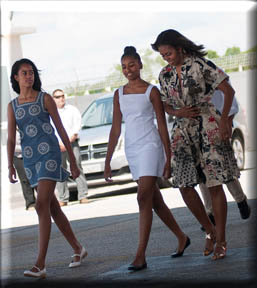 Malia, Sasha & Michelle Obama
Foreign Aid to Liberia: An Instrument meant to empower the Political Elite and Oppress the Poor
By Moses Uneh Yahmia
After the visit of Mrs. Obama, and her daughters, and the donation of over USD25Million toward girls education in Liberia,  I don't see any significant improvement that will be made in providing access to education to over One Hundred Thousand (100,000) Liberian girls who are out of school either due to lack of finance, teenage pregnancy, etc.
Letter to Malia and Sasha Obama - Weeping Voices in Dying Valleys
By Martin K. N. Kollie
With esteemed hospitality and a great degree of compliments, we want to heartily welcome you and your mom along with her entourage to Africa's oldest nation and the World's second black Republic. Liberians, especially teenage girls are glad to have you (Malia and Sasha) visiting a rich, but yet poor country like Liberia.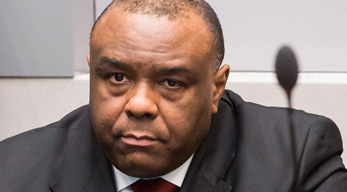 Jean-Pierre Bemba
Jean-Pierre Bemba sentenced by ICC to 18 years in prison for rape, murder and pillage in CAR
Press Release Issued By FIDH
(The Hague, Paris) The International Criminal Court (ICC) delivered a landmark sentence today, condemning Jean-Pierre Bemba to 18 years in prison for rape, murder and pillage committed by his troops in the Central African Republic in 2002 and 2003.
An Open Letter to President and Mrs. Barrack Obama on Michelle's Historic visit to Liberia
By Jerry Wehtee-Maotee Wion
We Liberians see Mrs. Obama's visit as our only and perhaps last chance with a black man in the White House whose father is an African. Liberia is Africa's first failed experiment at genuine democracy on the Continent. After nearly 170 years of so-called "independence" on July 26, 1847, we are still as a nation trying to figure out how to run clean and safe drinking water into pipes to Liberians in our cities and towns from the abundance of our reservoir of fresh water rivers and lakes.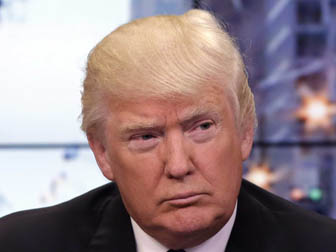 Donald Trump (Republican Party's Presumptive Presidential Nominee)
Is Trump a New Kind of Fascist?
By Dr. Alon Ben-Meir
Donald Trump's obscene demagoguery; his contemptuous regard for the first amendment, his desire to expand the authorities of the presidency (the awesome power of which has never been equal to what it is now), his belligerent and threatening attitude towards the judiciary, his shameless blurring of private and public agendas, his cynical exploitation of the fears of millions of Americans concerning Muslims in the wake of the nation's deadliest mass shooting in Orlando, his nationalist, anti-immigrant, racist politics, and finally, his endorsement of violent outbursts against dissenters, have all served to raise the specter of a new fascism on the political landscape.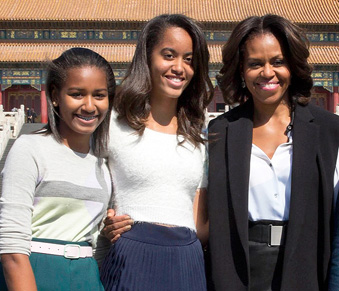 Sasha, Malia & Michelle Obama
Michelle Obama Planned Liberia's Stopover: A Solidarity With Struggling Liberian Women
By: Jones Nhinson Williams
U.S. First Lady and Harvard trained lawyer, Michelle Obama, the Obamas' daughters, Malia and Sasha and their grandmother, Ms. Mariam Robinson, included Liberia in their "Let Girls Learn Initiative" planned tour across the globe with a few hours stopover in Liberia scheduled for June 27, 2016.  Mrs. Obama's stopover in Liberia is not a celebration of President Ellen Johnson-Sirleaf's leadership, or our Liberian mothers, aunts, sisters, nieces and daughters, but a moment of sympathy with all Liberian women and girls for the inhumanity and neglect they have and continue to face in the country, especially under the corrupt government of a fellow woman.
Distorted Circulatory Migration and Misgovernance in Tandem: The Liberia Scenario
By Lawrence A. Zumo, MD
Brain drain, a darker perception of international mobility of well trained, higher intellectually endowed individuals to move from one country to another, usually from a less developed country (eg. Africa, Asia) to a more developed country, has been studied for quite a long time now. The origin of the term and concept is subject to debate but it is widely accepted that the term applied to the emigrants from post war Europe to North America after World War II. With the passage of time away from post World War II
Donald Trump (Republican Party's Presumptive Presidential Nominee)
Let Thy Voice Rebuke Vanity Thru Overwhelming Votes
By Elder Siahyonkron Nyanseor
A Donald Trump presidency portends a return to the blatantly anti-African Americans policies of the Reagan-Bush years; characterized by a general disregard for Blacks and the perception of Africa as a continent ONLY good for its mineral and natural resources. This is the reason why come November this year, African Americans and Africans who are US citizens should VOTE to deny Mr. Trump the presidency. We will have ourselves to blame if WE DO NOT VOTE!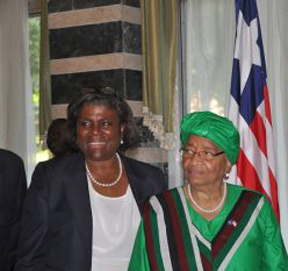 Amb. Greenfield and President Sirleaf
Photo: mofa
Ambassador Linda Thomas Greenfield, Do Not Pressure The Liberian Lawmakers To Rectify The WTO Agreement
(A Letter to Liberian Lawmakers and U.S. Assistant Secretary of State for African Affairs)
There are calls for Liberian Legislature to quickly ratify Liberia's accession to the World Trade Organization (WTO). The pressure being put on the Legislature by some local actors and international actors seem reminiscent of the same pressure that Ms. Greenfield and others put on the Legislature to ratify more than 100 concessions and contracts since the inception of the Ellen Johnson Sirleaf administration in January, 2006. Moore Stephens, a London based international accounting firm, reviewed a sample of 68 of the more than 100 concessions and contracts in Liberia and the findings were appalling.
LINDA THOMAS-GREENFIELD Fights to Protect 66 FLAWED AGREEMENTS
Editorial
Now that President Ellen Johnson Sirleaf, the local sales manager of the World Trade Organization has become incapacitated due to non-natural causes such as Big Boy #1, etc., etc., the ultimate manager or international sales manager of big business is in charged. In an ultimatum, the U.S. Assistant Secretary of State for Africa Affairs has warned Liberia Lawmakers to approve the World Trade Organization Legislation, and allow Liberia to join the WTO.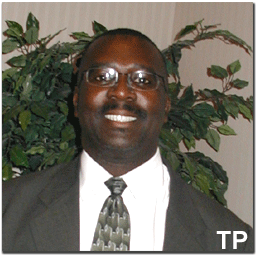 Counselor J. Fonati Koffa
A Counterpoint to Mr. Jones Nhinson Williams
By: Theodore T. Hodge
Over the last several months, Mr. Jones Nhinson Williams has appointed himself a tireless advocate of Liberia's poor and wretched. He has catalogued the shortcomings of the administration and criticized the government relentlessly, to the delight of many. Now, somehow mysteriously, he has a change of heart as he writes: "... the good news is President Sirleaf and her administration have gained relative consciousness about the need to fight corruption by setting up a 'presidential taskforce' headed by a brilliant lawyer..." By brilliant lawyer, he refers to none other than Jonathan Fonati Koffa.
Liberia: Why Liberia Needs to Join World Trade Organization (WTO) - allAfrica
By Linda Thomas-Greenfield
To secure a peaceful and prosperous future for its youngest citizens, Liberia must ensure that they will have ample opportunity to succeed as the country enters its second decade of post-conflict stability.
Jonathan Fonati Koffa Guilty of Embezzlement: "He did it for Liberia" - (From Archives of The Perspective)
By: Theodore T. Hodge
The case of Counselor Jonathan Fonati Koffa has taken yet another turn. (Now disbarred for dishonorable behavior). Is it for better or worse? Well, that depends on one's vantage point. I venture to say that Koffa did get a good deal and here's why: It was reported that Jonathan Koffa had pled guilty to four federal charges related to the suspected embezzlement of $500,000".
President Sirleaf's Fight Against Corruption: The Way I See it
By: Jones Nhinson Williams
Not only is corruption a complex problem in Liberia and under President Ellen Johnson-Sirleaf's regime, it has gravely damaged the institutional and social fabrics of the Liberian society, both in the short and long terms.  After a decade of catalepsy on the impact and evil of corruption, the good news is President Sirleaf and her administration have gained relative consciousness about the need to fight corruption by setting up a 'Presidential Taskforce'...
Senator Bernie Sanders
Bernie Sanders And The French Initiative
Dr. Alon Ben-Meir
Following the 2016 US presidential elections, the next administration must adopt a new and realistically balanced policy toward Israel and the Palestinians to bring an end to their conflict in the context of a comprehensive Arab-Israeli peace based on the Arab Peace Initiative. Throughout the primary campaign, only Senator Bernie Sanders had a position on this consuming conflict that was fresh, balanced, and welcome, especially given the increased intractability of the conflict and its dangerous implications not only for Israel and the Palestinians
Counselor Jonathan Fonati Koffa Pleads Guilty to Embezzlement
By: Theodore T. Hodge
A story many in the Liberian communities and other interested parties have followed is coming to a climax: The News Observer has reported that Counselor Jonathan Fonati Koffa has pled guilty to "four federal charges related to the suspected embezzlement of $500,000". The paper also reports that Koffa could face as much as "10 years in prison and a $250,000 fine."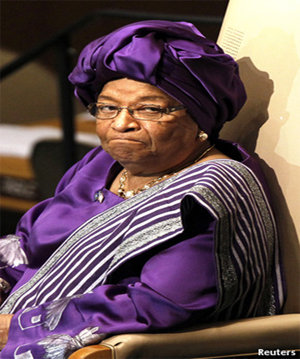 Ellen Johnson Sirleaf
Amid Corruption and Deceit, Liberians Should Oppose Sirleaf's Borrowing Spree Global PR Waste
By Jones Nhinson Williams
It is one thing to keep amazing people all the time. It is quite another thing to not love one's country, disregard one's fellow citizens and blatantly refuse to have pity for the suffering of the poor, especially when a vast number of them are women, children and the elderly. Liberian president Ellen Johnson-Sirleaf, prior to being president and as president, has clearly demonstrated the tenacity to amaze Liberians and the world at large by many of her personal, self-seeking and self-fulfilling engagements.
CDC On Hunger Strike
CDC Seeks U.S Government's Denial of Entry to all accused in Global Witness' Report
CDC Statement Presented To The US Government
After three days of Hunger-Strike, a difficult, but necessary revolutionary act of self-denial & pains inflicted to draw attention to the reign of corruption in our country, we extend profound thanks for your tolerance to let us gather in the shadows of your embassy.
Poverty in the Midst of Plenty: the Paradox of Liberia!
By Alfred P. B. Kiadii
Throughout the epoch of social existence in the ecology of the world, social structures and societies have been transiently in motion; primarily as a consequence of contradictions-internal and external. This outlook of society has not been taken into consideration by individuals imbibed in the defects of conservatism. These conservatives' outlooks underestimate the potency of the people's consciousness.

Donald Trump (Republican Party's Presumptive Presidential Nominee)
Will America Survive a Trump Administration?
By Dr. Alon Ben-Meir
At his last and final White House Correspondents' Dinner, President Obama quipped that "the end of the republic never looked better." With Trump as the presumptive Republican nominee, and Hillary Clinton beginning to steadily lose ground to him in national polls, it is time for millions of Americans to emerge from their nearly year-long state of denial and face the reality that Trump may very well be the 45th President of the United States.
Backwards Metamorphosis of Corruption in Liberia: From Grotesque Public Enemy to Wicked Vampire
By: Moses Blonkanjay Jackson (MsEd, EdM)
In my thinking thoughts last night I reflected on President Sirleaf's Annual Message especially the assertion that corruption had become a blood sucking vampire in Liberia. The assertion caused me to reminisce; when the President first assumed leadership, she declared "Corruption" as number one enemy; 10 years later instead of eliminating this enemy, corruption has metamorphosed into a supernatural vampire that sucks blood.
Fire Within CDC Youth Wing
A Press Release From CDC Youth President Jefferson T. Koijee
The NEC of the Revolutionary National Youth League of CDC is pleased to inform the Liberian populace that during its official deliberations convened at its Headquarters in Congo Town on 25th May 2016, it unanimously voted to suspend Mr. Sattiah A. Sattiah pending investigation by the Grievance and Ethics Committee of the Youth League headed by Mr. Hassan Newland.
The Rubber Republic: A Work Of Fiction
A Book Authored By Theodore Hodge
The Rubber Republic covers two decades, the late 1950s through the 1970s. Set mainly in West Africa, the story takes the reader to the United States and a few other stops along the way. The story is mainly about the intriguing and fantastic lives of two young men, Yaba-Dio Himmie and Yaba-Dio Kla, who leave their parents' farm in search of enlightenment and adventure. But the story is also about their country, the Republic of Seacoast, and a giant American Rubber conglomerate, The Waterstone Rubber Plantation Company. The two boys meet and befriend an American expatriate, Christian Snyder who quickly becomes their benefactor. They assume his surname and take the names Harry and Charlie Snyder. He becomes inflicted with the malaria virus and returns home to Akron, Ohio, where he quickly dies, but not before leaving them as beneficiaries of his will...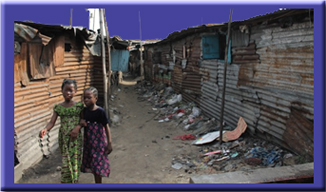 Slum of Liberia
Madam Sirleaf Should Not Evict Westpointers Like Animals
By Abubakar Bah, Contributing Writer
Few days ago, I heard about a plan by the Government of Liberia to relocate the heavily impecunious people of the densely populated township of West Point that host over 75,000 inhabitants. The Government has been expressing concerns about the constant sea erosion which takes place one after the other and is causing serious panic not just among residents but also to concern citizens of Liberia who are prognosticating that if nothing is done rapidly, there will be a colossal disaster that will happened in the not too distant future.
Varney Shernan
Cllr Varney Sherman - Why Always You?
By Alfred P. B. Kiadii
In Liberia most of our public officials who are cut in corruption cobweb are fond of justifying their misdeeds, instead of showing remorse for their action. This growing culture of abrogating the people's trust runs deep in their psyche simply because they think that the people are inactive; consequently, their bad deeds continue to hamper both the people and the forward march of the republic.
Political Parties Must Take Action On The Global Witness Report
By Abubakar Bah
Liberia has become a subject of discussions all around the World not because of the right reason but because of the wrong reason. As a Liberian Activist, I am extremely disappointed in the way and manner our Country has been placed on the international news wire. Allegations of Corruption have taken center stage of every major discussion surrounding major national actors in Liberia who have played counterproductive postures against the interest of our beloved Country, Liberia.
How Economic Liberalism has Bedeviled the Growth and Development of Liberia
By: Ivor S. Moore
Apologists of economic liberalism in Liberia continue to argue that there is no problem with this system, that had it not been for this system our resources like iron ore, diamond and gold would remain untouched while the nation and its people perish out of financial and technical inabilities to extract them, that Liberia only needs to fight against corruption to propel its development and prosperity.
Deradicalization In Refugee Camps And Beyond
By Dr. Alon Ben-Meir
The influx of millions of Syrian refugees to Europe is more than likely to become another source of radicalization that could increase the number of violent extremists among the refugees and lead to further acts of terror in their host countries. Depending on how long the refugees stay in camps and the way they are treated, terror attacks will either be reduced in number, frequency, and scope, or made increasingly acute once they are permanently resettled.
Liberia's Real Problems are Bigger than President Ellen Johnson Sirleaf
By: Jones Nhinson Williams
Even if we try to sugar-coat it, the truth is, President Ellen Johnson-Sirleaf's administration is a failure. No doubt about that. So is the entire ruling Unity Party's government and all those who served and are serving in the current Liberian administration.  Does this failure impact President Sirleaf's legacy? Of course, it does in many different respects, even though the sycophants, praise-singers, graft beneficiaries and deceptive cohorts in her administration will say otherwise.
The sudden arrival of Tamaya 1 in Liberia: A mystery of fear and insecurity
By Martin K. N. Kollie
There World has Seven Wonders, but it seems like the sudden harboring of Tamaya 1, an oil tanker vessel on the coast of Liberia may just be the eighth one. The docking of Tamaya 1 in Robertsports, Grand Capemount County with no crew members or passengers onboard remains a mystery of fear and insecurity across Liberia. The mystery surrounding this abandoned orange ship is something no one can easily explain or comprehend, not even personnel of our Coast Guard, Immigration and Police Force. This situation is panicking and points to existing gap within our security sector.
Liberia's Mess and Corruption: The Two Faces of U.S.'s Stance on Good Governance, Human Rights and Democracy in Africa
By Jones Nhinson Williams
The facts remain that the world looks up to the United States for the application of reasonable universal standards - in politics, economics, business, governance, transparency, law and even with respect to basic living standards. Liberia, in particular, has always regarded and continues to look up to the United States in almost every aspect of life, especially when it comes to good leadership, accountability, the rule of law, transparency and basic fairness. This comprehension is so engrained in the Liberian populace so much so that even villagers in the country largely adulate Liberian political candidates on the basis of how well the U.S. thinks of them. Obviously the U.S. has used this influence for years in its historical and traditional relationship with Liberia.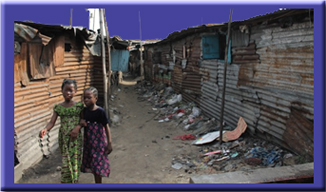 Partial view of slum life in Liberia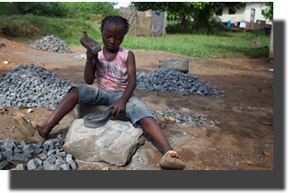 A teenage girl crushing rock in Liberia
Hopelessness vs. Joblessness: The Dilemma of Unification Day in Liberia
By Martin K. N. Kollie
Since this year began, I have made it my business to conduct a practical assessment of the livelihood and wellbeing of our people in various communities across Liberia, especially Montserrado County. I have gone to slum communities like West Point, Clara Town, Soniwen, Chicken Soup Factory, Logan Town, Doe Community, Red Light, Plumcor, Neezoe, New Kru Town, Bassa Town and many other shantytowns. I have seen for myself the horrifying living condition of our people.
With God On Their Side, They Will Have The Last Laugh!
By Elder Siahyonkron Nyanseor
In 2006 when then auditor general John S. Morlu II described the Sirleaf Administration as "three times corrupt than its predecessor", the (Interim National Transitional Government of Liberia (INTGL) - all of her supporters, and UP partisans accused him of not knowing what he was saying. Since he left the GAC, reported corruption cases grew exponentially engulfing every strata of the bureaucracy and state enterprises so devastatingly that our president renamed rampart corruption "Vampire"
Another Story of Shipwreck in Liberia (1980) And its uncanny coincidences
By Abdoulaye W. Dukule
On January 17, 1980, a British ship The Trident rescued Captain Aimitrios Georoulis, Chief Engineer Antonios Kalomiropoulos - both of Greece nationality - and 24 crewmen (Tunisians and Greeks) in the Atlantic Ocean, off the Senegalese coast. The seamen claimed that their oil tanker, the Salem had caught fire and exploded but they were able to escape. The crew was turned over to Senegalese authorities. After finding out that the tanker was registered under Liberia flag of convenience, Senegal turned over the Captain and the Chief Engineer to Liberia. The rest of the crew, Tunisians and Greeks were let go.
Cartoon by Sam Ben-Meir
How Turkey Became A De Facto Dictatorship
By Dr. Alon Ben-Meir
The forced resignation of Turkey's Prime Minister Ahmet Davutoglu suggests only one thing - President Erdogan, who is totally absorbed by his lust for power, will tolerate no one in his government to deviate from any of his political positions. Prime Minister Davutoglu was no exception. Although the Turkish constitution grants the Prime Minister executive powers while leaving the role of the president largely ceremonial, this is not what Erdogan had in mind when he asked then-Foreign Minister Davutoglu to form a new government following the last election.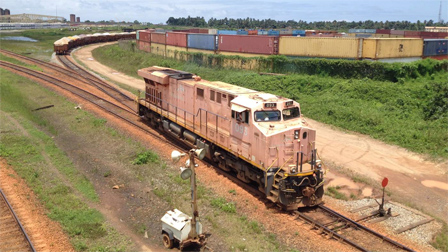 Global Witness exposes bribes to top Liberian officials by UK mining company and Varney Sherman
A Press Release Issued By Global Witness on Wednesday 11th May 2016
A Global Witness expose released today has uncovered over US$950,000 in bribes and other suspicious payments by UK mining firm Sable Mining and its Liberian lawyer, Varney Sherman. Responding to Global Witness' findings, the government has pledged to investigate and hold those culpable to account. The report, The Deceivers (1), shows how in 2010 Sable hired Varney Sherman, Liberia's best-connected lawyer and current Chairman of President Ellen Johnson Sirleaf's Unity Party, in an effort to secure one of Liberia's last large mining assets, the Wologizi iron ore concession in northern Liberia. Sherman told Sable that in order to obtain the contract the company must first get Liberia's concessions law changed by bribing senior officials, according to a source familiar with the discussions.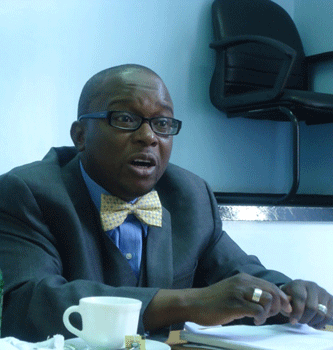 John S. Morlu, II
Kenya's Auditor General and the Corruption in Liberia: An Indication of Unprotected Mockery and Hypocrisy
By: Jones Nhinson Williams
Liberia has more serious problems that demand more serious attention, a more serious leadership and more serious people with integrity, honesty and above all, a fear of God.  So while it may be true that the Auditor General of Kenya, Mr. Edward R.O. Ouko, seems to be a very nice, serious and perhaps honest man, his recent participation in the unending mockery and hypocrisy that keep unfolding in Liberia and under the Unity Party-led administration raises more questions than answers, and provide more doubts than clarity.
No Condition is Permanent: "Get Up, Stand Up for Your Rights"
By Elder Siahyonkron Nyanseor
The foundation of democracy is safeguarding the freedoms of expression, movement, association, and assembly. After all, God gave us FREE WILL to think for ourselves, and the Ten Commandments to guide our actions. Through His merciful grace the Lord also granted joint dominion of all resources and creatures on land, sea, and air to all His children, but the persistence by others to seize every inheritance solely for themselves is the main driver of misunderstanding and conflict.
The Tragedy of Liberian Media: In Defense of Press Freedom
By Martin K. N. Kollie
May 3rd of each year is set aside to pay special homage to journalists worldwide who have gone beyond the call of duty to unveil hidden truths and disseminate accurate, balance and credible report on global and local issues. This day renews the inspiration and strength of those who have steadfastly stood in defense of press freedom and freedom of expression. It salutes outstanding institutions and individuals that have made immense contribution to promoting a free press amidst coercion and censorship.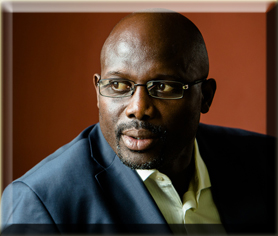 George Weah
Making the Case for George Weah While Defending Meapeh Kou Gono: George Weah Vs Gono's Child Support Case
By: Jones Nhinson Williams
The recent child support case involving Montserrado County (Liberia) Senator George Manneh Weah of the Congress for Democratic Change, and Ms. Meapeh Kou Gono, a Liberian lady residing in the state of Georgia, USA is regrettable and sad because the two individuals involved are seemingly good persons and parents who love their daughter. So far, Senator Weah has and is not refuting claims that he fathered a child by Ms. Gono. Neither is Ms. Gono arguing that she is going after the senator because he is a bad parent who has willfully neglected his child's welfare.
Liberian Opposition Defends Leader - VOANEWS
By James Butty
Liberia's main opposition party, Congress for Democratic Change (CDC), is denying that there is an arrest warrant in the United States for its leader and presumptive candidate for president, George Oppong Weah.
The Israeli-Palestinian Conflict: Breaking The Deadlock
By Dr. Alon Ben-Meir
The Israeli-Palestinian conflict has rarely been so far from finding a resolution. Since the cessation of hostilities between Israel and Hamas during the summer of 2014, the desire to seek peace has been diminishing, and instead growing tensions have prevailed, punctuated by stabbings and car-ramming attacks by the Palestinians, and violent acts including arson by the settlers.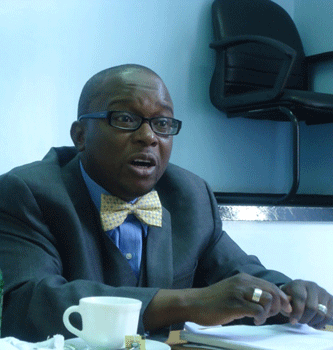 John S. Morlu, II
Former Auditor General Morlu Requests for Copy of Audit Report
Editor's Note: On the 27 of April, the Liberian Observer quoted the Auditor General of Kenya as saying, "the General Auditing Commission (GAC) of Liberia from 2009 - 2013 was extremely corrupt and failed to comply with rules governing international financial best practice." Though Morlu was not served a copy of the report and was not at GAC for most part of the period under review, drawing inference from comments about the purported audit report, Liberians still feel that John Morlu is still the Auditor General of Liberia. But the former auditor general is now requesting copy of the audit to respond to the "findings." It is an open secret that President Sirleaf's legacy has been ruined by all forms of corruptions with impunity that permeate her administration. As some observers put it, this seems to be a sinister and calculated attempt to not only disparage Morlu's reputation, but it is also a gimmick to nullify audits done by Mr. Morlu and his auditors. Others opine that this is happening because of Morlu's expressed interest in putting his hat in the 2017 race.
Liberia's Vision 2030: An Overdue Trash or A Well-Thought-Out Scam
By: Jones Nhinson Williams
The most appreciable fundamental of life is not to copy what other people do if you don't understand why they do it, why they want to do it, or how they are doing it. The reason is if these basics are not grasped the possibilities for the most profound errors are even higher.  This is exactly what is happening with the so-called vision 2030 initiative launched or undertaken by the Liberian government under President Ellen Johnson-Sirleaf. Instead of expressing absolute failure and disappointment in the process, the dreamers and implementers of our country's vision 2030 are coining phrases such as "Amid Setbacks, Vision 2030 On Course."


Baptist Women Make Case for Indigenous Language Proficiency In Public Discourse in Liberia
By Nat Galarea Gbessagee
In late March 2016, I received invitation from the Women's Department of Zion Ebenezer Baptist Church in Harper, Maryland County to participate in an honoring program at the church on Sunday, March 27. The program was being held to honor Professor Elizabeth Davis-Russell, Ed.D, PhD, President of William V. S. Tubman University, for her invaluable services to education of women and girls in Maryland County and Liberia. Dr. Davis-Russell is a native of Maryland County and the first female president of Tubman University, and by extension the only female head of a higher institution of learning in the history of the county.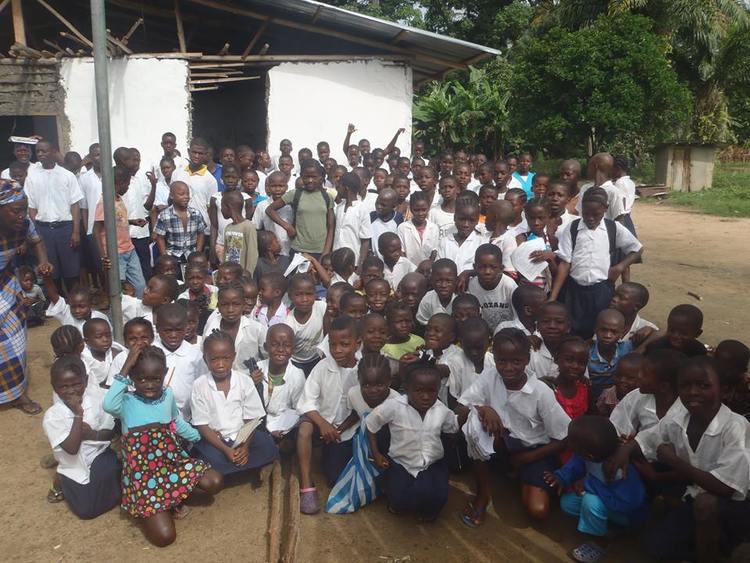 Liberian Educational System
Privatization of the Liberian Education System
Editor's Note: Since the publication of the article on the new initiative by the Liberian Government to privatize the Liberian education system, written by Dr. Chris Tokpah (My Take on Public-Private Partnership Proposed by Liberia's Ministry of Education), there has been a spate of inquiries concerning the nature of the agreement between the government and New Globe Schools, Inc. ( a.k.a: Bridge International Academies). Some consider it a ploy to buy time until President Sirleaf leaves office, while others see it as a gimmick by government to embezzle more money as was done to the " free primary education" money under President Sirleaf and Education Minister Josseph Korto.As we pen this note, teachers are carrying on consultations for a nationwide strike because of the MOU. The Perspective has received a copy of the MOU. Click the link above to access the MOU.
Vice President Joseph N. Boakai
Making the 2017 Case for Liberia's Vice President Joseph Boakai: The Unsolicited Defense and Analysis
By: Jones Nhinson Williams
Democratic political 'culture' calls for a siting vice president to contest elections and possibly succeed a retiring president.  And, history is replete with such manifestations, particularly under an atmosphere where the retiring president, assisted by the sitting vice president, have provided good stewardship.  Ambassador Joseph Boakai was elected alongside President Ellen Johnson-Sirleaf in 2006 and 2011, as president and vice president of the Republic of Liberia, respectively.
The Global Crisis Of Leadership
By Dr. Alon Ben-Meir
A question often raised is: are leaders a reflection of their time, or are they individuals who rise to answer the call of the hour? History has shown that many have risen to the occasion out of strong moral conviction. The events and the circumstances at the time were such that acting or failing to act had colossal implications of such magnitude that changed the course of history. 
Reforming Liberian Schools in Five Easy Steps, Part IV
By Elliott Wreh-Wilson, Ph.D.
Charter schools have been embraced in many parts of the world, including the United States to supplement government efforts to fix failing schools. They have also been used to provide choices for families wanting to remove their children from failing schools. But the experiment has not been without controversy. Rather than fund government schools where we find most poor children, the opponents say charter schools instead takes money away from public schools in order fund charter schools.
MOU With Bridge International Academies Creates A 2-tier System And Hinders The Right To Education
By Chris Tokpah, Ph.D
The Ministry of Education (MOE) recently announced a public private partnership (PPP) affecting 120 elementary public schools in Liberia. 50 schools have been contracted to Bridge International Academies (BIA) (an international for-profit company) to run while local non-governmental operators are being invited to bid for the opportunity to manage 70 schools.
In the wake of Liberia's mess, President Ellen Johnson-Sirleaf lacks moral authority; Unity Party-Government is a rogue regime
By: Jones Nhinson Williams
No administration in the history of Liberia has received so much support from the international community and goodwill from its citizens than President Ellen Johnson-Sirleaf's Unity Party-led government. Equally, no administration in the history of Liberia has caused so much short and long term damage to the future of Liberia and the mindset of the Liberian people than the Sirleaf-Unity Party-led government.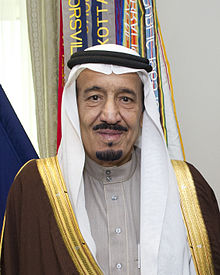 King Salman of Saudi Arabia
Saudi Arabia - A Kingdom In Retreat
The Kingdom of Saudi Arabia, which was once at the front and center of the Arab world and a significant player on the global stage due to its oil riches, has been steadily losing its regional influence and prominent role. In recent years, Saudi Arabia has been confronted with multiple challenges simultaneously, including its domestic, social, political, economic and religious trials, its conflict with Iran, its bilateral relations with the US, the rise of extremism, and the intra-Arab crisis.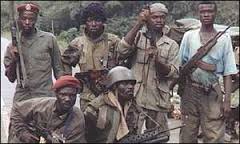 ULIMO-K Commander Arrested For Lying About Role In The Liberian Civil War
An indictment was unsealed Wednesday charging a Philadelphia-area man with immigration fraud and perjury. The man was arrested at his residence today following an investigation by U.S. Immigration and Customs Enforcement's (ICE) Homeland Security Investigations (HSI).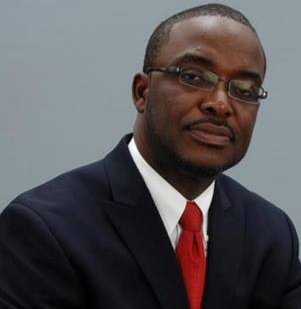 My Take on Public-Private Partnership Proposed by Liberia's Ministry of Education
By Chris Tokpah, Ph.D
Education Minister Werner announced the introduction of Public Private Partnership (PPP) as one of the ways to improve the attainment of learning outcomes at the primary level in government-run schools. Minster Werner, in the statement, identified two major challenges facing the educational sector: limited access to quality education for students and the lack of resources and expertise to provide ongoing training for existing teachers. He suggested that the PPP is an attempt by his Ministry to help in mitigating the problem.
Student Group Against Tuition Increment at the University of Liberia
Release
As we inform the Liberian people and the World at large about the prevailing cruelty and wickedness being perpetrated against thousands of struggling students, today marks another moment to add a new page to our history. The over 31,000 students are about to embark on a journey to defend their right to quality education, which is enshrined in Article 6 of our Constitution.
Puppets in Pampers: When an Inept Person Leads LINSU...
By Martin K. N. Kollie
Our longstanding struggle to change Liberia and Africa squarely rests upon the shoulders of conscious, visionary and sincere minds. This cherished duty and inescapable mandate we have inherited must never be given to a group of misguided thugs and imprudent charlatans. Until generational preparedness becomes an indispensable priority, generational change shall forever remain an irreversible illusion and daydream.
ULAA Council of Eminent Persons (UCEP) Decries suspicious drowning deaths, ritualistic killings, muzzling of the freedoms of speech
A Press Release Issued By UCEP
The ULAA Council of Eminent Persons (UCEP), INC., composed of former presidents and former board chairpersons of the Union of Liberian Associations in the Americas (ULAA), the umbrella Diaspora organization, have over the years assumed the burden of applying acquired wisdom and experience to protect foundational principles for the benefit of ULAA, and for Liberians everywhere, especially the voiceless at home.
ULAA Council of Eminent Persons (UCEP) Appeals to West African Leaders to Help address the Prevailing Calamities in Liberia to Avert the Looming Disasters in the Region
Since 2006 to today, the Republic of Liberia and its people under the Ellen Johnson Sirleaf led Government, have painfully observed and come to realize that the policies and practices of the Government of Liberia, namely corruption, nepotism and bad governance have evidentially drawn Liberia and its people potentially from peace, to instability and insecurity. Consequently, such negative political, social and economic determinants are bound to inevitably threaten the hard-earned peace and stability that both Liberia and the citizens of ECOWAS have witnessed and are enjoying. 
Why The Brussels Attack Was All But Inevitable
By Dr. Alon Ben-Meir
The horrific attacks in Brussels by terrorists affiliated with ISIS that claimed the lives of 35 people and injured more than 200 was all but inevitable. These attacks may well increase in frequency and intensity in many European cities where citizens travel freely and violent extremists among them can plot attacks without early detection. Although a substantial increase in internal security personnel, intelligence gathering and sharing between the European community, and better preparedness are critically important, they will not in and of themselves drastically stem such terrorist attacks.
University of Liberia
Pessimism Clouds Over UL students As Tuition Fees Increase: Masses Wordless Cry of Despair
By Mohammed Salue Sy
The University Of Liberia is a government funded institution of higher learning that was not established by any religious body or enterprises .Besides, the University of Liberia is the oldest institution of learning in tropical Africa that was authorized by the Liberian government in 1851 to educate Liberian and foreign nationals as well. The school opened its door in 1863 as Liberia College and became a university in 1951
Former PW Minister Woods & President Sirleaf
Liberia Spends $1b A Year; But 1 High School In River Cess County
President Ellen Johnson Sirleaf, in her January 25, 2016 Annual Message, stated that Feasibility studies are completed for the "…Gbarnga to Mendekorma, Lofa …feasibility studies are also ongoing…" for Ganta to Zwedru, Zwedru to Fish Town, Buchanan to Greenville, Barclayville to Pleebo and Sanniqueville to Cote d'Ivoire." I, However, felt sad after I read a newspaper report, which stated that, "…the government of Liberia has spent more than seven hundred fifty million United States dollars…but with no good impact…" Mr. Gyude Moore, Minister of Public Works, is reported to have made this statement at a Liberian Legislative Hearing in July of 2015.
How Syria Was Swept By The Merchants Of Death
By Dr. Alon Ben-Meir
In the wake of the unimaginable horror of World War II the international community committed itself to never allow such atrocities to take place again with impunity. But as was the case with the many tragic genocides that happened since then, including Bosnia and Rwanda, witnessing in real time the systematic destruction of a country and its people without enraging the human conscience is a shame with which every single head of state will have to live.
Chickens Always Come Home to Roost!
By Elder Siahyonkron Nyanseor
The expression "Chickens come home to roost"is similar to "what goes around comes around". Basically, it means that the consequences of one's evil actions catch up in a negative way. In addition, the idea that a wrongful curse comes back to the one who is cursed as a "bird returns to its nest" dates back to the days of antiquity.
| | |
| --- | --- |
| President Sirleaf's Liberia | Citizens demand probe; called for protest in wake of mysterious disappearances and deaths |
Ellen Johnson Sirleaf's Liberia: A scary Place to Live
By James Kokulo Fasuekoi
Judging from recent local newspaper reports as well as interviews conducted with people returning from Liberia, it's evident that the country is no longer the way former interim leader Charles Gyude Bryant or indicted former Pres. Charles Taylor left it in terms of appreciable level of security for all as the state of general security has deteriorated for worse, perhaps than any other period in Liberia's history.
Rethinking Liberia's Forests: Implementing the new vision
A Report Issued By Global Witness
A conference on rethinking Liberia's forests: implementing the new vision was originally conceived in March 2014 during discussions between Forestry Development Authority (FDA) and Global Witness. Once the conference had been decided upon as a positive and necessary step forward for Liberia, key stakeholders – including the Land Commission, the NGO Coalition of Liberia, USAID, and the Rights and Resources Initiative – were invited to form a planning committee. The devastating Ebola outbreak prevented the conference from happening in 2014, but it went ahead a year afterwards in October 2015
"All who draw the sword will die by the sword"
By Siahyonkron Nyanseor
"All who draw the sword will die by the sword" is continuation of yours truly 45 years tradition of advocacy for equality of opportunities, social justice, and human rights on behalf of all citizens including those who reside within our borders. My people, while others are missing, dying mysterious deaths and the Unity Party government of President Sirleaf violating the Liberian people's freedom of speech and rights, arresting, shooting and killing a protester, "a ULAA You Can Believe In" on February 8, 2016 issued a press release (that had no teeth) titled: "ULAA CONDEMNS ACTS OF DEATHS AND CALLS ON GOVERNMENT TO END".
The Road to 2017 Decisive Presidential Election: The Analysis of Down-size of Liberia's Political System
By: Josephus Moses Gray
The 2017 general and presidential elections with particular reference to the decisive presidential election, the process-service as a conduit for the nation to move another step forward; provides an opportunity for those eying the presidency to advance their respective strategies, distinctive platforms and manifestos and understanding of state power. The 2017 poll should not be used by avaricious politicians and other bureaucrats to exploit the poverty-stricken masses' vulnerability; instead it should be classed as a precise movement for positivity in Liberia.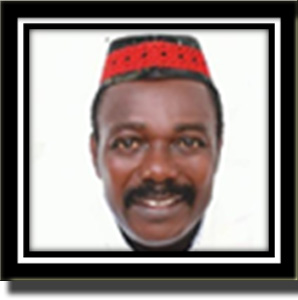 Hon. Daniel Johnson, former Mayor of Monrovia is dead
A Tribute to Daniel "DJ" Johnson: A Man of the People
By Theodore Hodge
Since I learned of the death of Daniel "DJ" Johnson, I have felt a very strong inclination to write something in memory of the fallen hero. Somehow the seemingly simple task has proven to be too difficult. I don't know exactly why, but perhaps it is because the news of DJ's death came as such a tragic shock, a shock that I'm yet to overcome emotionally. It is hard to say those final words about a departed friend.
The Unraveling Of Turkey's Democracy
By Dr. Alon Ben-Meir
Only a few months after Turkey's President Erdogan raided the offices of the Koza Ipek Media Group, the Turkish police assaulted early this month the offices of Feza Publications, which owns two newspapers (including Zaman) and two TV stations, without any warning. There is little else more injurious to any democracy than closing down news outlets and choking off freedom of speech.
Tribute to Harry A. Greaves, Jr
By Winsley S. Nanka
On Sunday, January 31, 2016 I received a call from a colleague about the death of Mr. Harry A. Greaves, Jr, known in his close family circle as "Boy Harry", the man I have known for over thirty years. I first met Mr. Greaves, Jr. when he arrived from the United Kingdom in the early 1980s where he had gone to sit professional accountancy examinations.
Freeport of Monrovia: What to Expect and Do
By George Q. Deshields
It is like a huge shanty-town, with haphazardly built structures that serve little to no purpose. The buildings are all leaky when it rains; the main entrance is a narrow passageway that allows one person at a time - do not wear high-heels or stand more than 5'7" tall; the overhead hangs very low. You have to literally walk a tight rope to enter and leave the port. During the rainy seasons, the entrance is flooded, so they have built this concrete platform that also allows just one person in at a time. The platform is so narrow that people often fall in this diseased and very dirty water that stretches some 150 yards!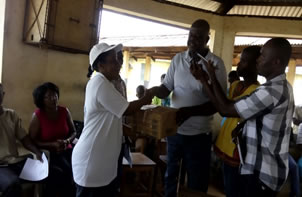 Maryland County Association Of Atlanta, USA, Donates Medical Supplies To J.J. Dossen Memorial Hospital In Maryland County, Liberia
By Stevenson Kobeh Dweh
On Saturday, February 13, 2016 J.J. Dossen Memorial Hospital in Harper City, Maryland County received consignment of assorted medical supplies from Maryland County Association Of Atlanta, Georgia, USA, through Hon.  J. Gbleh-bo Brown, Senator of Maryland County, Liberia. The medical supplies including hospital beds, crutches, wheelchairs, and blankets amongst others.
The Late Harry A. Greaves
Remembering A Forgotten Murder And Autopsy, January 1980 - Culled From Professional Notes
By James Thomas-Queh
The controversies surrounding the gruesome death of Mr. Harry Greaves and the political impact on the national leadership has forced me down my memory line. That is, the cold bloody murder of inmate Myer on January 15, 1980, and the autopsy that ensued - Palace of Correction, Zwedru, Grand Gedeh County - bares a slight similitude to the current case. Both occurred at regimes endings in high tension; thus making two already unpopular Presidents to become the most unpopular. 
"I've Fought My Fight; Will You Fight Yours?": Tribute To Hon. Harry A. Greaves, Jr.
By John Erakias Fallah, PhD
It was about a month ago today when I received the vexing text that suddenly altered my usual Starbucks and after-church happy mood. The colloquial subject line read: "Someone did Harry Greaves." "What!" " I wonder what happened", I thought to myself. A string of other questions and conspiracy theories subsequently invaded my mind. But the autopsy report says that subject line was erroneously predictive of the cause of death. The preliminary findings suggest that Hon. Harry A. Greaves, Jr., whose remains were found naked on the beach in Liberia, died from drowning.
Liberia: We Removed a Tyrant and got a Dictator
By: Jones Nhinson Williams
Every Liberian, and indeed the entire world, probably knows that the Charles Taylor's regime was tyrannical and Mr. Taylor behaved and acted like a tyrant.  A tyrant according intellectual understanding, is someone who rules his/her country and people by himself/herself. A tyrant persecutes, imprisons and even kills anyone who stands in his/her way and his/her desire for power, wealth and authority.  Tyrants are generally considered to be evil as they only care about keeping power at any cost, including destroying the life of anyone who opposes them in any form, shape and manner.
A Plea For Reason: An Open Letter To Prime Minister Netanyahu
By: Dr. Alon Ben-Meir
Last week I published an open letter to Prime Minister Netanyahu, and the response from many corners has been tremendous. I am sending this again because I have received many requests to do so from readers who missed it the first time around, and at the expense of receiving it a second time, I hope you do not mind.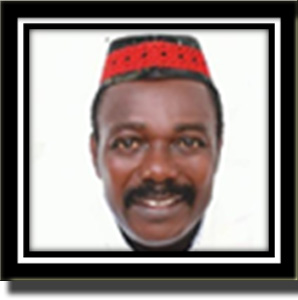 Hon. Daniel Johnson, former Mayor of Monrovia is dead
Daniel G. Johnson (DJ), the Strong man from Sarbo impacts Liberia
A Press Release Issued By the Johnson Family on the Achievements and Home Going of Daniel G. Johnson, Former City Mayor of Monrovia
Liberia has lost a great servant! A "true trailblazer for peace and unity whose ability to stimulate, mobilize and cause the unleashing of creative energies of defenseless people into meaningful productive engagements, has won him remarkably historic distinctions in Liberia." Dr. Amos Sawyer. William Twedall, in his letter of introduction, described Mayor Johnson as, "the energetic Mayor whose leadership is critical to improving living conditions in the safe haven of Monrovia."
Harry's Death: Violence Rises In A "Winner Takes All" Society
By J. Yanqui Zaza
As the story of the mysterious death of Mr. Harry Greaves, Jr. fades away, just as others have faded before him, one wonders why violence continues to knock at Liberia's door. For example, in 1820 the settlers killed indigenous Liberians in order to own territories; a college-graduate, rich businessman, and the fifth President of Liberia, Mr. Edward James Roye was violently killed in 1872; Mr. Welleh Didwho Twe, a former presidential candidate in 1952, fled from Liberia into exile because of a violent threat; Mr. Samuel David Coleman, a son of the former President of Liberia, William Coleman, was violently killed on his farm in 1955; hundred of unarmed demonstrators were gunned down in 1979; thirteen government officials were executed during the1980 coup; and subsequently, violence has now become a regular affair in Liberia.
Student Group Issues Statement on the Prevailing Corruption, Nepotism, Greed, Injustice, Insecurity and inequality in Liberia
A Press Release Issued By Student Unification Party (SUP)
In an effort to sustain democratic coherence, national unity and nonstop peace through inclusiveness, equality and justice at every layer of our society, we have come once more with unhindered determination and oneness of purpose to push the common interest of our nation. A nation whose future is severely threatened by forces of evil. A nation that finds itself in the middle of widespread corruption, nepotism, greed, injustice and inequality.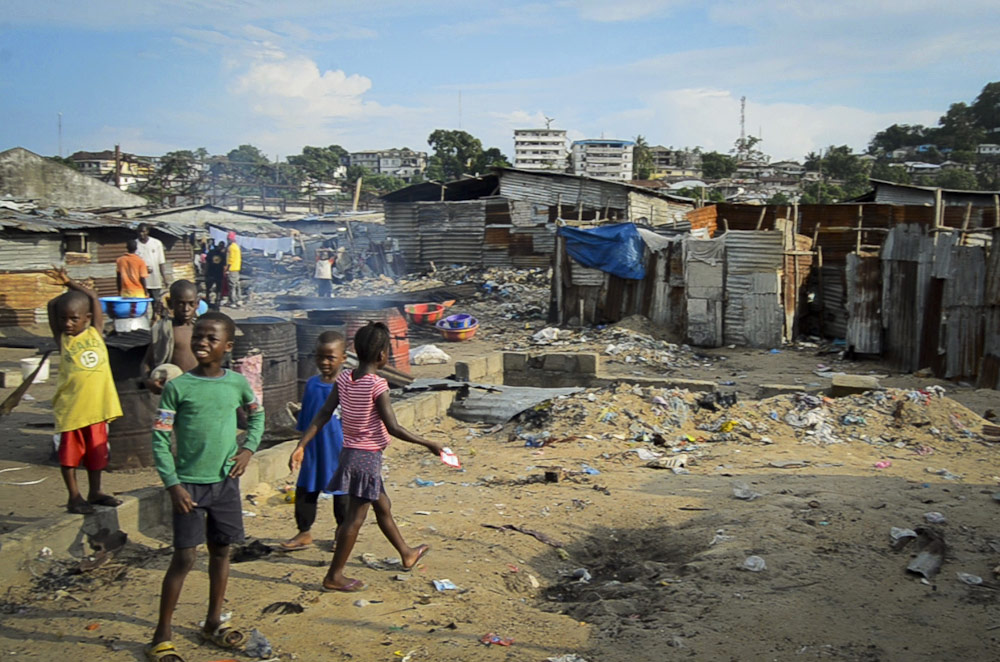 The Promised Land Promised By Africa's First Female President: West Point, Bussy Quarter, Doe Community, Clara Town, PHP, Chicken Soup Factory, Logan Town, Soniwen, New Kru Town, Red Light, etc., etc.
Leadership is About Service, and not Self-enrichment
By Martin K. N. Kollie
If anybody deserves better, then it is the PEOPLE. Regrettably, the 'leaders' of the people have become lords and demagogues unto themselves. Instead of becoming servants, they have become kings and queens living in opulence, while the people decay in poverty. If anybody deserves quality education, better health care, electricity, safe drinking water, improved housing, and other basic social services, then it is the PEOPLE. Since all power is inherent in them according to Article one (1) of our Constitution, then it means that the welfare of the people must be an indispensable national priority.
An Iraqi Sunni State Is Prerequisite To Defeating ISIS
One of the main prerequisites to defeating ISIS in Iraq and stabilizing the country is the establishment of an independent Sunni Iraqi state alongside the current Shiite government and the autonomous Kurdish entity. As long as the Sunni Iraqis do not know what the future has in store for them, they will be unwilling to make the necessary sacrifices to battle ISIS only to benefit the Shiite government in Baghdad, which they despise even more than ISIS. Concurrently with the fight against ISIS, the Obama administration must begin to negotiate with the Shiite government in Baghdad over the future status of the Sunnis in Iraq.
A Local Political Group Decries the Appointment of President Sirleaf's Son as Acting Governor of the National Bank of Liberia
The LPP USA branch calls on our mother party and all of its partners to join us in issuing this unanimous and categorical no vote for the recent appointment of Mr. Robert Sirleaf as acting governor by the board of the national bank of Liberia. This appointment is shortsighted, counterproductive and only confirms popular concerns regarding secret machinations long orchestrated by hidden hands to accelerate the departure of the then Governor Jones, and subsequently, to again install another member of the first family in a strategic position.
Major General Suraj Alao Abdurrahman
(Front Left)
A Military of Infancy: Does Liberia Really Have An Army?: Part I: Honoring Major General Suraj Alao Abdurrahman
By Martin K. N. Kollie
History has taught us never to forget about our fallen heroes and heroines whose compassionate contribution to mankind is incredibly distinct. Whenever we fail to pay courtesy to deserving statesmen and outstanding global actors who are worthy of public admiration, we pierce our own consciences with sharp instruments of ingratitude and immodesty. We become no different from a vicious ingrate who lives in pretense and pomposity
Consolidating Trust-Building Initiatives in Government: The Liberian Case
By Emmanuel Dolo, Ph.D
This article attempts to advance how government can consolidate trust-building initiatives. It aims to look into Liberian history for some explanations of widespread mistrust and suspicions. To avoid falling prey to emotions that fuel diatribes, innuendoes and allegations, this article deliberately and purposefully takes the "high road." The intention here is to be solution-focused as opposed to being problem...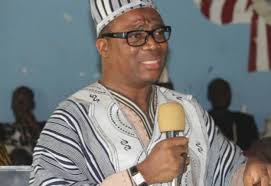 Simeon Freeman of Movement for Progressive Change
Photo: Courtesy of Parrotnews
Liberia: Call for Independent Investigation Into Critic's Death - VOA
By James Butty
A Liberian opposition leader is calling for an independent investigation into the mysterious death of a government critic - Harry Greaves - whose naked body was discovered last month on the beach behind the Liberian ministry of foreign affairs building in Monrovia.
Liberia and the Face of God: A Call for Soulful Revival
By Alex Redd, Th.D
Liberia is still drenched in deep wounds of unforgiven hearts. Though the guns are silent since the end of the civil war, the reality of peace, personal security, and hope continue to elude Liberians as they foresee the challenges of rebuilding the country. We have witnessed various levels of false accusations, coup d' etats, assassinations, executions, and brutal civil war that claimed over 250,000 lives. As a result, the country and its people have experienced the reality of governmental instability, economic instability, relational instability, personal instability, and more...
The gruesome remains of Harry Greaves
- Courtesy of the Informer
LPP USA Issues Statement On "The Recent Killings In Liberia"
The Liberian People's Party-USA and affiliates observed with utmost regret and disgust, the recent wave of mysterious killings that have engulfed Liberia. First, it was Michael Allison, then Dan Orogun and now Harry Greaves.
Erecting A Giant Prison For All Israelis
By Dr. Alon Ben-Meir
The demagoguery of Prime Minster Netanyahu seems to have no limit-demagoguery in a sense that he says and acts on anything to buttress Israel's hold on the West Bank in the name of national security. This time around, Netanyahu came up with another absurd idea, proposing, as he stated, a "multi-year plan to surround Israel with security fences to protect ourselves in the current and projected Middle East."

Sustaining Liberia's New Economic Growth Model and its Rippling Effects
By: Samuel K. Goteh
The current pursuits of economic diversification, industrialization and rejuvenation in post-Ebola Liberia should be strategic and holistic, thus considering a careful cost-benefits analysis for sustainable growth and infrastructure development. The new shift in economic policies has been precipitated by the rapid decline of oil price from US$ 128 per barrel in 2014 to US$29 in 2015. What is perplexing about policy makers and architects of the economy in this government and past regimes is whether they have not heard about the "Dutch Disease' before for which they built the economy on natural resources (oil, rubber and iron ore).
"Redefining National Leadership for Liberia's Transformation"
By Tiawan S. Gongloe
As a people, we have found that narrow-mindedness in whatever shape or form and for whatever reason or purpose, has failed to serve our collective interest. Narrow mindedness has brought about exclusionary politics and exclusionary governance in our country and this has led us, as a people, to state failure. We have all recognized the fact that we are all Liberians and are bound to live together in peace and harmony, irrespective of the origins of our parents, our ethnic identities, our religious affiliations, our looks, our fraternal associations, our secret societies. We must not judge each others by the history of our settlement in this part of the Africa.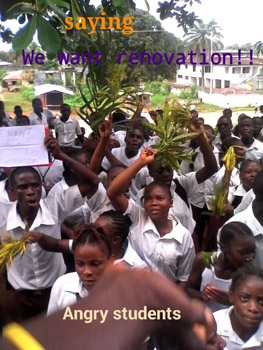 We want a building, reads a placard of the protesting students of Cape Palmas High School
Reforming Liberian Schools in Five Easy Steps -- Part III
By: Elliott Wreh-Wilson, PhD
Let me first thank the Editor at The Perspective for entertaining this discussion. Second, let me thank Mr. Scott, Mr. Hodge, Mr. Smith, Mr. Doe and all those who have joined us in the conversation. These are all very familiar voices, and they enlighten me each time I view what they say. Yes, there are answers - many answers - what we can do now is to weave them into a not-so-complex whole that may save our children one day in the near future.
The gruesome remains of Harry Greaves
- Courtesy of the Informer
Political and Economically-Inspired Assassinations: Sirleaf, Boaikai and Alex Tyler Must Resign
By Jones Nhinson Williams
There are some things that one can sugar-coat and there are other things that just cannot be sugar-coated at all. When a government that supposed to protect its citizens is knowingly covering up cold bloodied murders of government's critics, whistle-blowers and innocent citizens, and in particular, when the killings are, by every and all measures, politically and economically motivated, driven and executed, we must not sugar coat anything. The former managing director of the Liberia Petroleum Refinery Company (LPRC), Mr. Harry Greaves
The Truth About Israel's National Security
By Dr. Alon Ben-Meir
Israel's historical experiences, coupled with decades of violent confrontations with Arab states and the Palestinians, have created a major psychological barrier embedded in the psyche of every Israeli, placing Israel's legitimate national security concerns at the center of its domestic and foreign policy.  That said, no military might or even the expropriation of the entire West Bank will guarantee Israel's security, short of a sustainable Israeli-Palestinian peace.
Examining the Liberian Family System and the Implications for Nation Building
By Emmanuel Dolo, Ph. D.
Historical and cultural factors, principally the civil war, exacerbated rural to urban migration and chronic poverty (structural impediments, limited opportunities, long-term joblessness, deprivation of basic needs – food, shelter, security combined with grief and loss sustained for prolonged periods), which in turn, have negatively shaped the functioning of the contemporary Liberian family system. However, very little has been written in the academic and/or popular press concerning the Liberian family.
Patriots Never Fall Victims To Their Actions......A Call Of Patriotism For Liberia To Produce A Un Secretary General
By Abraham M. Keita, VI
Fellow Liberians, sons and daughters of the masses, nationalists and patriots and men, women and children of the intellectual class of the motherland, it was not by mistake that we found ourselves in the geographical spot called Liberia. The conditions we face today must never lead us to questioning the Supreme Creator why he placed us in Liberia. But if we were to ask such question, the answers, in my mind, will be "you were placed in Liberia to be the revolutionaries and champions of change;
House Speaker Alex Tyler
Students Divided Over Selection of Speaker Tyler as Intellectual Discourse Speaker
By Mohammed Salue SY
The University of Liberia on Capitol Hill last Wednesday, January 27 stood still as its made another headline as a result of the speaker presence through the Intellectual Discourse Committee of ULSU interim leadership.Undoubtedly, the University of Liberia as the microcosm of the nation and the highest institution of learning should be the first to set precedents for other universities to emulate.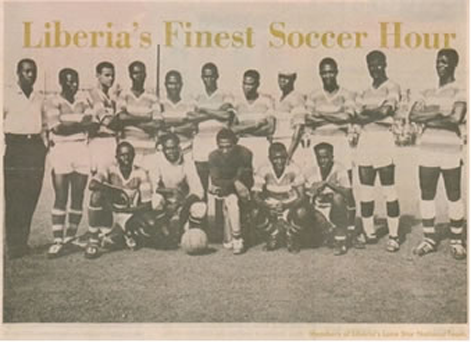 Lonestar of the 1960's
Liberia Lone Stars' First Victory Over Ghana Black Stars: The Story
By Benedict Nyankun Wisseh
The passage of time has a unique way of undermining one's ability to recall the facts of national history. As a result, the revisionist accounts, although constructed in distortions and supported by persistent repetitions, are eventually accepted to be true. Such is the claim by some Liberian football enthusiasts that Ghana's first loss to Liberia took place in 1988, when James Debbah, Pewu Bestman, Mark Gibson, George Weah, Joe Nagbe and Boye Charles reigned as superstars for the Liberian side.
Between despondency and hope in Morocco's Oriental Region
By Elle Houby
On the fringes of the Saharan desert, skirted by the rocky coastline of the northern Maghreb where it meets the blue Mediterranean, lies the Oriental region of Morocco. Nestling within an often verdant, predominantly mountainous terrain is Oujda, the largest city in the northeast of the Kingdom and the region's administrative capital, with a population of around 550,000.
The Making of National Heroes and Heroines - Part II
By Emmanuel Dolo, Ph.D.
At Liberia's establishment, the Congoe-Country divide placed ethnic identity over national identity. It fostered longstanding tensions between citizenship and ethnicity. The stratified citizenship or ethnic separatism was done at the expense of building a collective sense of citizenship and social cohesion throughout the population. The civil conflict reinforced social polarization and with the shrinking space of citizenship came threat to political stability – ethnic politics dragging communities into cycles of protracted enmity
The Dire Consequences Of Revenge And Retribution
By Dr. Alon Ben-Meir
A regular reader of my weekly column recently shared with me a commentary about the brutal murder of Dafna Meir, an Israeli Jew who was stabbed to death by a Palestinian teenager. Needless to say, there are no words to express the anger and revulsion over this atrocious crime-murdering an innocent woman with six children who had no malice in her heart against any Palestinian. It is rather natural to react with rage and venom, and what often comes to mind is revenge and retribution against the perpetrator for such a heinous, cold-blooded murder.
The President of Liberia's 2015 State of Nation Address: An Empty Bridge to Nowhere
By: Jones Nhinson Williams
Every president of a nation is like a CEO in whose ability citizens and residents entrust their wellbeing and livelihood, including their national resources and future. In the corporate world, investors do the same to the CEOs of major business institutions under whose control they put their resources, confidence and assets. Like business CEOs who are accountable to their shareholders and investors in the corporate world, presidents are accountable to their own unique shareholders and investors: The citizens of the country.
President Ellen Johnson Sirleaf
Liberia's State of the Nation Address
We were pleased to note the passage of twenty-two pieces of legislations during your last sitting. All are contributory to the advancement of the development agenda of the country. We urge the passage of several other bills before you including: an Amendment to the Public Health Law to add a Chapter on Mental Health; a Mental Health Procedural Bill; an Act to Amend the New Executive Law of 1972 to Establish the Ministry of Health; the Fire Arms and Ammunition Control Bill of Liberia; The National Police Bill; and Liberia Immigration Service Bill. 
Speaker Alex Tyler
MERITS / DEMERITS: Analysing Speaker Tyler's Recent Assertions, Actions, and Speech
By: James Thomas-Queh
For some of us who have witnessed our history a little longer, we experienced the effects of the real powers of the Speaker of the House of Representatives. As an equal among the equals of that time, what he said or did vibrated and echoed just as much as the President's or the Chief Justice's. Thus the force with which Honourable Alex Tyler has totally metamorphosed in recent time to reaffirm his status as the reborn SPEAKER, must be a welcome development for our nation now and in the future. The man now talks like the Speaker; he walks like the Speaker, and he acts and performs like the Speaker.
Remodeling Higher Education in Liberia: Driving Innovative Learning and Rebuilding Competitive Academic Reputation
By Samuel K. Goteh
The debate on robust transformation in the education sector is fermenting daily with an outcry of citizens, parents and well-meaning Liberians in every knob and corner of the country with constant participation of the diaspora community. Many commentators, observers and scholars in the educational disciplines have penned down volumes of dossiers and academic publications with their expert opinions and suggestions in cleaning the 'mess' that engulfs the system.
UNMIL'S Departure: Implications for Bridging Security-Society Divide
By Emmanuel Dolo, Ph.D.
Following the end of nearly two decades of civil conflict, in 2003, the United Nations Mission in Liberia (UNMIL) was established. The goal was for UNMIL to support the ceasefire agreement and the peace process. UNMIL would provide protection for UN staff, facilities, and civilians as well as support humanitarian and rights-based activities. UNMIL also has responsibility for facilitating national security reform, coupled with training the national police force, while restructuring the military (UN Security Council Resolution 1509).
Lifting The Sanctions Will Not End Iran's Revolutionary Zeal
By Dr. Alon Ben-Meir
The timely implementation of the Iran deal and Tehran's full compliance with its various provisions to date should not be viewed as just an accomplished goal, but as a continuing process that could take several years to determine its viability and the extent to which it impacts Iran's foreign and domestic policy. I believe the deal will encourage Tehran to continue its customary underhanded activities to advance its strategic interests.
Liberia: The Making of National Heroes and Heroines - Part I
By: Emmanuel Dolo, Ph.D.
For too long, I have struggled with a question that has loomed ever since I wrote my last book entitled Ethnic Tensions in Liberia's National Identity Crisis: Problems and Possibilities in 2007. It was not until the dual citizen debate emerged with new vigor this year, that I thought to go back and revisit this question. I have asked myself repeatedly, "Why is it that Liberian society does not have national heroes and heroines?" The emphasis here is on national heroes and heroines.
74-years old Jenneh's Residence in Gardnersville
Earmarked for Demolition Today
Land, Missing Rib In UNMIL's Drawdown Talk?
By Samuka V. Konneh
By the break of dawn on Monday, July 18, 2015, residents of Gardnersville woke up to see caterpillar machines demolishing their homes, leaving scores homeless as a result of deliberate decision by the Liberian government to reclaim its lands. The government contends the lands were illegally occupied by its citizens, who counter claim the action and inaction by their government to improve their living standards compelled them to build on these lands.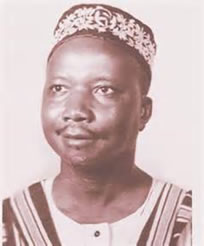 Bai T. Moore
Eulogizing the Legend of Liberian Literature: Bai T. Moore
By Martin K. N. Kollie
There is profound happiness in honoring great statesmen and women who have gone beyond the call of duty to impact society in positive ways. It pays to always remember a very great hero whose existence on earth brought special pride and recognition to Liberia. It is unfortunate today that most Liberians careless about celebrating past patriots and nationalists who made vast contributions in different areas of life to ensure our sweet Land of Liberty remains a shining image among comity of nations in Africa and beyond.
ArcelorMittal CEO Regrets Mass Lay-Offs
The Chief Executive Officer (CEO) of ArcelorMittal Liberia, Michel Prive, has expressed regrets over the unfavorable economic environment that has prompted the reduction of the company's workforce by 167. The company in a communication on Thursday disclosed that it took the difficult but necessary decision to reduce its workforce as a result of continuing unfavorable market conditions and changes to the company's operating model.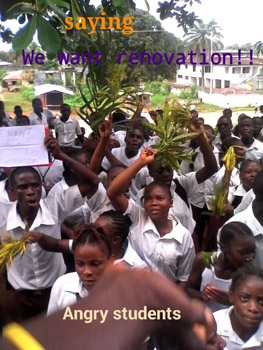 We want a building, reads a placard of the protesting students of Cape Palmas High School
Reforming Liberian Schools in Five Easy Steps (Part II)
By Elliott Wreh-Wilson, Ph.D
On December 16, 2015 I called for re-starting the conversation on reforming our schools. See the perspective.org 12/15/15. There, I listed 5 provisional steps to reforming our schools. Now, taking into account the reactions to my invitation to fellow Liberians to join the conversation, I want to expand briefly on the first step, which calls for a reduction in class size. This time, however, I hope we can join the conversation without the invectives and name-calling.
Speaker Alex J. Tyler's Speech
Legislature must be the conduit of political, social and economic rights to the people. We must be their ears, eyes, mouth and planners of their destiny. We must intercede for them and be the custodians of their trust. The failure of the National Legislature to inspire and process economic growth and development as well as the social and economic rights of the people, shall indeed be a failure to exercise the powers they have conferred on us and the faith they have in us.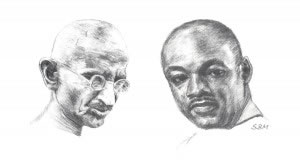 Civil Disobedience Is The Palestinians' Best Option
By Dr. Alon Ben-Meir
The use of violence to end the occupation has not served the Palestinian cause well, instead making matters worse as it hardened the resolve of successive Israeli governments to deal with violent extremism with an iron fist. The current bloody clashes, often referred to as the 'Knife Intifada,' and the killing of innocent Israeli bystanders outraged just about every Israeli regardless of their political leanings (and for good reason), when in fact the Palestinians need to draw the Israelis to support their cause.
We Envision Africa Thus
By Alston C. Armah
When the leaders of 33 independent African countries met in May that year in Addis Ababa, they were undertaking a task many thought was unrealistic and impossible to achieve. That task was to form a continental body that would be used as a platform to elevate the campaign against all forms of colonization and thus liberate Africa from European subjugation and humiliation. With dedication and commitment, the leaders of independent Africa – William Tubman of Liberia, Kwame Nkrumah of Ghana, Sekou Toure of Guinea, and Halie Selassie of Ethiopia, among others
Age cheating holding back African teams - CIES report - Yahoo Sports
Despite fielding the youngest players in A national teams in 2015, Nigeria, Ghana and Cameroon continue to remain underachievers due to endemic age cheating, a CIES report has stated.
Africa's Growing War on Corruption - Project-Syndicate
To the chagrin of most Africans, the world has long viewed their continent through the prism of the three "Cs" - conflict, contagion, and corruption.Yet the first two are anything but general. Civil war is confined mainly to particular regions – for example, South Sudan or the Democratic Republic of Congo. And Ebola in West Africa spread more to Europe and the United States than to the rest of the continent. But the third, corruption, has been universal, blighting almost every country.

SOLVING LIBERIA'S CITIZENSHIP ISSUE: An Abbreviated Perspective
By Seward Montgomery Cooper
The largest number of Liberia's skilled population resides in the Diaspora. Over the years they have acquired diverse skills and wealth from various countries. How can we affect them so that within their hearts - the place to which they will always want to return or contribute even after being away for extended periods - will be Liberia? How can we tap into this latent pool of direly needed skills, this sleeping source of capital, to help resuscitate our country?
The Reintegration Effects of Dual Citizenship Considered
Emmanuel Dolo, Ph. D.
Many waves of forced migration took Liberians to different nations during various periods of history, prominently, after the 1980 coup and during the 1989 civil war, coupled with subsequent insurgencies. Most of these people had urgent need to assimilate in their host nations. This meant regularizing their legal statuses to avoid being indentured labor during their time of displacement. These persons of Liberian origin, at least some of them, have the desire to return and resettle in their homeland. Without doubt, there are other Liberians who left for further education or in search of better opportunities and may have taken citizenship in their host countries
Abolishing "Constitutional Racism" and Single Citizenship in Liberia
By Ernest S. Maximore
Article 27(b) of the Liberia Constitution read thus: "In order to preserve, foster and maintain the positive Liberian culture, values and character, only persons who are Negroes or of Negro descent shall qualify by birth or by naturalization to be citizens of Liberia."  In a layman, plain, simple and strict interpretation, when you are not a Negro or Negro descent, you cannot or will not be able to help and/or preserve, foster and maintain the positive Liberian culture, values and character.
Shiite cleric Sheikh Nimr al-Nimr
Saudi Arabia's Act Of Strategic Defiance
By Dr. Alon Ben-Meir
The Saudi decision to execute Shiite cleric Sheikh Nimr al-Nimr at this particular juncture was a strategic act of defiance meant to challenge Iran and the United States in particular. The Saudis wanted to send a blatant and carefully calculated message that the Kingdom is capable of standing on its own, and it will not be deterred by either the already destabilized region or by the repercussions of its act.
Will the Liberian Iron Lady Provide the "bully pulpit" for Dual Citizenship?
Dual Citizenship: Not A Constitutional Issue
By Abdoulaye W. Dukule & George H. Nubo
Since the publication of our article on the issue of dual citizenship as part of the proposed amendments to the Constitution in the referendum that will be held sometime this year, we have received many reactions. Among the submissions, one stood out, because it brought forth a much simpler solution to the issue: laws governing the loss of Liberian citizenship is not in the Constitution, therefore should not be among the proposed amendments. It was an act passed into law by the William Tolbert administration in 1973.
Liberia: The Haven of Waste, Corruption and Epic Mismanagement
By: Jones Nhinson Williams
Decades ago, Liberians fled their country because of Charles Taylor's dictatorship and tyranny which made the country a politically failed state, and a society in which democracy and free speech were lacking. Today, and under President Sirleaf's administration, Liberians are fleeing their homeland in droves while those in refugee camps in West Africa...
The Proliferation of Thousands of Graduates Amidst massive Unemployment: What Is The Essence?
By Mohammed Salue Sy
The persistent commencement convocations of many tertiary institutions annually in Liberia have become inevitable regardless of the prevailing huge level of unemployment. The myriad commencement ceremonies by those tertiary schools of post war Liberia must be cross examined with keen attention to know its essence. 
Companies Steal $60 Billion From Africa; 21st Century Slavery
By J. Yanqui Zaza
"All warfare is based on deception," says Sun Tzu in his book called "The Art of War." Sadly, in business, deception is the rule, and not the exception. And so big business, deceptively, does not only siphon $192 billion out of Africa yearly, but it also accuses the victim (Africa) as the perpetrator, says Mr. Martin Drewry, Director of Health Poverty Action. He added that big business siphons about 95% of the $192 billion illicit financial outflows out of Africa yearly, while African officials are responsible for only 3%;...
Issues in Transforming the University of Liberia
By: Emmanuel Dolo, Ph. D.
The nation's premier public higher education institution is challenged to provide more educational value, increase in quality degree attainment rates, and serve more students, while operating with less public funding matching the enormous need. This article outlines and addresses some critical issues encountered by the University of Liberia (UL) as it works to serve a broad array of stakeholders. Clearly, a new business model to increase efficiencies is required to better target academic investments and enhance student success.

Our Take on Dual Citizenship
By Abdoulaye W. Dukule & George H. Nubo
A recent article published in the Liberian Observer on the citizenship of former Coca Cola executive Alex Cummings and the public reactions reignited the issue of citizenship, something that Liberia has been grappling with since its foundation. In the beginning, the American former slaves who founded the country put limitations as to whom could be a Liberian. According to Professor Patrick Burroughs, one of the criteria was to be a Christian and another was to be of Negro descent.
Reforming The Liberian Education System: A Worthy National Debate
By James Thomas-Queh
"The national conversation on reforming our schools has waned. But reforming our schools should not be complicated." This is almost like a SOS reminder by Dr. Elliot Wreh-Wilson to us all as conscientious citizens to debate the state of our "messy" education system. What is more, Dr. Wilson is a professor at a leeward university on the ground; thus making his appeal genuine and credible.
Confronting The Liberian Education Challenge
By: Emmanuel Dolo, Ph. D.
The Liberian education system is seriously ill with the condition worsening by the day. What exact illness is it suffering from? I use the disease model as a metaphor to highlight how grave the issue is and suggest bold, yet practical paths to its recovery. Three steps are typically necessary when one uses the disease framework: description of the problem, a diagnosis of the cause, and a prescription of the remedy.
Liberia's Economic Diversification Bill: It's Better, But Seems too late
By Samuel Goteh
This article provides an autopsy of President Sirleaf's recent bill for economic diversification in Liberia. In the past centuries, Liberia's model for economic development has been predominantly natural resource-driven and revenues generation for government's operations have mainly come from the sales or trading of rubber, iron ore, timber and recently with the discovery of oil. In other words, Liberia's economy and generation of revenues is dependent on the mercy of foreign aid donors,
Reforming Liberian Schools in Five Easy Steps
By Elliot Wreh-Wilson, Ph.D.
The national conversation on reforming our schools has waned. But reforming our schools should not be complicated. Let us begin by reducing class size, especially at the elementary level. Any first grade, second grade or third grade class with more than 24 students is a zoo, not a class. The teacher must be able to spend at least three quality minutes of class time with each child. At 24 students, and one hour to a class, she has barely two minutes with each child and 12 minutes to spare. The solution is to build more classrooms.
In The Grip Of Powerful Illusions
By Dr. Alon Ben-Meir
The deadlock in the Israeli-Palestinian peace process appears to be illogical and unsettling as a majority of Israelis and Palestinians realize that coexistence, whether under conditions of enmity or friendship, is a fact that neither side can change short of a catastrophe. Both sides understand that the general parameters of a sustainable peace agreement must rest on a two-state solution based on the 1967 borders with some land swaps. However, both sides choose to revel in illusions and live in defiance of time and circumstances.
Jones Nhinson Williams & John S. Morlu, II
Williams-Morlu's Ticket in 2017: An Incompatible Blend - A Rebuttal to Kadiatu Musa-Frantz
By Martin K. N. Kollie
The Perspective is one of the most read and reputable news websites that publishes dozens of investigative, informative, educative and thought-provoking articles and analysis on multiplicity of critical issues prevailing in Liberia and across the global spectrum. About a day ago, I read with keen interest an article written by Mrs. Kadiatu Musa-Frantz, a young Liberian businesswoman from Lofa County, who currently resides in Luxembourg City, Luxembourg. The article had an interesting caption "A Williams-Morlu II's ticket in 2017 is the only way to salvage Liberia".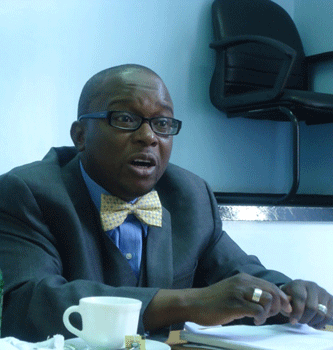 John S. Morlu, II
A Williams / Morlu II's ticket in 2017 is the only way to salvage Liberia
By Kadiatu Musa-Frantz
Most of us have probably heard the phrase that "anybody can grow up to be President." However, not everybody is groomed to be a national leader. It takes a special kind of person, someone visionary, patriotic, transparent, sturdy, smart, and driven, just to run for the Office of President. It takes still extra talent, intelligence and character to hold up under the stress of life and the demands in the position. Mr. Williams and Mr. Morlu II are among the finest and most brilliant Liberians any one can ever meet.
Liberia's Future On The Rope: Gambling Is Not The Solution
By Martin K. N. Kollie
Our choice today as a country must never be gambling, but quality education. Our preference must be youth development and empowerment. It is too sad that gambling has become a way of life and a major source of income for thousands of young Liberians living in a small nation endowed with abundant natural wealth. It beats my imagination to see Liberians standing in long lines everyday fighting for betting tickets. Gambling can never be an option to reduce massive poverty and youth unemployment. It only increases the number of unproductive citizens and less-busy minds.
Israel's Occupation Is Morally Indefensible
By Dr. Alon Ben-Meir
I have long maintained that Israel's occupation of the West Bank defies the moral principle behind the creation of the state. Contrary to Prime Minister Netanyahu's assertion, the occupation erodes rather than buttresses Israel's national security and cannot be justified on either security or moral grounds. Unless Israel embraces a new moral path, no one can prevent it from unravelling from within only to become a pariah state that has lost its soul, wantonly abandoning the cherished dreams of its founding fathers.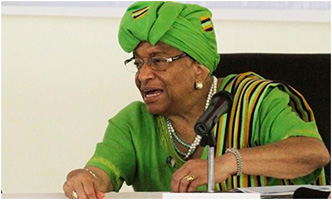 President Ellen Johnson Sirleaf
As The Bell Tolls UNMIL's Exit, Liberia's Democracy Dilemma
By James Thomas-Queh
Imagine, the count-down to UNMIL's exit has become a depressing reality; the petit urban ruling clique is in an absolute state of panic and disarray. So we are witnessing many official and officious discourses to reassure and ease their nervous breakdown, but no way. The President added to the confusion with her recent, solemn special message: "A Call to Action." But all who heard the speech were unanimous in conclusion: it was the most futile exercise considering the harsh realities of the country.
Alleged illegal entry of Jihadists into Liberia, as Burkinabes, others usurp land in southeastern Liberia
By Kadiatu Musa-Frantz
The illegal entry into Liberia by people from jihadist infested regions in Africa is gaining a foothold in Liberia and this could see President Ellen Johnson-Sirleaf leaving NOTORIOUS jihadist group Boko Haram's calamities on the Liberian people as her primary legacy when her term of office ends in 2017. The facts are that Liberia is a peaceful nation of Liberian Christians and Muslims, with Christians being in the vast majority. Yet both Liberian Christians and Muslims have no religious conflict as is experienced in other parts of the world.
LAMA's Highly Contested Marathon General Elections
By Eminent Siahyonkron Nyanseor, Sr.
The highly contested Liberian Association of Metropolitan Atlanta (LAMA), Inc., elections that was held on Sunday, November 8, 2015 at the Joseph N. Boakai Community Center; featured three presidential contenders, two females and one male. Also on the ballots were contenders for the positions of Vice President, Secretary General, Treasurer, Chaplain, Parliamentarian, and three Board Members.
Abandoning The Quartet In Favor Of The Arab Peace Initiative
By Dr. Alon Ben-Meir
During several meetings I recently had with EU officials in Brussels, they argued that it is time to revive the Middle East Quartet, which consists of the US, EU, Russia, and the UN, to resurrect the Israeli-Palestinian peace process. I took the opposite position because I believe that the Quartet failed from the onset to breathe new life into the peace negotiations; in fact, it has become a major impediment to the peace process.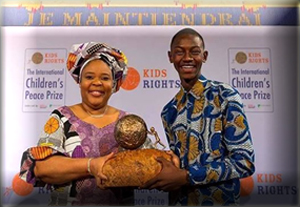 Leymah Gbowee and Abraham M. Keita
Keita remains a Hero of his Generation - Hatred can't help, Madam President
By Martin K. N. Kollie
In 2011, the Norwegian Nobel Committee announced Madam Sirleaf as one of the winners of the Nobel Peace Prize. A day before awarding her this prestigious accolade, five giant-sized bill boards were erected at strategic locations with her photo on each one of them. These bill boards were designed and paid for with our taxes honoring her for 'contributing to peace' even though she remains an indictee of the TRC report.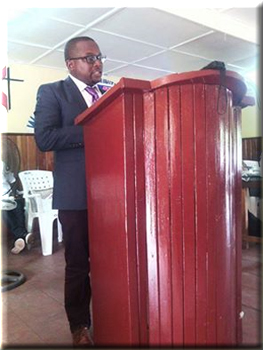 John S. Morlu, II
Former Auditor General of Liberia
Journalism and Self Regulations: Towards a Better Media Contribution to Liberia's Democracy
A Keynote Speech Delivered By John S. Morlu, II
The President boasts that it is because of her that the international community waived $4.9 billion, a significant portion of which was unpaid interest arrears. But the President intentionally did not include in her Special Message that by the time she leaves office she would have accumulated about $1.2 billion in new debt since 2010. With the escalation of corruption as we are in "injury time," the mounting debt stock of $1.2 billion and no concessions left for the new Government. I agreed with Dr. Toga McIntosh that this President will leave this country in near bankruptcy and inflexible fiscal space for the next Government.
Liberians: We as a country have a leadership that is spiritually void
By Jones Nhinson Williams
Liberia is more of a nation in unending crisis than it was under previous Liberian governments;­ and this includes even the most uncompromising regime in the country's history. The minds of Liberians are damaged and the Liberian society is socially and reasonably sick. The blame for all these ills goes around but the bottom-line lies in one thing: we, as a country, have a leadership that is spiritually void.
16 Days of Activism: A Time to Act more and Talk less
By Martin K.N. Kollie
It is time to go beyond just celebrating 16 Days of Activism and work together as seven continents in one world to put an end to violence against our mothers, sisters, aunties, daughters, and nieces. Promoting women's rights is not only about talking, but acting to ensure they have equal access to opportunities in order to compete with their male counterparts.
How The Ideological Siege Undermines The Peace Process
By Dr. Alon Ben-Meir
In my column two weeks ago, I addressed the question as to why past Israeli-Palestinian negotiations have failed, and last week I suggested that the regional environment is, in fact, conducive to the resumption of peace talks. As usual, I received scores of positive comments and perhaps as much criticism, which made me feel that I am on the right track. I have selected four commentaries that readily accepted the narrative of the Netanyahu government that there is no negotiating partner...
Liberia lacks a sound economic and public policy team
By Jones Nhinson Williams
Famous New York's U.S. senator, Daniel Patrick Moynihan once said: everyone is entitled to their opinion, but not everyone is entitled to the facts. The fact of the matter is Liberian lawmakers are useless because they see no real leadership in the country. Age-old Liberian opposition groups are joining the bandwagon of uselessness because they are emulating what the current leadership in power is doing––condoning widespread corruption and public theft.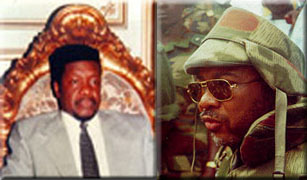 Warlords Kromah & Taylor
Why Liberians Expect US To Do More Than Lifting Sanctions
By Frank Sainworla, Jr.
The United States is rapidly losing whatever moral authority it has left regarding the issue of justice for victims and accountability for warlords, in the aftermath of Liberia's 14 years brutal civil war, which claimed over 250,000 lives.
United Nations recognises sustained work of Wapichan people to defend land and forests
Paris, 26 November 2015 – The Wapichan people in Guyana, South America, have received the prestigious Equator Prize from the United Nations Development Programme (UNDP) in recognition of their prolonged efforts to legally secure their ancestral lands and conserve extensive rainforests and diverse wildlife habitats in the South Rupununi.
Dr. Flumo Yanquoi Stevens
Professor Flumo Yanquoi Stevens, Liberian Economist (1939-2015)  - A Brief Tribute
By D. Elwood Dunn
I first met the unpretentious but brilliant Flumo at Cuttington College (now University) in Suacoco, Liberia in the early 1960s. He graduated a class ahead of me in 1963 majoring in Economics. He would go on to graduate studies and to a brilliant career as an economics professor and researcher, as well as a one time Dean of the College of Business of the University of Liberia.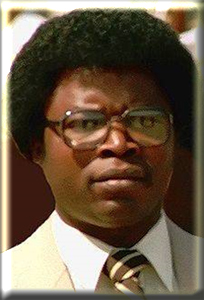 Samuel Kanyon Doe
21st President of Liberia
Remembering Samuel Kanyon Doe
By Bai M. Gbala, Sr.
Samuel K. Doe was fiercely patriotic, dedicated and committed to the nation and people. Born in a village of parents who were illiterates and subsistence farmers, young "Sammie" saw and experienced the indignity of an unjust, single-party, single-group rule – forced, hard and unpaid labor, taxation without representation and periodic illegal "exactions/collections", etc., to which his parents, relatives and others of the district were subjected.
Why Have Past Israeli-Palestinian Negotiations Failed?
By Dr. Alon Ben-Meir
No new format for peace negotiations between Israel and the Palestinians can succeed unless it carefully considers the reasons behind the failure of past negotiations to ensure that the same mistakes are not repeated. The following highlights some of the more prominent reasons behind the collapse of prior Israeli-Palestinian negotiations:
Indigenous activist's life in danger after opposing destruction of Peruvian Amazon by oil palm companies
A Press Release Issued by Forest Peoples Programme
"We are going to kill you": Indigenous activist's life in danger after opposing destruction of Peruvian Amazon by oil palm companies. Washington Bolivar, an indigenous activist in Peru has received another sinister death threat in the immediate wake of his efforts to challenge the destruction of Amazon rainforest for timber extraction and conversion to oil palm.
Jean Claude-Juncker
President, European Commission
The leaders of Europe must rethink their approach in addressing the problems of African migration to Europe
Open Letter to EC President From Jones Nhinson Williams
I write to urge the leaders of Europe and the European Commission not to send a promised 3.6 billion euros ($3.8 billion dollars) to Africa as a means of addressing the continent's forced migration and refugee flow problems that negatively impact Europe. Apart from the fact that this policy decision or thought is a wasteful option, it is equally a very bad public policy approach and a disingenuous international cooperation framework to addressing the serious catastrophic that is fundamentally aided and abetted by some European and western nations.
Promoting Human Dignity in Policy and Culture
By Martin K. N. Kollie
Liberia has been and continues to be a victim of human indignity and all forms of abuses. For almost two (2) centuries now, the visibility of human dignity is yet too far from its shore as humiliation, degradation and dehumanization permeates nearly every facet of the society. There is a resounding public outcry currently to guarantee the rights of all citizens and non-citizens as our nation proceeds toward 2017.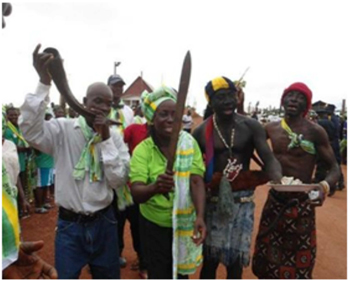 Mary Broh with traditional dancers
Mary Broh is, Perhaps, the Best Person in the Entire Administration of President Ellen Johnson-Sirleaf
By: Jones Nhinson Williams
I don't know Mary Broh and have never met her, but I strongly believe that she is, perhaps, the only serious and patriotic official in the current Liberian government. So instead of bringing her down as we always do with our decent and patriotic Liberian brothers and sisters who want substantive change from the past, we most celebrate her and her good works.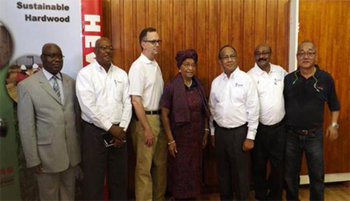 President Sirleaf poses with Firestone managing director and senior staff, including Ambassador Nyenabo (far left) who's visiting Liberia. (LINA)
Something's Wrong With This Picture: Interesting... but Incongruous
By Too Edwin Freeman
"How come you ain't got no brothas up on the wall?"
The quote from the classic Spike Lee joint, "Do the Right Thing," is an apt interpretation of the contradictory optics embodied in the photo above. President Ellen Johnson-Sirleaf poses with the highest echelon of management at Firestone Liberia and the team is almost exclusively non-Liberian – this, after some 90 years of Firestone's presence in Liberia! Hence the question… but the optics of the photo represents only a symptom of what's actually wrong with the picture. The real picture… well, that's the subject of this piece.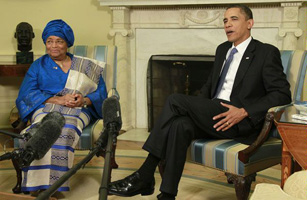 Presidents Sirleaf & Obama
Obama Lifts Sanctions On Liberia - Whitehouse
Today, the President signed an Executive Order which takes note of Liberia's tremendous progress since emerging from civil war in 2003, in particular its commitment to democracy and the development of its political, administrative, and economic institutions. The United States congratulates the people of Liberia for their determination, ingenuity, and commitment to peace and democracy that has made this possible.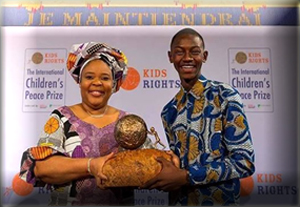 Leymah Gbowee and Abraham M. Keita
Abraham M. Keita: A Journey from Slum to Stardom
By Martin K. N. Kollie
The clock was ticking towards a new day for thousands of Liberian Children. Africa's first independent nation was gradually propelling to an admirable height of universal honor and respect. It was time to send a memo of hope to children living in slum communities and appalling conditions. It was a defining occasion to rekindle the spirit of self-confidence.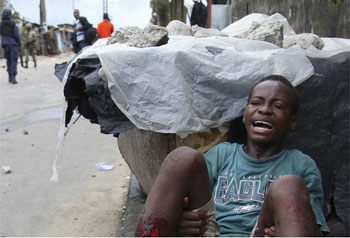 Shaki Kamara (A West Point recently gunned down to death by the Liberian Army in West Point)
Keita Delicates Award to Shaki Kamara and Liberian Children
Abraham M. Keita's Acceptance Speech
I dedicate this award to all children around the world, specifically to the children of Liberia and especially the late Shaki Kamara, a 16 year old boy of the slum community of West Point. In August 2014, Shaki was murdered in cold blood by soldiers of the Liberian Military. The Liberian army opened fire on unarmed children and civilians who were peacefully protesting for food when they were unexpectedly quarantined during the Ebola crisis.
A Conducive Geopolitical Environment For Israeli-Palestinian Peace
By Dr. Alon Ben-Meir
The upheaval sweeping the Middle East suggests that it will be extraordinarily difficult if not impossible to resume the Israeli-Palestinian negotiations and reach a successful outcome. On the contrary, because of the prevailing political conditions and the continuing rise of extremism in both communities, the resumption of peace talks is as timely as it has ever been and these conditions may, in fact, lend even more urgency in the search for a peace agreement.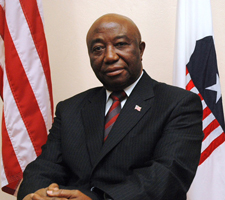 Vice President Joseph N. Boakai
Rebuttal to Kadiatu Musu Frantz
By: Gayah Fahnbulleh
This rebuttal is written with the utmost respect for Mrs. Kadiatu Musu Frantz. It is intended to analyze, and refute her article and show that it has no factual foundation. Thus, it is based on biased personal opinions. The threshold for assessing any critical narrative has to be the truthful evidence on which one's assumptions and suppositions are based; and not outlandish and crude personal attacks as is the case of Mrs. Frantz.
Bai M. Gbala, Sr.
"Fears, Apprehension . . . of UNMIL Departure": Rejoinder to Dr. Dukule
By Bai M. Gbala, Sr.
Dr. Dukule' holds that some of the most important, critical  for which Liberia's political were fought in the 1970s -  participation in the political process or national leadership without consideration of ethnicity; break the cycle of oppression and gain denied recognition/dignity; equal treatment and access to equal opportunity; freedom of speech, movement and association – have been resolved today. We argue the contrary.
Donors' Money Misused: Are World Bank/NGOs Responsible?
By J. Yanqui Zaza
Every country holds the theory that collecting taxes (USA), borrowing money (Ghana), sharing profits of natural resources (China), or receiving donors' money (Liberia) is the democratic process of acquiring resources to finance expenditure-funding security, funding education, funding infrastructure, etc. And, if a government is to secure adequate money for these programs, then, even an official or aspirant, "whose heart is swollen with love for his country," must not only pay attention...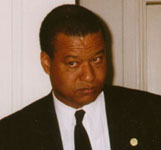 Here is why warlord Charles Taylor's ex -accomplices are seeking Political Power
By Kadiatu Musa-Frantz
The best way to prevent criminals from becoming politicians is to disallow anyone with a criminal record or past from standing for election. However, in Liberia the story is different. This is why former Charles Taylor's accomplices in "political and economic crimes" are all running for high-level political offices in Liberia. Of course, it makes Liberia a joke to people around the world, and certainly my husband, Dr. Frantz, who is a western medical doctor thinks Liberians are a confused people to support accessories in Taylor's economic loot
Liberia: Urey Urges Liberians to 'Reject Greedy Politicians' - LINA
By Ballah M. Kollie
The All Liberian Party (ALP) has been launched with a call by its standard bearer Benoni Wilfred Urey on Liberians to reject greedy politicians who want to retain power for personal gain.
The Role of the Young People of Liberia in Promoting the Collective Security of the Liberian People now and in the future
By Tiawan Saye Gongloe
Liberia, our dear country, is considered, internationally, as a fragile state. It means that Liberia, like a glass, if not handled carefully, could fall and easily break into pieces. This description of Liberia should remind every Liberian that from the view point of those who are critically monitoring Liberia, the country is still not far from breaking down into conflict, although, the guns of war have been silent, since 2003. What this also means is that our collective security is still weak.
The ALP Factor In The CDC/Liberty Party Talks
By Togar Alexander Bealded
On my usual surfing of the global world: internet, TV or radio, I read the five paragraphs release coming from the 'Revolutionary National Youth League of the CDC,' penned down by my dear friend and one youth I have a great deal of respect for, Jefferson Koijee.
Fears, Apprehension and Reality of UNMIL Departure
By Abdoulaye W. Dukule
Anyone who remembers the period spanning from the 1970s to the early 2000s, the social uprising, the military coup, the killings, the wars and their attendant trauma would have cold shivers whenever hearing about UNMIL leaving Liberia, in just about a year, when the nation would face a testing political exercise. The 2017 elections will check Liberia's political maturity and the capacity of politicians to provide the leadership and guidance required to nurture the peace process, which is far from over.
Rethinking The Liberian Economy
By Tom Nimely Chie
Liberians nationwide are vulnerable to injustices ranging from issues of social, politics to economic. They are being deprived and denied of their rights to live a decent life which is a fundamental right to all human beings. People are struggling to access basic necessities in their lives. Food, clothing, and housing are not within the earning bearing of the majority. The situation has come out of proportion due to economic imbalance and instability, where depreciation of Liberian dollar has led to near hyperinflation.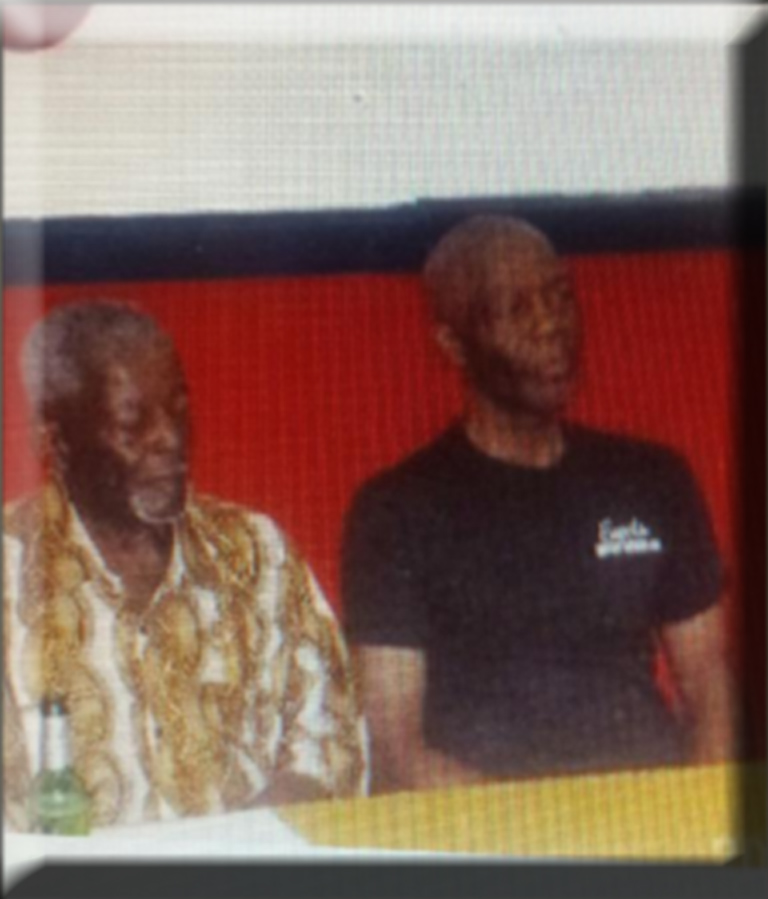 George Sackor (L)
with his younger
brother Garrestson
"Bulldozer" Sackor
A Final Goodbye to George Sackor, a Liberian Football Legend
By Benedict Nyankun Wisseh
The exceptionalism of a country is constructed by the unique contributions from all its citizens who are blessed with different unique backgrounds that qualified them to make such contributions. Generally, a country demonstrates its appreciation by honoring the citizens in the areas of their contributions. A statute, building, or street that has relevance to the citizen's contribution is constructed and named in honor of the person.
The Afenifere threat to secede from Nigeria: Open letter to the Sultan of Sokoto and the Caliphate's MACBAN - Part 2
President Buhari's silence and inaction, during his 100 days, on the issue of Fulani herdsmen seems to have poured petrol on the long smoldering embers of the Fulani menace in Nigeria. So there is a need to raise two questions: (a) Is Buhari's inaction part of his Caliphate hidden agenda? (b) Is the Sultan of Sokoto, as the Chairman of the Board of Trustees of MACBAN, the cattle breeders association, not the Grand Patron of a criminal enterprise
Vice President Joseph N. Boakai
Why Vice President Joseph Nyumah Boakai should not run for President in 2017?
By: Kadiatu Musa-Frantz
Vice President Joseph Nyumah Boakai is a very good family man, a wonderful husband and a loving father who has served successive Liberian governments - from President Tolbert to Presidents Doe and Sirleaf. However, the Vice President must not attempt to seek the Office of President of the Republic of Liberia in 2017 and here is why: He failed President Ellen Johnson-Sirleaf and the current Liberian administration miserably.
Is The Occupation Behind The Current Violence?
By Dr. Alon Ben-Meir
The Netanyahu government has conveniently and consistently separated the occupation of the West Bank from the repeated eruption of violence, insisting that the Palestinians' unrest is a result of incitement by Palestinian Authority President Mahmoud Abbas, when in fact he has been attempting to reduce the tension. Not once has any Israeli official suggested that nearly 50 years of occupation might have brought the Palestinians to a boiling point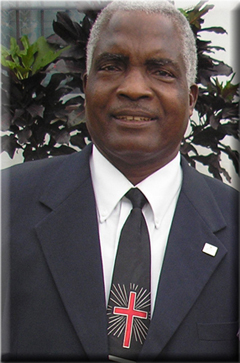 Rev. Dr. John S. M. Russell
Rev. Dr. Russell Delivers God's Message to all Liberians
A couple of weeks ago, God Almighty woke me up in the Spirit and led me to a place by the Somalia Drive in Jacob Town, Paynesville. While standing by the road, I saw three very large dump trucks coming from the Red Light direction. Then I heard a voice saying: "You see those trucks that are coming? They are my garbage trucks.
Building Durable Peace: Liberia's Long Road to Psychological Recovery
By: Emmanuel Dolo
We have yet not begun to understand the full psychological impact of the war and its trauma on our citizens. We have not made ample efforts to deal with the profound psychological damage that the war caused and is still causing. Yes, since the end of the war in 2003, intense communal violence has become less visible, but conditions for longer-term psychological healing and reconciliation have not started or taken roots.
2017 is the solution: A clarion call to slum-dwellers
By Martin K. N. Kollie
The Masses must rise up now to rewrite their history. Make no mistake to entrust them with your future. Never again must you use your ballots to bullet yourselves. You must use your ballots to bullet those who have compromised your interest. With less than two (2) years to 2017, the choice to make Liberia better is in your hands. 2017 is about choosing between poverty and prosperity.
The Perpetual Silence Of LINSU And Fly Is Periling To Our Existence As Students And Youth
By Abraham M. Keita VI
Comrades and friends of revolutionary consciousness and intellectual prowess, cadres and militants who have drank from the fountain of knowledge and the zenith of academia; it is bewildering that the two national organizations that are to protect the interests of youth and students are the sleepless and tireless backing dogs of the failed Ellen-led regime.
Before It Is Too Late
By Dr. Alon Ben-Meir
It was always a question of when the Israeli-Palestinian conflict would violently erupt once again, which only proves that, contrary to the prevailing views among a multitude of Israelis, no Israeli government can manage the occupation indefinitely.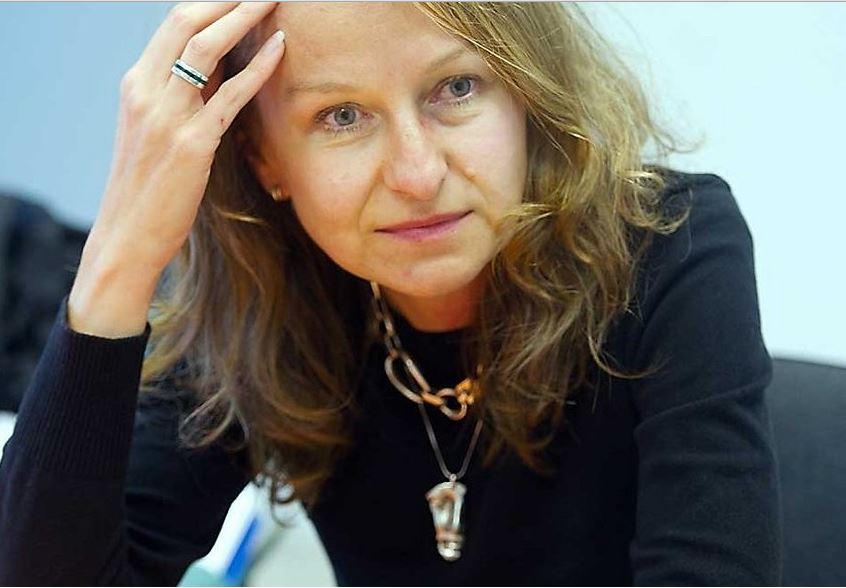 Ambassador Tiina Intelmann
Growing Worldwide Opposition to the use of the Death Penalty
By Ambassador Tiina Intelmann
On 10 October the world commemorates the World Day against the Death Penalty.  This day was introduced in 2003 by the Worldwide Coalition against the death penalty, a group of nations and organizations including Canada, France, Italy, Mexico, Belgium, the African Commission on Human and Peoples' Rights and the European Union. Over time, it has become an established part of the international calendar, commemorated annually with hundreds of events around the world.
The Absence Of Real Commitment To Peace
By Dr. Alon Ben-Meir
Regardless of what Prime Minister Netanyahu and Palestinian Authority President Abbas stated in their speeches at the United Nations General Assembly, neither is genuinely committed to negotiating a peace agreement based on a two-state solution. Both leaders were engaged in empty rhetoric and slogans for domestic consumption instead of proposing new, credible, and constructive initiatives to resume the negotiations that could lead to a peace agreement,
European Union Reaffirms Its strong opposition To Capital Punishment
Today, on the European and World Day against the Death Penalty, the Council of Europe and the European Union reaffirm their strong opposition to capital punishment. The death penalty is inhuman and degrading treatment, does not have any proven significant deterrent effect, and allows judicial errors to become irreversible and fatal.
Another Ellen-Confidant Involved In 'Brutality'
By Samuka V. Konneh
Just as the dust is settling down in the public about gross public misconduct by aide-de-camp of Liberian President Ellen Johnson-Sirleaf, reports have again emerged of another gross public misconduct of someone close to her.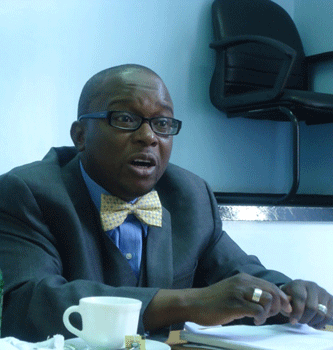 John S. Morlu, II
"Consolidate, Strategize and Win"
This administration has sold and mortgaged  all your resources for cheap. More than 100 concessions re-negotiated, negotiated, signed and ratified by this administration and Legislature over the past 10 years and there is nothing much to show for the so-called $18 billion that was promised by all of the concessions. The next government will have no concessions to sign to get that infamous signing bonus. And if you try to cancel or re-negotiate these concessions, you will get clobber by the international business community.
Deputy Minister Tolbert Nyenswah Accused of Embezzling $300,000
According to credible sources at the Ministry of Health, Deputy Minister Tolbert Nyenswah has spent about $300,000.00 to "buy chlorine", a disinfectant that is no longer used for prevention.
My LAMCO Buchanan Experience
By Siahyonkron Nyanseor
I graduated from Laboratory High (Lab High) in 1966. I did not attend college in Liberia due to the injury I sustained to my left eye on March 15, 1963 (President Joseph Jenkins Roberts' birthday holiday). In the latter part of 1966, the Liberian American/Swedish Mining Company (LAMCO JV) published an ad in one of the local newspapers seeking candidates to undergo nine months intensive training in the areas of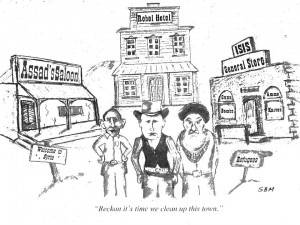 Cartoon by Sam Ben-Meir
Before And Beyond The Syrian Calamity
By Dr. Alon Ben-Meir
What started as a civil war in Syria nearly five years ago has now evolved into an international crisis unmatched by any other since World War II. The global community now has a solemn obligation to end this humanitarian disaster, but it cannot do so unless all the powers affected by the conflict set aside their differences in order to end the suffering of millions of Syrians
Police, Bin Quick-Fix Reform: A Plunge into the Wilderness for our Criminal Justice System as UNMIL Drawdown
By James Thomas-Queh
The Liberian Observer of 4th Sept. 2015, carried two very important articles that did not miss the attention of many commentators. One of the titles was "Ellen Seeks to Restructure LNP, BIN (www.liberianobserver.com/news/ellen-seeks-restructure-lnp-bin), and the other: "Lapses in SSR Spur Public Fear over UNMIL Drawdown
World Trade Organization: Favors Flawed Oil Agreements?
By J. Yanqui Zaza
Once again, Liberian President Ellen Johnson Sirleaf's government is boasting that Liberia has accomplished a milestone-Liberia's admission to the World Trade Organization (WTO). Liberia's admission into the WTO comes after the Sirleaf government has signed many flawed big-business-concessionary agreements since her ascendency to the presidency in 2006. Predictably, many Liberians, aware of the cozy relationship between President Sirleaf and big business, are asking whether Liberia will benefit from its WTO membership
Reunion Of Former Players And Sponsors Of The Invisible Eleven & Majesty Sports Association
Former players, supporters and well-wishers of the Invincible Eleven and Majesty Sports Association in the Diaspora, across the breadth and length of the United States, such as Connecticut, Delaware, Maryland, Minnesota, New Jersey, New York, North Carolina, Ohio, Rhode Island, Virginia, etc., met in the City of brotherly love, Philadelphia, Pennsylvania, on August 21 through August 23, 2015 under the name "Reunion of Players and Supporters of Invincible Eleven."

Susannah Lewis and her Team: Source Libera Journal
The Liberian Flag, Designed or Copied?
By Siahyonkron Nyanseor
August 24 - Flag Day is a national holiday for Liberians. Seven women are credited with designing this national symbol. On October 24, 1915, President Daniel Edward Howard signed into law an act passed into law by the National Legislature that made it a public holiday. On this day, Liberians come together to remember their country's history and the flag that it represents; school children parades on the streets carrying miniature flags in their hands.
SUP Rebukes, Rejects, and Resists any Increment in Tuition and Fees
A Statement Issued By SUP
The Vanguard Student Unification Party (SUP) categorically rebukes, rejects, and resists any increment and would inexorably battle such devilish attempt, which has the inclination to depopulate the University. Let it be known that the University of Liberia which was solely established through an Act of Legislation to train men and women, is predominantly a public funded institution, especially to protect the weak. 
Cartoon by Sam Ben-Meir
A Time For Some Summer Levity: A Conversation Between Netanyahu And Abbas
By Dr. Alon Ben-Meir
The setting: Bibi and Abu Mazen happen to come to East Jerusalem and stumble into each other at the Colony Hotel. They approached to say hello and felt that a brief private meeting would do no harm. A few minutes later, they adjourned to a secure room in the hotel.
A Perverse Unconstitutional Practice And Its Potential Danger To Liberia's National Security
By: James Thomas-Queh
At a mere glance it may not seem that there is a connection between the theme of this paper and the historical excerpts by Mrs. Doris D. Grimes (Reflection: The Day Liberian President William V.S. Tubman Died". But I have no doubt that among the roots of the succession acrimony narrated by her, one could sort out the perverse unconstitutional practice - that is, the prerogative of the President to leave anyone in charge of the government in his or her absence and not the Vice President
Israelis And Palestinians Cannot Make Peace On Their Own
By: Dr. Alon Ben-Meir
The enduring impasse between Israel and the Palestinians in the peace negotiations and their changing internal political dynamics has made it impossible for them to resolve the conflict on their own. Leaving them to their own devices is no longer a viable option as the continuation of the conflict is hazardous and potentially explosive. The resumption of bilateral peace negotiations with US mediation alone will not succeed any more than the Obama administration's two previous efforts.
Hamas chief Khaled Meshaal (L) hugs senior Hamas leader Ismail Haniyeh before leaving Gaza Strip December 10, 2012. REUTERS/Ahmed Jadallah
Israeli-Hamas Truce: An Opportunity In Disguise
By: Dr. Alon Ben-Meir
Israel and Hamas are reportedly discussing a long-term truce. Although Israeli officials claim it is merely a rumor and that there are no direct or indirect negotiations with Hamas, many signs suggest that a deal is imminent. Whether or not such a deal is being negotiated, however, Israel and Hamas should aggressively pursue it as both can greatly benefit from it on several levels.
Liberia's International Call Rates Up With New LTA Order - allAfrica
Monrovia - According to a Commissioner of the Liberia Telecommunications Authority (LTA), Liberians don't often make international calls. This was the reasoning behind a recent LTA order (001-07-31-15) imposing a surcharge on all outbound international calls.
President Sirleaf's Rejection to The "Christian State" Proposal: Good or Bad for Liberia?
By Josephus M. Gray
Although secularism is proceeding rapidly in the Liberian society, nevertheless religion continues to be an important political phenomenon in the body politics of the nation, for multiple reasons. Some religious groups in Liberia especially the followers of the Prophet Muhammad see the move to constitutionalize Christianity as a direct threat to their faith and alienate them, arguing that the move implies their exclusion.
Open Letter To President Obama
From Jones Nhinson Williams
What is at stake for me and the suffering people I stand for is Africa. Knowing you as a son of an African who once fought against the evil of corruption and bad leadership in his native land, I urge you to leave your Africa's legacy as the American president who put an end to widespread corruption on the continent of your ancestry.
"New Kru (Klao) Town: Yesterday, Today And The Future"
Speech Delivered By Wleh-Chea Kpanneh Doe
In addition to the Ebola health crisis, we are also witnessing an EDUCATIONAL CRISIS, where the young generation who are our nation's future and leaders of tomorrow, are being deprived of being provided a solid educational foundation to become better citizens of the future. It can be recalled that in 2013 and 2014, of 26,000 students who sat for the WAEC exams, over the last two years, not a single one achieved a passing grade at the region one level.
Applauding Senegal's Supreme Court for Upholding Karim Wade's Corruption Charges
By Jones Nhinson Williams
On Thursday, August 20, 2015, the Senegalese Supreme Court upheld the corruption conviction and a six-year prison time against Karim Wade, the son of ex-president Abdoulaye Wade. This ruling is a major stimulus to Africa's quest for accountability, transparency, and an opposition to impunity for graft and flagrant economic crimes.
Bank Governor Mills Jones & President Sirleaf
Selective and Baseless Discrimination: the Case of CBL's Governor Mills Jones
By: J. Nhinson Williams
Selective and baseless discrimination is dangerous for Liberia's prosperity.  If we as Liberians desire a society of lasting peace and prosperity then there should be no discrimination. No real change can come to Liberia if those who are discriminated against cannot stand up against such practices, and here is why: Discrimination has a lot of layers that makes it very difficult to overcome, but we must insist that it has no place in the new Liberia we want for our children and our children's children. It would be a great mistake, I believe, to pass discriminatory laws that are aimed at one man or one group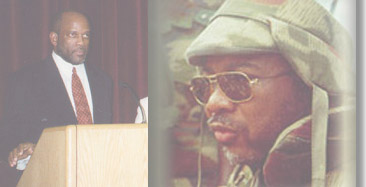 Charles Brumskine and Charles Taylor
A Quest for Muslims, Mandingos' Vote: Brumskine Caught in a Web
By: Kadiatu Musa-Frantz
Few days ago, we wrote about Liberty Party's de-facto presidential candidate, former Charles Taylor's National Patriotic Front rebel forces senior legal advisor and chief policy strategist, Mr. Charles Walter Brumskine's shameless game of cards to court Muslim and Mandingo electorates on his side for the 2017 presidential elections. True, Liberia has peace and an ongoing reconciliation process.
The Syrian Catastrophe and The World's Deafening Silence
By: Dr. Alon Ben-Meir
The word tragic has often been used to describe the civil war in Syria, but it is a pale description of the raging madness on the ground. The bloodletting and massive destruction that has swept the nation is not a mere tragic event; the magnitude of the destruction and loss of lives is catastrophic by any measure unseen since the horror of World War II.
Ghana's doctors extend strike in challenge to government
-
Reuters
Doctors in Ghana decided on Friday to strike for two more weeks, their union said, in a protest that is emptying hospitals and posing a stiff challenge to the government of President John Mahama. Doctors are refusing to see out-patients or admit new in-patients, despite pressure from government, religious and cultural leaders to go back to work.
Kenya's 43% Unemployment: Remedy; Obama's Entrepreneurship?
By J. Yanqui Zaza
A high unemployment rate is one of the key economic factors that is increasing income inequality in countries such as Kenya. So, nowadays, everyone is espousing a cure to reduce the rate of unemployment, and subsequently narrow income inequality. And, yes, two prominent world leaders, President Barack Obama and Pope Francis are adding their voices to the plight of the unemployed.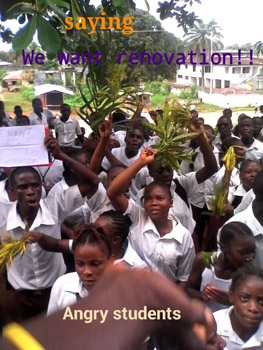 We want a building, reads a placard of the protesting students
Poor State Of Cape Palmas High May Hamper Reopening
By John Bropleh, LINA
All 400 students of the Cape Palmas High School in Harper, Maryland County, may not continue their studies when schools reopen in September due to the deplorable condition of its facilities. Principal Barbayon Bartue said due to its declining state, the school building was abandoned early this year to be renovated.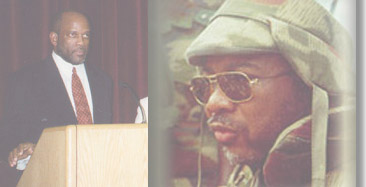 Charles Brumskine and Charles Taylor
The Muslim, Mandingo Vote: Does Presidential Candidate Brumskine Forget the Status of Forces Agreement?
By Kadiatu Musa-Frantz
Why does Liberty Party leader and presidential candidate Charles Walter Brumskine want the support of Liberian Muslims and Mandingos now? Does he forget that the 1994 Status of Forces Agreement http://trcofliberia.org/press_releases/74 he crafted for his then supreme master Charles Taylor killed Liberian Muslims and other Liberians? Why didn't he care or play nice with Liberian Muslims and Mandingos when his old buddy Charles Taylor and their NPFL killing machine was operating, targeting people for being Mandingos or Muslims?
Liberia's Presidential Vote 2017 is Far More Than a Democratic Exercise
By: J. Nhinson Williams
In 2017, we as Liberians will vote for a new president. That vote will be of historic importance because it will literally be a vote for the survival of the soul of our nation, its future and future generations. What makes the 2017 vote more important than past elections is that it sets the conditions and determines the circumstances of the future that we will leave for generations of Liberians to come.
Information Minister Warns Against Unethical Media Reports - LINA
[Information Minister Lewis G. Brown] warned that Government will not continue to take kindly or treat as "business as usual," inappropriate media reports that border on falsehood and could prevent the country from receiving needed assistance that will further improve the lives of ordinary Liberians.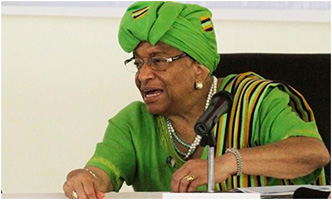 President Ellen Johnson Sirleaf
President Sirleaf's Angry Remarks Propelled Bodyguards To Brutalize Student Protesters In Sinoe
By Martin K. N. Kollie
Our unwavering agenda for a new Liberia of inclusion, equality, justice, and freedom is tied to a famous quotation by Martin Luther King, Jr., which says "our lives begin to end the day we become silent about things that matter." Our conviction is driven by an irreversible spirit of patriotism and loyalty to our fellow countrymen. The change we are yearning for today in Liberia is possible, but only through honest and frank engagements with higher-ups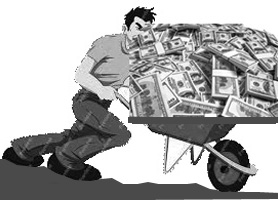 It Requires A Wheelbarrow To Take Senator Jallah's Pay Home?
Liberian Politicians have not Learned Anything from the Country's 14-Year War
By: J. Nhinson Williams
The sad part about the 14-years Liberian civil war is that the actual people who should have died did not die, only the innocent mostly did. In a nation where most, if not all, of the politicians are dangerous species and petit criminals, it is hard to disagree as to why Charles Taylor brutally chased out these criminals the way he did...
Susiya: Injustice On Display
By Dr. Alon Ben-Meir
The pending order to demolish the small Palestinian village of Susiya in the southern Judean Mountains in the occupied West Bank represents the most blatant violation of human rights. The order calls for the forcible removal of several hundred Palestinians who have been living on their land from the time of the Ottoman Empire and still have the ownership deeds to prove their claim.
World on the verge of an effective Ebola vaccine
Press Release Issued By WHO
Results from an interim analysis of the Guinea Phase III efficacy vaccine trial show that VSV-EBOV (Merck, Sharp & Dohme) is highly effective against Ebola. The independent body of international experts - the Data and Safety Monitoring Board – that conducted the review, advised that the trial should continue. Preliminary results from analyses of these interim data are published today in the British journal The Lancet.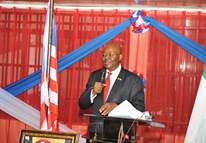 Amb.
Al-Hassan Conteh
"Celebrating Our Community as a Strong Foundation for Accelerated Development."
By Ambassador Al-Hassan Conteh
Historical accounts trace the origins of the territory of what is now Liberia to 520 BC, and later in the early fifteenth Century, when Portuguese expeditions traversed what was then known as the Malagueta Coast because flora blossomed with malagueta pepper, which together with ivory, were the main products of trade. Overtime, the land became inhabited by diverse ethnic groups, who arrived in distinct migration waves between the twelfth and sixteenth centuries from Africa's north, north-east and east in search for liberty and a new living abode.
"Rebuilding Liberia, if not now, when and who?"
By Arthur K. Watson
The first suggestion is for us to change the way that we have done things. If we have done the same things for the last 168 years and we still find that the country is lacking behind in so many ways, we can't then expect to see any meaningful development in the country if we continue to do the same things. Remember that it was Albert Einstein who once said that insanity is the same as doing the same thing over and over again and expecting different results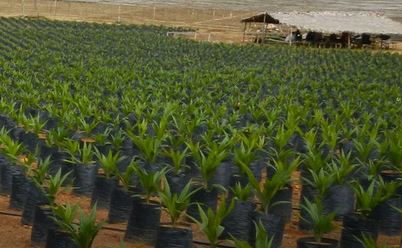 Oil Palm Companies, Preesident Sirleaf, Gol Officials Harass Poor Communities To Give Away Their Brokerage Rights (Land)
Liberians Forced to Sell Land: A Serious Recipe for Future Uncertainty
By: J. Nhinson Williams
In a recent item Global Witness reported on the abusive treatment endured by Liberians when they take a stand against the Golden Veroleum, one of the world's largest palm oil plantations. To make matters worse it appears that state officials are said to be helping Golden Veroleum (GVL) intimidate and threaten communities until they sign over their land.
The Missing Links in Obama's Gay Right Advocacy
By Joe Bartuah
Just imagine a scenario in which two groups of participants are posted 239 steps apart to run in the same 26.5 miles marathon. In such a scenario, it is obvious that only the group posted at 239 feet along the route ahead of the first group would be at an advantageous point in the competition. This is because the two groups of participants didn't start on an even keel, or on a level playing field.
Why The President Should Be Held Accountable For Failures And Lapses In Government
By Phillip Saa Tali, Jr.
Few months ago I was fortunate to have been in the company of some guys that work with the WORLD BANK office in Monrovia. Among the issues or concerns raised was the lack of transparency and ineptitude in government. The concerns focus on all aspects of government, that is, the legislature, executive and judiciary. But the most concern was the executive which is the administrative arm of government.
Urey's Misadventure into Liberian Politics: Does the New Liberia Need the Masonic Craft?
By Theodore Hodge
Politicians around the world do have a recurring tendency to spew the most puzzling (and sometimes idiotic) things out of their mouths. Donald Trump, a contestant in the Republican race for the US presidency has topped the charts recently for saying the most outrageous and offensive things imaginable. His asinine and fatuous statements have caused rancor of global proportions. But in this piece, my aim is to focus on the Liberian variety of politicians, specifically a gentleman (the term is used loosely) named Benoni Urey.
LIBERIA: Low Momentum Independence Day Celebration In Greenville, Prez Sirleaf Expresses Concern - GNN

Liberia's Independence Day which is usually celebrated in grand style on July 26 each year throughout the Country has fallen backward in its usual celebration in the Port City of Greenville, Sinoe County where thousands of Liberians and foreign residents during the past days trooped for observe Liberia's 168th Independence Day celebration
At New Central Bank Building Dedication, Samuel Doe's Name Not Mentioned
By Jerry Wehtee Wion
May their souls rest in peace: the late President Samuel K. Doe and the late Governor of the National Bank of Liberia Thomas V. Hanson, for it was their vision and they started the project but was not completed as a result of the civil war, and we all know those who started the war. That both Doe and Hanson's names were not mentioned at the dedication of new Central Bank office by either President Ellen Johnson Sirleaf and Central Bank Governor Mills Jones speaks to one of my themes in my writings: that Liberia is a two-tier society between the tiny five percent privileged Americo-Liberians or Congua and the majority 95 percent marginalized natives or country people.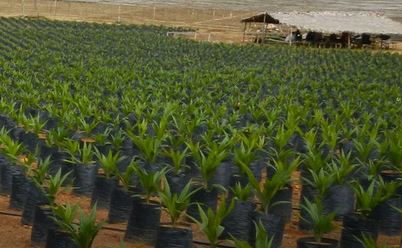 Oil Palm Companies, Preesident Sirleaf, Gol Officials Harass Poor Communities To Give Away Their Brokerage Rights (Land)
Global Witness expose reveals violence, threats, and false promises driving rapid palm oil expansion in Liberia
As Liberia emerges as a new frontier market for the world's cheapest, most popular vegetable oil, The New Snake Oil details how state officials are said to be helping the palm oil company Golden Veroleum (GVL) harass communities into signing away their land and crush dissent. The report also documents the huge foreign investment, state-sanctioned violence, and regulatory black holes that are making this possible.
Abortion and Sexual Education in Moroccan Universities
By Ida Sophie Winter
Education on contraception targets married people, though, and this represents a larger taboo in Moroccan society: here, premarital sexual intercourse is illegal and heavily stigmatized, according to France's 2006 Emergency Contraception in Africa survey. While society considers premarital sex necessary to prove male virility and adulthood, 90 percent of women surveyed considered premarital virginity a "social duty."
One of Our Repositories of Knowledge has Faithfully Departed Us
By Mohamed Lavalie
Sheikh Kafumba Famod Konneh was going to observed his last Ramadan in 2015, the Islamic Holy Month but was not going to see the Ramadan in 2016 because there was absolutely no contract signed between him, Sheikh Kafumba and God to see all Ramadans even though God allowed him to see light and observed the Holy Month for 71 unbroken years.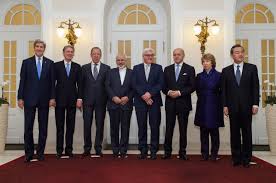 Iran Nuke Deal
The Good, The Bad And The Ugly About The Iran Deal
By Dr. Alon Ben-Meir
The deal with Iran has been generally characterized as either good or bad, and many pronounced it as historic with far-reaching regional and even global implications. I completely disagree with the characterizations of the deal as entirely good or bad, and certainly it is not historic as of yet.
Brown Paper on Economic Governance: The Final Stage of the Liberian People's Struggle
By Siahyonkron Jglay Kpa-kay Nyanseor, Sr.
Our generation is confronted with the pressing issue that must be addressed; without which we are doomed, and will have no legacy to leave with the next generation after us. These are the pregnant issues this article will address.
Presidents Buhari and Obama
Remarks by President Obama and President Buhari of Nigeria Before Bilateral Meeting
Nigeria is obviously one of the important countries in the world and one of the most important countries in the African continent. Recently, we saw an election in which a peaceful transition to a new government took place. And it was an affirmation of Nigeria's commitment to democracy, a recognition that although Nigeria is a big country and a diverse country with many different parts...

In Sheik Kafumba Konneh, Liberia lost a true patriot and decent citizen
By Jones Nhinson Williams
The death of Sheikh Kafumba Konneh shocked, if not all, I would say most Liberians, especially those who aspire for a better, just and peaceful Liberia. In a broader sense, Sheikh Konneh connected with every day Liberian, directly and indirectly. He had no constituency other than Liberia and all Liberians. He showed us that we can all have our strong held beliefs, traditions, customs and even tribes, but still be decent human brings; peaceful citizens of Liberia and above all, statesmen and women.
A Strong Case for Government to Subsidize Private and Public Schools in Liberia
By: Martin K. N. Kollie
Liberia as Africa's oldest independent nation is yet to rise above the devastating manacles of poverty, ignorance, and disease. The country has been through series of unpleasant incidents. Even though this sovereign state is greatly endowed with abundant human and natural resources, but these resources have not made any substantive impact in terms of economic growth, political development, and social refinement
USAID FED Empowers 30 Youth Entrepreneurs through Provision of Power Tillers
On July 16, 2015 in Suakoko, Bong County, the USAID Food and Enterprise Development Program (USAID FED) in collaboration with the Ministry of Agriculture (MoA) distributed 30 power tillers worth USD $189,000 to Liberian youth entrepreneurs under a cost share arrangement.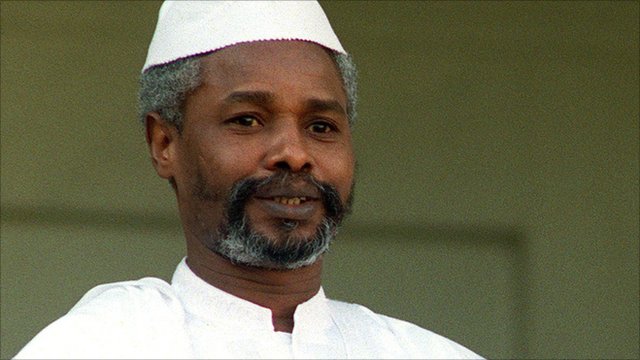 Hissene Habre, former dictator of Chad
The Trial Of Chadian Dictator Hissene Habre Begins
The trial of Hissene Habre, former dictator of Chad, opens today in Dakar before the Extraordinary African Chambers, an internationalized tribunal within the Senegalese court system. This is the first time that a former African Head of State will be judged under the jurisdiction of another African state. Hissene Habre is accused of crimes against humanity, war crimes and torture and may receive a life sentence if he is found guilty of all charges.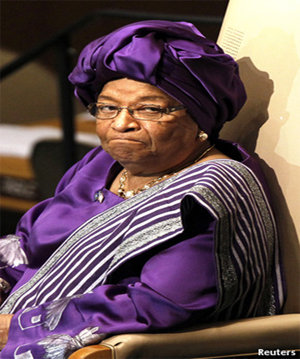 Ellen Johnson Sirleaf
Salary Adjustment In Liberia: Does It Drive Permanent Productivity?
By Dr. Musa Dukuly
Reviving Liberia's economy, which is still enduring lot of postwar socioeconomic challenges, and most recently the shock of health crisis, calls for intense pragmatism. It is evidently glaring that the momentum of the economic impact is too severe to get the country at pre-war levels within the span of two decades. Few of our economic policies (especially those related to wages and allowances adjustment) often appear biased towards political sentiments
Liberia's Brumskine Outlines Vision for 2017 Presidential Bid - VOA
James Butty
Liberia's next presidential election is in 2017, but candidates are already lining up to succeed Africa's first female elected president, Ellen Johnson Sirleaf, and hopefully dethrone the ruling Unity Party.
Bank Governor Mills Jones & President Sirleaf
Central Bank Of Liberia Spent US $5m On Public Relation To Generate $14m
Now, some members of the House of Representatives of the Republic of Liberia, rightly so, have called for an audit of the Central Bank. An article called carried by FrontPage Africa Web Site reported that lawmakers "…wanted to know the whereabouts of the money being spent by the bank to run campaign in favor of CLB Governor Mills Jones."
John G. Bestman Is Dead Wrong; Mills Jones Engages In Questionable Practices
By J. Nhinson Williams
Former Liberia's finance minister and ex-governor of the National Bank of Liberia (now Central Bank of Liberia - CBL) under President Samuel K. Doe, Sr.'s administration, Mr. John G. Bestman, Sr. is not only dead wrong about Liberia's CBL questionable loan program...
Celebrating Independence Day under a Corrupt Regime is Meaningless: A Call to Boycott
By Martin K. N. Kollie
For almost a decade now, Liberia has been led by greedy stewards, political hustlers, and ill-visionary leaders. Millions of Liberians across the landscape are currently at the verge of losing hope as a result of hardship, poverty, and rampant corruption. The cloud of uncertainty now hangs over Africa's first independent nation. The State is crumbling gradually under Madam Sirleaf's corrupt hegemony and self-seeking empire.
Overcoming The Israeli-Palestinian Psychosocial Barrier
By Dr. Alon Ben-Meir
Prime Minister Netanyahu's and Palestinian Authority President Abbas' presumed public commitment to a two-state solution means little unless they begin to undertake confidence-building measures to demonstrate their real intentions.
Has Our Independence Met Its Promise?
By Martin K. N. Kollie
Long before the declaration of our Independence in 1847, the freedom of our forebears to dictate their own political and economic destiny was under hostage. For 25 unbroken years, the sovereignty and self-governance of a land which would later be known...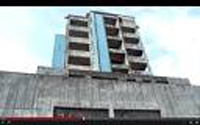 There is currently a battle between the Liberian Government and the TWP over this dilapidated structure
The True Whig Party Generations, Progressives Of 1970s And Masonic: What I Think
By James Thomas-Queh
The fact that Cllr. Taiwon Gongloe, a true progressive, was invited and accepted to deliver the key-note address at the 35th Convention of the True Whig Party (TWP) - exactly 35 years after this party was brutally thrown from power - could be yet another positive sign that Liberians are gradually beginning the process of a genuine national...
Ambassador Charles Minor To Serve As Liberia's 168th Independence Day Orator
The Government of Liberia has announced that Liberia's former Ambassador to the United States of America (USA) is this year's Independence Day's orator.
The Proliferation Of Small Arms In West Africa - A Threat To Peace And Stability
By Tiawan S. Gongloe
The military coup d'etats that began in the West African Region in the 1960s and continue to the 1980s metamorphosed into armed civil conflicts in West Africa, beginning in Liberia on December 24, 1989. Given, that the political, social and economic situations in most of the West African countries were similar to the situation in Liberia, the armed civil conflict in Liberia became an example
Global Financing Facility Launched with Billions Already Mobilized to End Maternal and Child Mortality by 2030
The United Nations, the World Bank Group, and the Governments of Canada, Norway and the United States joined country and global health leaders today to launch the Global Financing Facility (GFF) in support of Every Woman Every Child, and announced that $12 billion in domestic and international, private and public funding has already been aligned to country-led five-year investment plans for women's, children's and adolescents' health
"The Role Of The Press In Promoting And Protecting Press Freedom In Liberia"
By Tiawan S. Gongloe
Before, proceeding any further let us bow our heads for one moment of silence to the memory of Liberian journalists who were taken away by death over the last year. Thank you! This evening, members of the press who have devoted extra time, care and commitment to their duties of in informing, educating and entertaining the Liberian people, will be recognized and honored for excellence in the performance of their duties.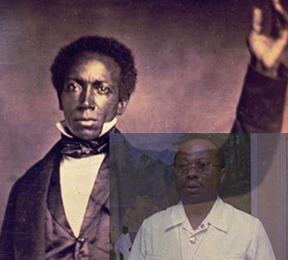 From Roye to Tolbert
The Rise and Fall of True Whig Party
Reflections on the True Whig Party of Liberia
By Theodore T. Hodge
Counselor Tiawan Gongloe writes: "One hundred and forty-six (146) years ago, in 1869, the True Whig Party, was formed against the background of the control of political power by the Republic Party from the time Liberia gain its independence up to that time. The Party was formed on the promise of making Liberia a land of liberty for all and opening the political space for the participation of all Liberians without distinction..."
The 35th Convention Of The True Whig Party- A Time For Reflection, Redemption And Renewal
By Tiawan S. Gongloe
A little over a week ago, I got a phone call from my good friend Reginald Goodridge, informing me of my selection by the Convention Committee of the True Whig Party to be the keynote speaker at its upcoming convention and he wanted to find out from me whether I would be willing to accept an invitation from the party for this purpose.  I thought for a few seconds and answered, "Yes".
Nigeria's President Opens the Door to Talks With Boko Whom? - The Daily Beast
The Nigerian government has declared it is ready to negotiate with the dreaded sect known as Boko Haram. The announcement, coming as it does so soon after a new spate of attacks by the group that has pledged allegiance to the so-called Islamic State, suggests that the recently elected government of Nigerian President Muhammadu Buhari is looking for a way out of confrontation. But there is certainly more to the story than that.
Liberia's Unfinished Port Reform Agenda
By Mohamed Lavalie
A seaport is a major strategic and economic importance to nations in which it is located. Fundamentally, it is the gateway for trade through which import and export cargos are transferred1. Liberia has four sea ports, the Freeport of Monrovia (now operated by APM Terminals Liberia), Ports of Buchanan, Greenville and Harper. The 1972 Act of legislation gives the management of all ports to the National Port Authority headed by an Executive Officer and oversight by the Board of Directors.
Youth Unemployment: The root cause of violence and civil unrest in Africa
By Martin K. N. Kollie
Africa is steadily sinking into a bottomless ditch of violence and civil unrest as a result of rising youth unemployment across the continent. Most young Africans who are employable remain hopeless due to joblessness. The high wave of illiteracy, poverty, ignorance, gullibility, and disease is even posing serious challenge to regional peace, economic stability, and political coherence in Africa.
Liberia 2014 Human Rights Report
The most serious human rights abuses were those linked to a lack of justice, judicial inefficiency, corruption, lengthy pretrial detention, denial of due process, and harsh prison conditions. Violence against women and children, including rape and domestic violence, and child labor were also serious problems.
Let Not The Legislative - Executive Fight Distract National Attention
By J. Jaye Larblah
There is an old adage in Liberia that says "when two elephants fight, the grass suffers". The grass in Liberia has suffered too much and for too long. It suffers when the two elephants are friendly, and it suffers when the two elephants get sour at each other. We take God to beg Elephant One and Elephant Two to not do this fighting.
Liberia: Bishop Simpson Still Against New Education Policy - allAfrica
The Principal of Haywood Mission School, Bishop, Dr. Leo Simpson, has questioned the credibility of the current Minister of Education, George Werner for his alleged educational reform plan called "Proposal for Change".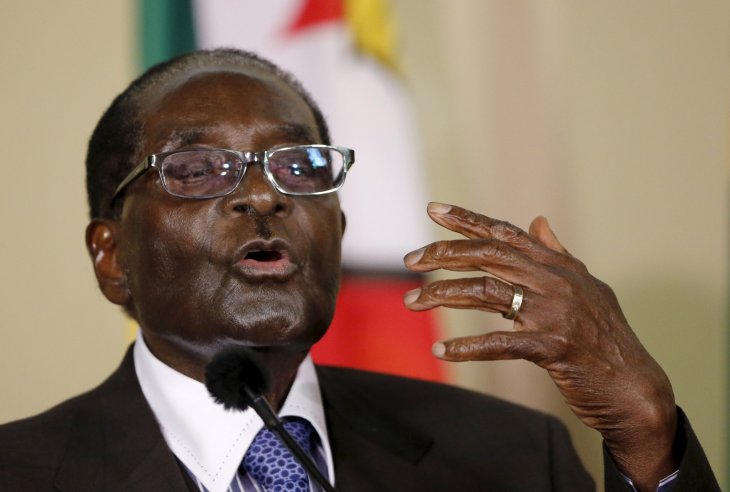 Zimbabwe's President Robert Mugabe speaks during a press briefing at the Union building in Pretoria, April 8, 2015.
REUTERS/Siphiwe Sibeko
Mugabe: 'I will propose to Obama" - Newsweek
Zimbabwean dictator Robert Mugabe has taken a bizarre swipe at US President Barack Obama following the Supreme Court's decision to legalise gay marriage across America last week, sarcastically promising to travel to Washington and ask for his hand in marriage.
Letter To President Sirleaf On The Need To Change The School Year
From Sonkarley T. Beaie
I have the honor most respectfully to thank you and Officials of your Government for ably handling the Ebola crisis, and secondly for the silence of gun sounds around the country evidenced by the relative peace since coming to power. Now that the Ebola crisis is waning and your government may be contemplating the resumption of normal operations, particularly the re-opening of schools around the country, I am pleased to seek this opportunity to appeal...
President Sirleaf
Is there Spine To Withstand The Ebola Challenge?
By J. Jaye Larblah
The United States Government has once again announced the modification of "its enhanced Ebola entry screening and monitoring program for travelers entering the United States from Liberia." This modification of the travelling restrictions on travelers from Liberia to the United States of America took effect on June 17, 2015.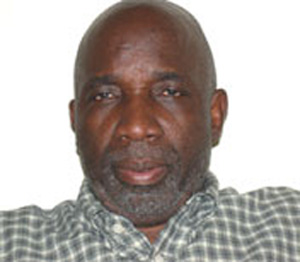 Thomas Jucontee Woewiyu
Woewiyu Breaks Silence under House Arrest
Jucontee Thomas Woewiyu was an ally of Charles Taylor, the convicted war criminal who is now languishing in a British prison. He served as defense minister of Taylor's rebel movement whose rebellion to the Doe dictatorship culminated in a 14-year long internecine war. In 2014, Woewiyu was arrested by the FBI for having allegedly lied to the U.S. immigration authorities about his active participation in the war.
Obama Honors Those We Lost In Charleston, South Carolina
Remarks by the President in Eulogy for the Honorable Reverend Clementa Pinckney
We are here today to remember a man of God who lived by faith. A man who believed in things not seen. A man who believed there were better days ahead, off in the distance. A man of service who persevered, knowing full well he would not receive all those things he was promised, because he believed his efforts would deliver a better life for those who followed.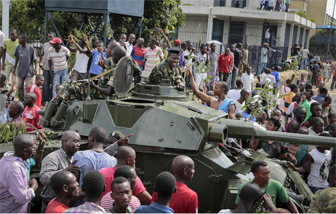 African Union Calls For Dialogue And Consensus For A Lasting Solution, Will Not Observe Burundi's Scheduled Elections
A Statement Issued By Africa Union
The Chairperson of the Commission of the African Union (AU), Dr. Nkosazana Dlamini Zuma, reiterates the AU's deep concern about the serious political and security situation obtaining in Burundi. She stresses that the stalemate in the political process and the increase in acts of violence may undermine the important gains made following the conclusion of the 2000 Arusha Agreement for Peace and Reconciliation and the 2003 Comprehensive Ceasefire Agreement
Temporary Protected Status Registration Period Extended for Liberia, Guinea, Sierra Leone
The Department of Homeland Security (DHS) is extending the initial registration deadline for Temporary Protected Status (TPS) from May 20, 2015, to Aug. 18, 2015, for eligible nationals of Liberia, Guinea, and Sierra Leone (and people without nationality who last habitually resided in one of those three countries).
Turkey's President Tayyip Erdogan's Fall From Grace
By Dr. Alon Ben-Meir
Turkish President Erdogan's May 2013 plan to raze Gezi Park in Central Istanbul and replace it with a replica 19th century Ottoman barrack prompted anti-government protests in Istanbul and other cities across Turkey, which led to violent confrontations where the police used disproportionate force.
Josephine Greaves Shannon
A Tribute to Josephine Greaves Shannon (1936-2015): Liberian Educator, Curriculum Specialist and Veteran Elementary School Teacher
By Dr. D. Elwood Dunn
A mentee to educators as diverse as A. Doris Banks Henries (1913-1981), Bertha Baker Azango (1935-2010), Mary Antoinette Brown Sherman (1926-2004), George Flamma Sherman (1913 -1999) and Jackson F. Doe (1934 -1990), the death in Raleigh, North Carolina (USA) on June 12, 2015 of Mrs. Josephine Greaves Shannon marks the shedding of yet another of the older generation of Liberian educators.
Iraq 2015: Development and Decentralization (de facto)
By Dr. Yossef Ben-Meir
Would the violent turmoil that exists in present-day Iraq be less - or even absent - had the nation undertaken decentralized reconstruction in the aftermath of the U.S. invasion in 2003? Or adopted federalism (a formalized decentralized system) in the three years following, before the upsurge in Sunni-Shia intercommunal violence?
Of the Backwardness of Grand Kru County: Where is the Big Book of the Kru People?
By James D. Torh
The backwardness of our beloved Grand Kru County, once a promising homeland in southeastern Liberia, is worrying. When in 1984 the then Kru Coast Territory and Sasstown Territory were merged to give birth to the county, it was hailed as a Kru giant that would hasten the process of modernization on the Atlantic coast.
Our Hearts are in Deep Pain with Ghanaians
By Martin K. N. Kollie
Standing with Ghanaians during these heart-aching moments and depressing hours is our compelling duty as Africans. Consoling and comforting President John Mahama and his people during this time of national mourning engenders a new sense of oneness in Africa.
Ghana destroys hundreds of homes in capital in bid to prevent floods - (Reuters)
Bulldozers razed hundreds of homes and businesses in the poor Sodom and Gomorrah neighborhood of Ghana's capital on Saturday so the authorities can start widening a lagoon to prevent a repeat of this month's deadly floods.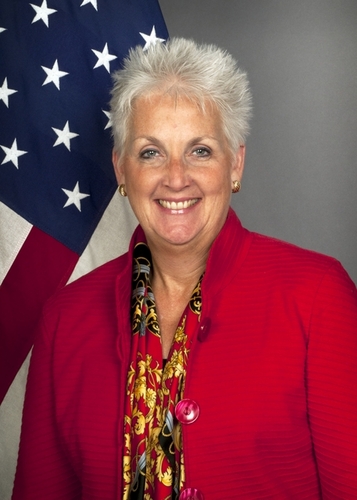 Amb. Deborah Malac
Change in Ebola Screening Procedures for Travelers from Liberia Entering the United States
Press Release From U.S. Embassy in Liberia
As of June 17, 2015, travelers arriving in the United States from Liberia will still have their temperatures taken, be asked about their health and will need to provide local contact information.
Lessons from the Ebola Crisis as UNMIL Transitions
By Martin K. N. Kollie
For more than one and the half century, Liberia as Africa's oldest independent nation has been confronted by series of competing challenges ranging from socio-economic misery to insecurity. After more than ten (10) years of uninterrupted peace, its security system remains volatile. The security climate of Liberia is still gloomy as a result of increasing public discontent and fundamental political differences.

The US Must Stop Enabling Israel
By Dr. Alon Ben-Meir
No one can deny the close, abiding, and unparalleled friendship between the United States and Israel. This tight bond has served both countries well, especially Israel, which has benefitted politically, economically, and militarily from the US's unwavering support, helping Israel to become a powerhouse second to none in the Middle East.
Women Empowerment and Girls' Education are Crucial to Genuine National Development
By Martin K. N. Kollie
It really does not matter where you are, who you are, or what you have before making impact in society, but what matters is your selfless demonstration to ensure better condition for vulnerable people. There are many citizens today living in desperate conditions who are in need of help.
Arcelor Mittal is contributing to joblessness and poverty in Liberia
By Martin K. N. Kollie
Arcelor Mittal Liberia (AML) has redundant 190 employees, amounting to 16 percent of its workforce. According to Arcelor Mittal, the action was taken due to decline in the price of iron ore on the world market.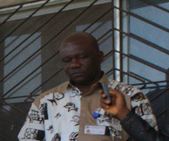 John Y. Barkemeni
SIFCA Deputy Managing Director
People of Pleebo-Sodoken District are not Hunting Kpelleh People
By Menneh Bobokadieh
On May 17, 2015, the United Nyanbo Development Association (UNDA) in Harper City had an induction program of its new corps of officers. The keynote speaker of the event was Hon. George H. Prowd, City Mayor of Harper City. In his keynote address, he revealed to the audience that Marylanders residing in Bong County were being threatened by the Kpelleh people, avenging an alleged hostile attitude toward their kinsmen who are employees of SIFCA investment in Pleebo-Sodoken Statutory District.
The Necessity Of Iraqi Sunni Independence
By Dr. Alon Ben-Meir
One of the main prerequisites to defeating ISIS in Iraq is to determine the political future of Sunni Iraqis. As long as they do not know what the future has in store for them, they have no reason to put their mind and soul into the fight against ISIS. The Sunnis are not prepared to make all the needed sacrifices only to benefit the Shiite government in Baghdad, which they reject and despise even more than ISIS
It's Time For A New Strategy
By Dr. Alon Ben-Meir
Given the impasse between Israel and the Palestinians in the peace negotiations, the formation of a new right-wing Israeli government will make it further difficult for the two sides to come to terms on their own to reach a peace agreement. Leaving them to their own devices is inherently dangerous, which explains why the Obama administration might make one last-ditch effort to resume the peace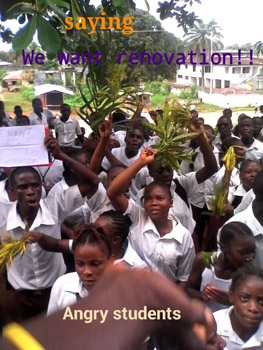 We want a building, reads a placard of the protesting students
Office of the Maryland County Development Superintendent Responds to an Editorial of The Perspective
During the last part of May of 2015, the students of Cape Palmas High School protested, desperately calling on the Maryland County authorities to have their dilapidated school building renovated. Concerned Marylanders were flabbergasted! So were we at The Perspective. We consequently carried an editorial expressing our concerns and the misgivings of Marylanders. But Secretary Thomson opts not to comment on the grievances of the students of Cape Palmas High School, he goes out of his way to credit Mr. Toe for completion of development projects that scarcely exist in Maryland County.
Liberia National Police at GVL, Butaw
- Courtesy of FPA
Expansion by Indonesia's largest palm oil company frozen for disobeying RSPO
standards
A Press Release Issued by the Forest Peoples Program
The expansion operation of Golden Agri Resources in Kalimantan, Indonesia, has been halted by the Roundtable on Sustainable Palm Oil (RSPO) for violations of the principles of the RSPO. Golden Agri Resources is the parent company of Golden Veroleum of Liberia. Now, the prevailing question is: if the expansion operation of Golden Ari Resources can be halted in Kalimantan, Indonesia, why not the expansion efforts of Golden Veroleum in Southeastern Liberia where there have been marked human rights violations meted against the indigenous people by Golden Veroleum and the Liberian Government?
Ghana Spends 70% Of Revenue On Payroll, So Is Liberia Or Greece
By J. Yanqui Zaza
The news that Ghana is spending 70% of its revenue on payroll, an economic arrangement associated with Liberia, Kenya, Greece, etc., is disturbing. PricewaterhouseCooper (PWC), a reputable Certified Public Accounting Firm, stated in its analysis of the 2014 budget that if Ghana is to become prosperous, stakeholders can't continue to spend 70% of its revenue on payroll. (www.pwc.com.gh) Isn't the financial mismanagement troubling? On the other hand, is the report of rosy economic performance by Ghana an inducement to lure Ghana to borrow more money?
Reason, Public Policy and Violence: The Case of Butaw, Sinoe County
By Bai M. Gbala, Sr
The reported events of May 26, 2015 in Butaw, Sinoe County, Southeast Liberia, "mirrors" (according to FPA) similar events that occurred in Tokadeh, Nimba County, Northeast Liberia, in July 2014, of mob violence – hostage-taking, injury to individuals, looting, destruction of properties and counting; who or what county is next and what are the root-causes of this repeated or repeating mayhem?
Liberia: 'Intimidation, Torture' in Sinoe - allAfrica
Citizens of Butaw District in Sinoe County are said to be living in fear due to the huge presence of armed police officers in the district who are reportedly bent on intimidating and harassing them.
Palmed Off - No Accountability, No Rights
Issued by the Forest Peoples Programme
The palm oil industry's bad reputation has survived the Roundtable on Sustainable Palm Oil (RSPO), which commits member companies to social and environmental sustainability. The RSPO logo certification is visible on many everyday groceries containing palm oil. However whilst RSPO boasts many of the biggest palm oil producers and buyers among its members, displacement of indigenous peoples from their lands, farms and forests is rife.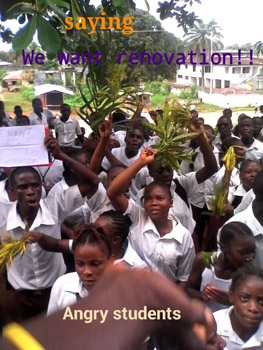 We want a building, reads a placard of the protesting students
Hold The Maryland County Legislative Caucus Accountable
Editorial
The students of Cape Palmas High School, the leading public high school in Harper, Maryland County, have been protesting - demanding a renovation of their dilapidated school building. Following the apparent eradication of the Ebola epidemic in Liberia, the Sirleaf administration announced the opening of schools in March of this year. But, when the students of the school returned to classes later this month, they found their building in ruins - much to their anger. "We want a building", reads a placard of the protesting students.
Find A Need And Fill It!
Presentation By Bartum N. Kulah, MD
Guest Speaker at the International Christian Fellowship Ministries' 2015 Diversity & Inclusion celebration
As we celebrate this Disability Sunday I ask that you all please keep my father-n-law in your prayers. He suffered a stroke 2 weeks ago and is currently at Kindred Hospital, a Long Term Acute Care facility in Atlanta.
JJ Dossen Hospital
Maryland County Health System: Millions Spent, No Development
By Menneh Bobokadieh
Since the incumbency of the Ellen Johnson-Sirleaf Government and the initiation of its Poverty Reduction Strategy (PRS) or its successor, "the Social Economic Transformation Strategy (SETS)", the GOL has made frantic efforts to lobby with its international partners to support the initiative. There is no doubt about it: the strategy gained more support in the areas of health and education reforms.
Gender Minister Taken Hostage: As Sinoe Citizens riot against Golden Veroleum - Wordpress
Demonstrators in Greenville City, Sinoe County have taken hostage several individuals including the Gender and Development Minister Julia Duncan Cassell and Deputy Internal Affairs Minister Varney Sirleaf and an Indonesian worker of the company. Sirleaf is said to be injured but was released along with minister Cassell upon the intervention of the police and UNMIL. They intervened in an attempt to bring the situation under control, but to no avail.
Man diagnosed with Lassa fever dies in US after Liberia trip -AP
A New Jersey man died Monday evening after been diagnosed with Lassa fever — a frightening infectious disease from West Africa that is rarely seen in the United States, a federal health official said.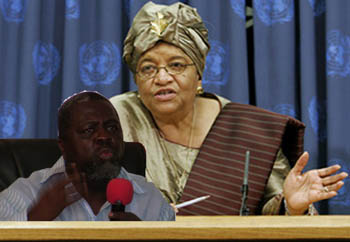 Minister Brown and President Sirleaf
Lousy Minister Brown's Sleeping Giant is Still Sleeping
By James Torh
I am not crazy about Lewis Brown, the current Minister of Information of the Ministry of Information, Cultural Affairs and Tourism. He is empty and lousy dudu bird. I had rather share a beer with Cletus Sieh or glass of red wine with Lawrence Bropleh, the past Ministers of the Ministry under this Government who he (Brown) has vilified and mocked than with Mr. Brown.
Let The Real "Idiot" Advance To Be Recognized
By Charles Russell
The then Montserrado County Senator who was elected and refused to take her seat in the senate, Ellen Johnson Sirleaf referred to President Samuel K. Doe as an "idiot." According to the free encyclopedia, the word "idiot" is defined as an "intellectually disable person or someone who acts in a self-defeating or significantly counterproductive." Her attack on the Head of State led to her imprisonment and it was through the efforts of many advocacy groups and international organizations that she was released from prison.
Liberia National Fire Service: A Crawling Eagle
By Martin K. N. Kollie
For more than one and the half century, Liberians from different backgrounds and beliefs have been severely victimized by almost every form of human and natural disaster ranging from flooding to fire outbreak. There has been series of tragic scenes and alarming occurrences of fire disaster affecting citizens and foreign nationals.
A Government Neither By Nor For The People
By Dr. Alon Ben-Meir
The political horse-trading in Israel seen over the past eight weeks, which went down to the wire to form a new government, was, in the main, a struggle over who would get what position, regardless of their qualifications and irrespective of what is best for the country.
A Hopeless Unification Day
By Martin K. N. Kollie
I woke up this morning to a sunny day wondering whether there is still hope for my homeland and its people after almost 168 years of sovereignty. Nothing could really convince me that our Nation is waking up from the ashes of extreme poverty and acute inequality. For almost 10 minutes, I could not shake my lips as I began to contemplate on our horrendous past.
The Endangered Species: Number "13" and the Krahn People
By: Bai M. Gbala, Sr.
Here we go again! It is the fate of the Endangered Species before the nation's Supreme Court, proclaims and questioning by two of the nation's newspapers – the New Democratand the new Dawn, both on May 6, 2015. The magic number is "13" and the Krahn People.
Examining Some Factors That Fuel Xenophobia
By: Paul Jeebah Albert
A group of villagers is standing by and watching drowning babies hopelessly rolling down a creek. They weep and cry but there is no solution in sight. Suddenly, an older man call a group meeting and suggests that standing down the creek and watching the dying babies will not end the cycle.
Ebola and Sanitation
By: Lekpele M. Nyamalon
Liberians are poised at the bus park, awaiting the announcement of an Ebola free nation on May 9. This is great news for the small West African Nation that found herself increasingly isolated by July through December of 2014. Liberia was one of the epicenters in the West African sub region that was badly hit by the deadly epidemic.

Anti-Semitism And Israel's Moral Imperative
By Dr. Alon Ben-Meir
Horrific outbursts against the Jews are on the rise all over Europe – exclamations like "gas the Jews" and "Jews burn best" are being heard at soccer games and similar social gatherings. While there is nothing to excuse or justify such hateful speech, some effort still needs to be made to understand why this is taking place now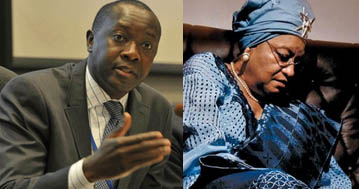 Minister Konneh and President Sirleaf
Oil, Gold, Etc., Invite Investors, And Yes, Corruption & Inequality
By J. Yanqui Zaza
Diamonds, gold, etc., resources needed for prosperity, are in abundance in Liberia, specifically, and in general, in Africa. Investors, invited or not, are in every country in Africa. Also, the "dividend trickle-down" economic system, propagated as the weapon to defeat corruption and inefficiency, is embraced by many Africans.
"Super Monsters"-In Profile: What A Thought!
By Bai M. Gbala, Sr.
We picked up a copy of the In Profile Daily forApril 28, 2015 and were greeted with a bold-faced, front-page headline in bright red, datelined Lansdowne, suburban Philadelphia, Pennsylvania, USA: "Amara Konneh (Liberia's current, Super Minister of the Super Ministry of Finance & Development Planning) foresees, Bloodbath? 'This has to stop, Minister Konneh cautioned on how the Sirleaf government expends revenue generated and warned if revenue generated is not equitably expended across the population, he foresees another April 14th Rice Riot-style incident in Liberia'"
Towards a new Global Climate Change Treaty: Liberia's contributions and challenges
By Urias S. Goll
The threats and impacts of climate change on human existence are dire and have been increasing exponentially. At the United Nations Conference on the Environment convened in 1972 in Stockholm, Sweden, the world first recognized the deleterious effects of changes in our global climate system and more interestingly, the massive changes mother earth would undergo if this menace continues unabated.
Ambassador Malac meets market women, students in River Gee County
U.S. Ambassador Malac Visits Central and Southeastern Liberia
U.S. Ambassador Deborah Malac met with hundreds of Liberian officials, university administrators, high school faculty, students and beneficiaries of U.S.-funded health, education and small business projects during a week-long road trip through Southeastern and Central Liberia.
South Africa: The Tragedy of Xenophobia
By: Lekpele M. Nyamalon
Growing up as a kid, I remember music like 'Free Nelson Mandela' I remember watching movies of the black liberation struggle in South Africa, that focused on the life story of freedom fighters, Mandela, Sisulu, Tambo then Biko and his gruesome death in prison.
Integration Is The Open Secret To Deradicalization
By Dr. Alon Ben-Meir
One of the most troubling developments resulting from the escalation of violent extremism in the Middle East is the rise in the number of Muslims from the West who are joining the ranks of jihadist groups, notably ISIS. Western governments are struggling to find out what motivates young Muslims to leave their sheltered lives...
The Executive Mansion
Renovate The Executive Mansion
By Martin K. N. Kollie
The Executive Mansion is the official home of the Liberian Presidency. It was built in 1964 under the administration of President William Vacanarat Shadrach Tubman by 2,000 workers and 150 foreign technicians. The eight-storey Executive Mansion building, which costs US$20 million, has an atomic-bomb shelter, an underground swimming pool, a private chapel, a trophy room, a cinema, an emergency power plant, water supply and sewage system, among others.
LIBERIA: The Education System Needs Transformation Not Reform
By Francis W. Nyepon
Liberia's Education System is severely imbalance in the provision and delivery of services; facility management; staff supervision; and bureaucratic control. The system has failed to generate comprehensive organizational and structural changes over the past ten years. Neglect, mismanagement and unprofessional conduct have destroyed the day-to-day function of the system, by depriving many schoolchildren of a positive learning environment and critical academic growth after almost two decades of social dislocation and brutal civil war.
"Train up a child…"
By Siahyonkron Nyanseor
The purpose of this article is to set straight the founding records of the Union of Liberian Associations in the Americas (ULAA), Inc. For our purpose, the word "children" in this verse refers to the new generation of ULAA's leaders-- Anthony V. Kesselly, Emmanuel S. Wettee, Gaye D. Sleh, Jr. among others. The founding members are...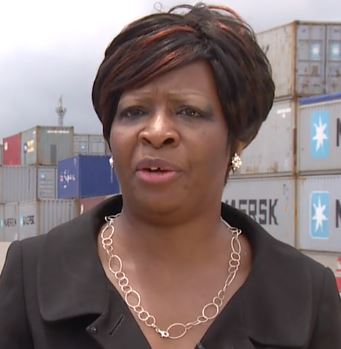 Suspended NPA Managing Director Matilda Parker
NPA Managing Director Matilda Parker, Others Suspended for Alleged Corruption
According to information reaching The Perspective, Managing Director Matilda Parker, Comptroller Pealay, and non-statutory Members of the Board of the National Port Authority have been suspended with immediate effect by President Ellen Johnson Sirleaf based on report filed by the Liberia Anti-Corruption Commission.
"Tolerance is the Only Way Forward . . ." - Nyei : A Response
By Bai M. Gbala, Sr.
After our tragedy of the civil war that introduced deadly weapons of mass destruction, mind-boggling plunder, destruction, summary executions, massacres and large-scale human suffering and death into our small country of less than 4 million; the on-going, international "trouble spots" of Muslim-Islamists atop anti-aircraft artillery preaching Islamic state, a single person-rule, sharia law of beheadings and stonings to death in a state that does not recognize women's rights;...
Open Letter To AU Chairman Robert Mugabe
From Martin K. N. Kollie
Mr. Chairman, in as much racism was condemned yesterday; xenophobia must also be condemned today. If imperialism was a bad precedence yesterday, intolerance is also a bad precedence today. Mr. Chairman, We cannot afford to live on a continent where South Africans are cutting off the necks of Nigerians..., where South Africans are burning Zimbabwean immigrants to death.
Pierre Collins
A 33-Years-Old Liberian Man Charged For Allegedly Killing His 10-Years-Old Son
By: Duannah Siryon
On March 18, 2015, Barway Edwin Collins, a 10-years-old Liberian boy, went missing after his school bus dropped him off at his Cederwood Crystal apartment complex in Minnesota. Moment before he was dropped off, little Barway was seen happily on his school bus video camera saying "there goes my dad and my uncle."
The Shortcut To Deradicalization Is The Long Road
By Dr. Alon Ben-Meir
Every Arab state, regardless of the extent to which it is involved in combating violent extremism, must recognize that there is no shortcut to defeating this scourge, and those who are looking for quick fixes are in for a rude awakening. Whereas military force is selectively necessary to destroy irredeemably ruthless and bloodthirsty organizations such as the Islamic State of Iraq and Syria (ISIS), to neutralize violent extremism in the long-term, no amount of military muscle will suffice.
People gather to listen to Zulu King
Photo: Courtesy of AFP
Xenophobia in South Africa: A Recipe for Continental Disunity
By Martin K. N. Kollie
Africa is sitting on a time-bomb that may soon explode if all of us remain reticent and reluctant about finding a permanent resolution to the ongoing hostility, cruelty, and brutality in South Africa. As Africa gradually moves towards the compass of globalization and modernization, the spirit of continental solidarity and regional harmony is becoming extinct simply because a certain group of nationals has embarked on a callous expedition of disintegration.
Police: Muslims threw Christians overboard during Med voyage — (AP)
Italy's migration crisis took on a deadly new twist Thursday as police in Sicily reported that Muslim migrants had thrown 12 Christians overboard during a recent crossing from Libya, and an aid group said another 41 were feared drowned in a separate incident.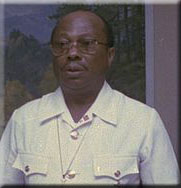 William R. Tolbert, Jr.
The Liberia National Student Union Commemorates April 14, 1979, Rice Riots
We assemble here peacefully today, in humble remembrance of the historic bravery of the masses of the people to march out of cowardice in defense of the sacred heritage of the Republic of Liberia against the prolonged, oligarchic and barbaric rule of the True Whig Party on this day in 1979. Many would ask: Why is it significant to commemorate this day? Others will wonder how this day is so relevant to the memory of the National Student Union
Superintendent Dempster Shares Insights into the Predicament of Grand Kru County
By Ray Martin Toe
Elizabeth Wright Dempster, the superintendent of Grand Kru County, visited the United States in March 2015. That may have been Mrs. Dempster's first visit since President Sirleaf appointed her superintendent of the backward southeastern county in 2011. No sooner had the superintendent arrived in the United States than a meeting with US-based Grand Kru citizens was scheduled on March 22 in Bowie, the state of Maryland.
How Supreme Court Decision Killed Two TRC Recommendations
By James W. Harris
Was commission not aware that 14.2/14.3 directly violated the Liberian Constitution? Almost six years have elapsed since the Truth and Reconciliation Commission (TRC) submitted its long-awaited final report. This was on June 30, 2009, when the commission officially presented it to the Liberian National Legislature and the highly gullible general public. Since then, nothing impressive has been done in terms of implementing fully a few key recommendations proposed by the commission.
Liberia: A Christian Nation?
By Gbe Sneh
It is currently the front running global issue – Separating politics from religion. We have the ISIS CRISIS in the Middle East, the Boko Haram and Al Shabaab, on the African Continent, and the Right-Wing Congress of the United States. Bringing religion into governance makes no sense, for very obvious reasons. The simplest reason is found in this little rant, 'Do we all go to church, let alone the SAME one'? No! Are we ALL citizens of Liberia?
Baptizing Liberia Into A "Christian Nation: Will It Do Liberia Any Good or Bad?
By: Josephus Moses Gray
This article deals with one of the most important issues that arose from the recent gathering in Gbarnga, Bong County - the proposition to amend the 1984 Constitution of the Republic, declaring Liberia, a nation with diverse religious beliefs and cultural practices, as a "Christian State".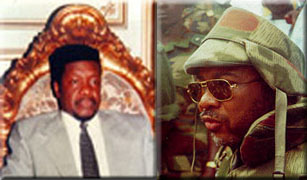 Warlords Kromah & Taylor
"Remembering April 6, 1996 . . .": Alhaji G. V. Kromah & Charles M. Taylor
By Bai M. Gbala
Indeed, Mr. James Torh "remembers April 6, 1996 in the heart of Monrovia" poignantly with Milton's poem, "No light, but rather darkness visible . . . "; we remember that day, vividly, and the men who brought it to pass in prose.
A 10 Year Old Liberian Boy Missing: Law Enforcement Pledges USD$12,000 Reward
By: Duannah Siryon
On March 18, around 4:00pm Central Standard Time, Barway Edward Collins, a 10 years old Liberian boy when missing immediately after his school bus dropped him off at his apartment complex in Crystal, Minnesota.
President Sirleaf Makes New Appointments
The Liberian leader has made new appointments in Government subject to confirmation by the Senate where applicable.
Tolerance Is The Only Way Forward For Liberia
By Moe Nyei
Europe in the 1600s recognized it regressions and unwanted division was because of religious differences- in their case, same religion in principle but different doctrines. This is what led to the Westphalia Treaty, 1618-1848. Westphalia united Europe and ironed their religious differences in a way no emperor or king was able.
Racial Reconciliation and Prosperity
Dr. Yossef Ben-Meir
Much of my professional life involves applying democratic, participatory decision-making methods in order to catalyze and bring to fruition human development initiatives. We are fortunate that these enjoy a high success rate, leading to shared socioeconomic and environmental benefits.
Remembering April 6, I996: The Enormity of Evil and Human Rights Tragedies that Consumed Monrovia
By James Torh
On April 6, 1996 in the heart of Monrovia, Liberia's capital city a bloody event unfolded. April 6, 2015 is the 19 anniversary of the so-called liberation of Monrovia from the hands of a late warlord-certain General Roosevelt Johnson by other two evil characters and warlords-Alhaji Kromah and Charles Taylor who were in cahoots...
Iran, Not ISIS, Is The Real Menace
By Alon Ben-Meir
Whereas the international focus today is on how to counter violent extremism, which is behind many of the violent conflicts sweeping the Middle East, the real destabilizing power and sponsor of terrorism in the region and beyond is Iran. Unlike violent extremists and religious fanatics such as the Islamic State (IS), which can be degraded and even destroyed, the same cannot be said about Iran.
Kenya says it destroys two al Shabaab camps in Somalia - Reuters
The Kenyan air force has destroyed two al Shabaab camps in Somalia, it said on Monday, in the first major military response since the Islamist group massacred students at a Kenyan university last week.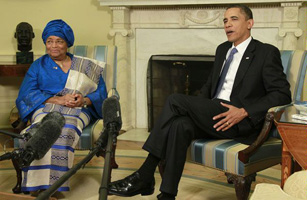 Presidents Sirleaf & Obama
Obama Talks Free Election, While Companies Steal $50b Yearly
By J. Yanqui Zaza
Nowadays, leaders, maybe because of external influence, are finding it difficult to "Take The Bull By The Horns." Or the influence of money is coercing leaders to be silent and, or focus on imaginary issues, rather than confronting the problems. In the case of President Barack Obama, he was bold with Prime Minister Benjamin Netanyahu concerning the Middle East; but said nothing about companies siphoning $50 billion from Africa yearly.
From Decentralization Plan to Deconcentration Platform
By Martin K. N. Kollie
Whenever key State actors congregate to forecast new ideas and advance public policies in an effort to promote genuine development and wide-ranging transformation in a nation, we expect them to demonstrate extraordinary devotion, sincerity and commitment to those they represent.
Nigeria's Buhari praises Jonathan for peaceful handover - Reuters
Nigerian election winner Muhammadu Buhari congratulated outgoing President Goodluck Jonathan for peacefully relinquishing power on Wednesday, a day after becoming the first politician in Nigeria's history to remove a sitting leader at the ballot box.
Liberia: 'Account for Allison's Blood' - allAfrica
"NO! Mr. Minister of Justice, this matter is not considered closed. As dutiful citizens of this Republic, we intend to demand answers to questions you have provoked. As our public servant, you are under a duty to provide credible answers. If you are not careful, this matter will define your tenure as Minister of Justice and Attorney General of the Republic of Liberia,"
Liberian Literacy Redefined
By Quiwonkpa Zuo
There are few things that bother me more than when people try to confuse knowing to read and write as being literate and not knowing how as illiterate. This uninformed assumption could not be furthest from the true meaning of the word. In this piece, I will give you a clear distinction between the two, and how it should be defined in Liberia rather than going along with the present distorted definition that is causing our beloved country so much confusion.
Liberia's sole remaining known Ebola patient dies - Reuters
A woman who was Liberia's sole remaining known Ebola patient died on Friday at a treatment center in the capital, said Francis Ketteh, acting head of the country's Ebola response team.
Boko Haram fighters told to 'kill wives' as troops take its 'HQ' - Yahoo News
Nigeria's military on Friday announced that troops had retaken the town of Gwoza from Boko Haram, from which the group declared their caliphate last year.
Ebola Vaccines Prove Safe for 600 Participants in Phase 2 Study in Liberia
The Phase 2/3 Ebola vaccine study in Liberia known as PREVAIL (Partnership for Research on Ebola Vaccines in Liberia) has achieved and exceeded its initial goal of enrolling 600 people into its Phase 2 component, the leaders of the Liberian-U.S. research team announced today. Moreover, when an independent monitoring group recently reviewed...
An Unsettling Complicity - New York Times
A generation ago, the United States supported a brutal warlord, Jonas Savimbi, in Angola's civil war. He lost. Now, because of oil interests, we have allied ourselves with the corrupt and autocratic winner, President José Eduardo dos Santos, in a way that also will also be remembered with embarrassment.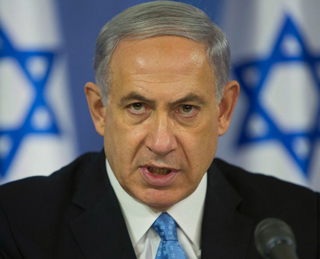 PM Benjamin Netanyahu
Likud's Victory Is Israel's Defeat
By: Dr. Alon Ben-Meir
Those of us who regularly observe and try to make sense of the madness sweeping the Middle East often find ourselves, perhaps out of desperation, engaging in wishful thinking, hoping that in the end, reason will prevail over lunacy. We analyze unfolding events, dissect patent facts, reassess our assumptions, and try to discern where we were right and where we erred, but we often find ourselves exactly where we began.
48th Chemical Brigade Assumes Command Of Operation United Assistance
By Captain Chi L. Truong
"Today's uncasing ceremony is a milestone in the history of the 48th Chemical Biological Radiological Nuclear (CBRN) Brigade since its activation at Fort Hood a little over seven years ago," Col. Sven C. Erichsen, commander of the 48th said. "This marks its first operational deployment to Liberia, in support of Operation United Assistance, the U.S. effort to help Liberia rid itself of the Ebola epidemic..."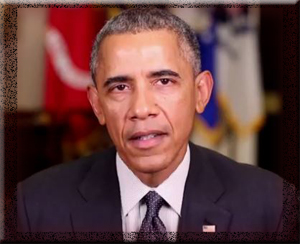 President Obama
Obama Calls For Free, Fair, Peaceful Nigerian Elections
Today, I want to speak directly to you - the people of Nigeria. Nigeria is a great nation and you can be proud of the progress you've made. Together, you won your independence, emerged from military rule, and strengthened democratic institutions. You've strived to overcome division and to turn Nigeria's diversity into a source of strength. You've worked hard to improve the lives of your families and to build the largest economy in Africa.
Happy Tears: Human Connection Leading to Human Development
By Alon Ben-Meir
We may know - perhaps even at first hand - of a gap in society whose presence causes pain for countless individuals. Here in Morocco, such a void - that of unrelenting poverty - exists, particularly in rural places (where poverty is typically most concentrated worldwide) and most of all in mountainous areas of the Kingdom.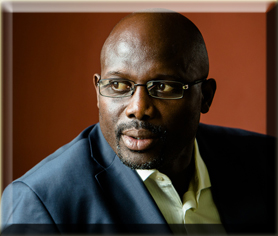 Senator George Weah
The 10 Most Powerful Men In Africa 2015 - Forbes Magazine
Against the backdrop of an Ebola outbreak ravishing the country, former football starGeorge Weah won a landslide victory in one of Liberia's most high-profile senate race elections. Weah obtained 78% of the vote for the highly contested Montserrado county seat, which included the capital city of the country, Monrovia. The former footballer-turned politician beat Robert Sirleaf, the son of President Ellen Johnson Sirleaf, who took nearly 11% of the vote. Weah's senate win is widely viewed as foundational for a second presidential run in 2017; he won the first round of the 2005 presidential election, losing the runoff to President Johnson-Sirleaf. Extremely popular with the Liberian youth, Weah is regarded as one of the greatest African players of all time; he is the only African to be named Fifa's world player of the year.
Liberia Reports First Ebola Case in Weeks - New York Times
A patient in Liberia has tested positive for the Ebola virus, health officials said Friday, more than two weeks after the last known case in the country had been discharged from the hospital.
Josiah N. Johnson
The Argument to Honor Football Legend Josiah N. Johnson
By Benedict Nyankun Wisseh
In sports, heroes are not hard to find because athletes, unlike any group of citizens, are blessed with special talents which, when put on display, often provide national joy and therapy for a country. For love of country, they perform under inconvenient and dangerous circumstances without hesitation. Therefore, when it comes to Liberian footballers, everyone who has been one is a hero and, to make that point, we always struggle to say only good things about them in life and death in our conversations. Yes, in our conversations, all of them will be our heroes that we will talk about.
Sierra Leone: President Koroma Fires Vice President - allAfrica
President Ernest Bai Koroma has sacked his vice president, Samuel Sam-Samana, after he sought asylum in the U.S. embassy in Freetown, according to a statement from the presidency. The embattled vice president sought asylum after soldiers surrounded his home over the weekend, reportedly on the orders of President Koroma.
Netanyahu Reveals His Duplicity, Demagoguery and Deceit
By Alon Ben-Meir
In a follow-up question to the statement that Prime Minister Netanyahu made during an interview with the Israeli website NRG--in which he stated that "I think that anyone who moves to establish a Palestinian state and evacuate territory, gives territory away to radical Islamist attacks against Israel"--he was asked if that meant a Palestinian state would not be established if he is reelected. Netanyahu replied, "Indeed.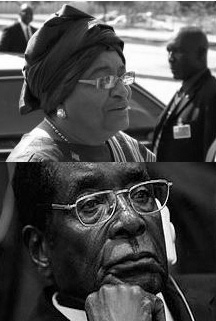 Sirleaf and Mugabe
Switzerland to return Sani Abacha 'loot' to Nigeria - BBC
Switzerland will return to Nigeria some $380m (£260m) allegedly looted by ex-military ruler Sani Abacha, an official has said. The transfer, to be conducted under the supervision of the World Bank, will end a 16-year case against the Abacha family. Switzerland has already returned $700m, following appeals from Nigeria.
Revenue: Liberia Sirleaf Versus Zimbabwe Mugabe
By: J. Yanqui Zaza
The birth of democracy 2,500 years ago was intertwined with progressive taxation, wrote David Cay Johnston in his book called "Free Lunch: How the wealthiest Americans enrich themselves at government expense 'and stick you with the Bill." Progressive taxation implies that the greater one gained economically from living in society, the greater one's duty to maintain society by paying taxes.
Gambling Is Not A Friend To Any Innovative Generation
By: Martin K. N. Kollie
Liberia stands a serious risk of embracing a dead future if nothing is done now to reclaim the attention of most Liberians, especially young people from a social syndrome that is increasingly swallowing our country. The addiction of this generation to gambling is alarming and I foresee an unfulfilled destiny if urgent measures are not taken to arrest the situation.
The Need for Counter Terrorism Strategy
By: Edwin Woryonwon Harris, Jr
The latest pronouncement made recently by the terrorist gang, Boko Harram, pledging support to the ideas and operations of the heartless and nefarious Islamic terrorist group named and styled: Islamic State in Iraq and Syria (ISIS), and the ISIS declaration of establishing a caliphate in West Africa through Boko Haram was indeed troubling.
Sierra Leone vice president requested asylum at U.S. embassy - Reuters
Sierra Leone's Vice President Samuel Sam-Sumana said he had requested asylum at the U.S. embassy in Freetown after soldiers surrounded his residence on Saturday following his expulsion from the ruling party last week.
Analysis of the President Sirleaf Annual Message
By: Alieu Haircrates Sackor
After reading Madam Sirleaf's nationwide address on the Perspective Magazine on February 12, 2015, I instantaneously decided to take few minutes of my pricey time to look through the Madam's analyses. Afterward, I categorically comprehended that her address was economically deceptive, statistically illusory, diametrically opposed to Liberia's economic reality, persuasively disjointed and logically disproportional. As a result, I then classified her as an example of contradiction and what is wrong with inconsistency and fragmented discussion.
Ethiopia's $5bn project that could turn it into Africa's water powerhouse - CNN
It's called the Grand Renaissance Dam -- and the clue is in the name. With some 8,500 laborers working around the clock on its construction, the imposingly-named dam is surely one of Africa's most ambitious infrastructure projects, reaffirming Ethiopia's ambitions of becoming a big regional player and a major exporter of power.
The Sustainable Approach to Monrovia's Plastic Bag Challenge
By: Too Edwin Freeman
The spectacle of a cityscape decked out in copious plastic waste, no doubt, conjures negative implications for tourism. The impact of clogged sewers and drainages on public health is likewise excruciatingly debilitating. It is therefore no surprise that Monrovia's former acting City Mayor, who was on a crusade to prettify the city, once referred to the city's overwhelming plastic scourge as a menace!
A Clash Between Cash And Character Among Liberian Youth
By: Martin K. N. Kollie
The young generation of Liberia is experiencing a serious integrity crisis as dishonesty increases at a high-speed in a small country still struggling to rise above poverty, ignorance and disease. The clash between moral and money in Liberia is gaining prominence very fast as most young citizens continue to chase big pockets and purses in search of survival and better living condition.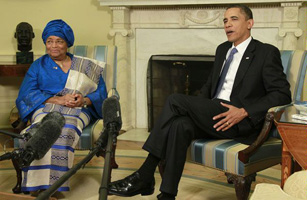 Presidents Sirleaf & Obama
Why Obama Praised Corrupt Sirleaf Of Liberia?
By: J. Yanqui Zaza
The U.S. President, Barack Obama, during a White House meeting held on February 28, 2015, did characterize President Ellen Johnson Sirleaf of Liberia as a reformist, contrary to reports, including Global Witness'. The international non-governmental Agency has and continues to accuse President Silreaf government as one of the most corrupt governments in the world. In fact, Sirleaf, calling corruption as a vampire, has admitted that she has failed to reduce corruption.
Remarks by President Obama and President Sirleaf of Liberia before Bilateral Meeting
President Obama: "President Sirleaf came into office under some of the most challenging of circumstances. After a brutal civil war, she has worked steadily to solidify democracy, to reduce corruption, to deliver basic services to a very poor country. And she's done so with grace and steadiness, and reached out to all the people of Liberia."
Liberia's WASH Crisis: Impact of Water, Sanitation & Hygiene
By: Francis W. Nyepon
The lack of safe water, adequate sanitation and proper hygiene has a severe and burdensome impact on the daily lives of Liberians. Nearly 4 million Liberians are ruthlessly affected by these challenges each day with staggering impact on the economy and environment. The lack of safe water, adequate sanitation and proper hygiene is causing a crisis in our country. But, Liberia's water, sanitation and hygiene, WASH crisis is not due to scarcity. It is due exclusively to the lack of access, effective public policy, political will and determination.
Chadian president vows to 'wipe out' Boko Haram - AFP
Chadian President Idriss Deby on Wednesday vowed to "wipe out" Boko Haram and called on the group's chief Abubakar Shekau to give himself up, warning that he knew where the militant leader was hiding.
Failures by 3 governments preceded homeless man's death - AP
Mistakes and miscommunication by three governments on three continents over nearly 20 years led to a homeless man known as "Africa" being on Los Angeles' Skid Row, where he was shot by police after authorities say he became combative and appeared to reach for an officer's weapon.
Nigeria stalls Chad, aims to beat Boko Haram before election - Reuters
When battle-hardened Chadian troops overran a Boko Haram camp in northern Nigeria last week, they wanted to press deep into territory controlled by the Islamist group but Nigeria refused to let them
Dual Citizenship And Article 27(b) Are Two Separate Issues
By: Mathu H. Gibson
Liberians are finally debating the issue of citizenship, and this is a good thing.In fact it is a debate that is long overdue, and the outcome could have either a positive or negative impact on the country. Therefore seizing upon the proper nuances and commonalityof this issue, and making changes incrementally may be the best approach to resolving the issue...
LIBERIA: One Million Schoolchildren Live in Poverty
By: Francis Nyepon
The plight of a million schoolchildren living in poverty will reach a watershed moment as school across Liberia reopens this week after a state of emergency closed all schools last July in response to the Ebola outbreak, which killed over 4000 Liberians. Many will be returning to school without readiness skills that will severely impact each school day...
U.S. Seeks to Deport Bosnians Over War Crimes - New York Times
Immigration officials are moving to deport at least 150 Bosnians living in the United States who they believe took part in war crimes and "ethnic cleansing" during the bitter conflict that raged in the former Yugoslavia in the 1990s.
When Liberians Become Desperate for Economic Change: Is Slavery An Option?
By: Martin K. N. Kollie
I could not stop laughing my guts out from what I heard few months ago. As Liberians anxiously trooped their way in huge quantity to play Diversity Visa (DV) nationwide, one of the applicants who is a Liberian said he would prefer going to America as a SLAVE than to live in his own country. Another citizen said he is willing to walk in the street naked if only he is given an assurance to obtain a US visa. These are the funniest, but most serious and embarrassing remarks I have ever heard since last year.
Liberia has burned the furniture to warm the house - Global Witness
When Liberian President Ellen Johnson Sirleaf meets her US counterpart Barack Obama in Washington today, the ongoing Ebola response will be top of the agenda. As the country struggles to get its economy back on track, investigations by Global Witness reveal that the government has sold off valuable oil assets in what appears to be a very bad deal for Liberia.
You can loot our Resources, but you cannot loot our Right to Education – A Caveat to GoL to Reopen UL
By: Martin K. N. Kollie
The government of Liberia through its Ministry of Education authorized all schools to resume regular academic activities on February 16, 2015. As a result of this nationwide directive, primary, secondary, tertiary as well as vocational institutions have began regular classes while the fate of over thirty thousand students remains in uncertainty.
Whoops! The Department of Justice Admits That It Misunderstood U.S. Citizenship Law - Huffington Post
We all know that immigration law is complicated. We all know that human beings make mistakes. What we don't expect is that our government can't figure out who its own citizens are. But time and time again, the government disappoints. The latest culprit is the Department of Justice (DOJ), which employs the most powerful attorneys in the country.
On the Irony of Poverty in Abundance: The True State of the Masses
By: Ivor S. Moore
The true state of the nation in terms of the economic welfare of the masses can be indisputably summed up as a people living the irony of having abundance in resources but sadly floundering in the cesspool of poverty. This Grain Coast of West Africa, changed to Liberia by freed slaves under the euphemism of pioneers or settlers from the United States of America, with its suitable climate, its vast tropical rain forest and rich soil...
Analyzing the Economic Impact of Liberia's Dual Currency Policy, A View From the Low-Level Square-table
By: Wonderr Koryenen Freeman
On February 23rd at the Monrovia City Hall, some of Liberia's most well-known political and economic elites got together to talk about a perennial economic problem – Liberia's dual currency policy. It was a "high-level" roundtable, so I wasn't invited.
Alex Tyler
The Tragic End of Michael Allison: Tears and Ashes for Liberia
By: James Torh
The front and back lead pages of a photo in last week's edition of our local dailies, spiked my blood pressure, made my stomach turn and sets my teeth on edge. I was depressed and could barely stand to read those papers. The sight and scene of that poor man lying on the beach like a sacrificial lamb seemed like a symbol of our inhumanity and banality of evil in our land.
Every Fire Starts with a Spark
By: Joe Bartuah
The recent death, in Monrovia, of Counselor Michael Allison is not only alarming, but also portends danger for all peace-loving Liberians, due to relevant circumstances preceding his suspicious death. Allison had been identified as a whistleblower in an ongoing corruption investigation by the Liberia Anti-Corruption Commission (LACC) involving Mr. Alex Tyler, the Speaker of the House of Representatives and another lawmaker, who was reportedly acting on Tyler's behest.
Liberians rejoice as Ebola curfew is lifted - AFP
It is the early hours of the morning and bars in the Liberian capital are packed as revellers drink, sing and rejoice in their first night of freedom with the Ebola curfew lifted.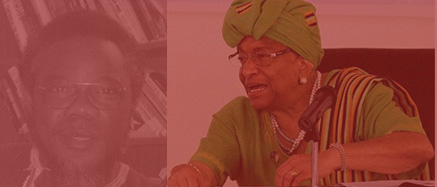 Theodore Hodge and President Sirleaf
Lessons for President Sirleaf and Cabinet: How to Build a Nation
By: Theodore Hodge
"There are books to teach you how to build a house, how to repair engines, how to write a book. But I have not seen a book on how to build a nation…" That is how Lee Kuan Yew begins his seminal work titled, "From Third World to First: The Singapore Story: 1965-2000". Though the former Prime Minister of Singapore, the father of his nation, states the contrarian view, his seminal book turns out to be such a book: How to Build a Country.
Ruckus On The House Floor & Issues In Liberia's Evolving Democracy
By: Emmanuel Wru-Pour Cooper
It is expected that legislatures or parliaments all over the world should persuasively debate issues of national concerns with passion and in accordance with parliamentary procedures. The recent ruckus on the House's floor of the Liberian Legislature goes beyond the bounds of how legislative bodies function. This commentary revisits the incident on the House's floor of the Liberian Legislature.
The Reincarnation of Police Brutality in Liberia
By: Martin K. N. Kollie
It is becoming very difficult to distinguish between the National Police Force of former President Charles Taylor and President Ellen Johnson Sirleaf as police brutality against unarmed civilians rises day after day in a country still striving to consolidate peace, maintain security, and promote genuine reconciliation. The LNP, ERU, and PSU under the Unity Party led government are gradually wearing the 'malicious iron jacket' of the defunct SOD and walking in the dark shadows of the infamous ATU.
Ebola: Back to school, but is it safe? - IRIN
More than two million pupils in Liberia and Sierra Leone are heading back to school after a six-month shutdown caused by the Ebola outbreak. Authorities have taken steps to prevent further transmissions but conditions in both countries leave room for concern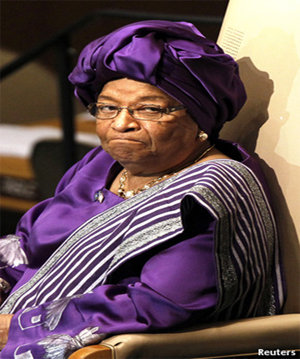 Ellen Johnson Sirleaf
Succession Of Regimes On Trial: Sirleaf Under The Spotlight
By: Ivor S. Moore
A bystander perching on the extreme end of the stage of history would not be disposed to disagree to the assertion that the regime of President Ellen Johnson-Sirleaf is on its greatest trial especially during this second term. More so, he or she will hold that this trial has reached its apex as the recent handling of the outbreak of the Ebola Virus Disease (EVD), the callousness of the regime to attend to the worsening plights of the Liberian people, and other issues have drawn many spectators
The Cape To Cape Coastal Highway: Calling On New Congress to Introduce and Pass a Bill
By: Gbe Sneh
So much has been written about this top-tier piece of infrastructure, a highway connecting Grand Cape Mount County to Cape Palmas. It will run thru nine of our fifteen counties – Grand Cape Mount, Bomi, Montserrado, Margibi, Grand Bassa, Rivercess, Sinoe, Grand Kru, and Maryland. Continue, and you drive into Cote D'Ivore!
A Big Blow To The Fight Against Corruption In Liberia
By: Martin K. N. Kollie
The mystifying death of Cllr. Michael N. Allison is horrifying and scaring for our emerging democracy after going through a dark era of vindictiveness, cruelty, butchery and despotic execution of innocent lives. His sudden demise is creating serious apprehension among Liberians far and near. I have been pondering over this atrocious incident since its occurrence and I am yet to unknot my skepticism about this untimely loss.
Experimentation vs. Exploitation: Is Liberia A Garbage Garage?
By: Martin K. N. Kollie
The rights of our people are again violated and trampled upon through a well organized scheme of international conspiracy. The high-rate of illiteracy, ignorance, and gullibility in our society has been taken advantage off once more. We know what is unfolding behind the scenes. Our people have been overlooked and humiliated again due to acute deprivation and destitution.
Liberia To Seek Recovery Of Its Stolen Millions In Swiss Banks & Related Others? : Unlikely, Because . . .
By: Bai M. Gbala, Sr.
In all of the secret wheeling and dealing on a national/international level during our tragedy of the civil war in which secret movement of cash - a lot of cash – was involved and in demand for secret, safe-keeping, banks, especially, Swiss banks and related others, notoriously known for secrecy, were the major choices of Liberian crooks/criminals and their friendly international crooks/criminals, the individuals and organizations who were the major actors/players in and during our historic nightmare.
President Sirleaf's Annual Address to the Nation Revisited
By: Theodore T. Hodge
After reading President Ellen Johnson Sirleaf's annual address to the nation, I issued a scathing critique. I painstakingly pointed out the falsities of her claims, mainly on the subjects of Health and Education, two subjects to which she claims her administration attaches great priority. I challenged her on the grounds that she deliberately painted a rosy picture, giving the impression that conditions in the country are not that bad off under her able leadership.
A Military of Infancy: Does Liberia Really Have An Army?
By Martin K. N. Kollie
History has taught us never to forget about our fallen heroes and heroines whose compassionate contribution to mankind is incredibly distinct. Whenever we fail to pay courtesy to deserving statesmen and outstanding global actors who are worthy of public admiration, we pierce our own consciences with sharp instruments of ingratitude and immodesty.
Piecemeal Change to an illegitimate Constitution is wrong!
By: Tibelrosa Summoh Tarponweh
In her January 26, 2015, State of the nation address, President Ellen Johnson Sirleaf called on the legislature to pass a "Dual Citizen" bill into law which she intends to send to that body shortly. The bill if approved would effectively replace Article 28 of the constitution. Its resolution however may not be a sole legislative prerogative since voters should have a say via referendum.
"JUILIJUAH" And A Requiem For Bomi Hills
By: James Thomas-Queh
"Juilijuah", Bomi County (previously Bomi Hills), is the private farm of the current Liberian leader, and which is fast becoming the newest de facto seat of our Government. The first annual Cabinet and SoEs sterile retreats (if not an official dedication of the farm) were held here in pomp and pageantry (20/01/15). I saw the sumptuous images (paved streets, neat lawn, well trimmed palm trees, large palaver huts, electricity, running water, etc) of what was once a dead town, probably.
Youth Demonstration Is Underway In Pleebo-Sodoken District, Maryland County
Hundreds of youths from the Maryland County Youth Organization are staging a demonstration against the practices of SIFCA in the county. Paramount among the demands is the separation of the administrative structure and offices of Maryland Oil Palm Plantations (MOPP) from those of Cavalla Rubber Corporation (CRC).
PREZ SIRLEAF SAYS: LIBERIA OWES USD $759M , AFTER $4.7B DEBT
By J. Yanqui Zaza
When a country's economic policy is based on "get rich quick" mentality, it is difficult to institute sustainable economic rules and regulations, even if prior violation of those same rules and regulations had resulted into unwarranted results. How should a leadership change that mindset is Liberia's conundrum.
Repairing Liberia's Broken Healthcare Delivery System
By Francis W. Nyepon
This article presents a practical approach to fixing Liberia's broken healthcare delivery system. It offers realistic approaches to deal with the meltdown of the system during the Ebola crisis by offering alternatives to rebuild the system. Since the advent of Ebola, the attention of Liberians and the world has dramatically increase...
Sharpening Contradictions, Exposing Falsehoods, Revealing Lies and Uprooting Deceits
By Martin K. N. Kollie
The primary intent of democracy is to maintain national stability and sustain a proactive framework of mutual existence and tolerance through freedom, equality, and justice. Under this system of governance, all power is inherent in the people and they have an exclusive authority to decide their own destiny.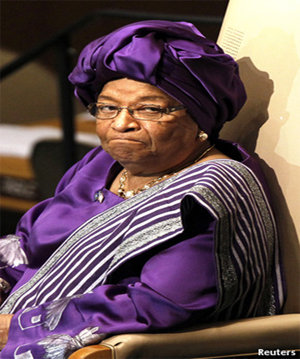 Ellen Johnson Sirleaf
A Commentary on the President's Annual Message
By Theodore T. Hodge
On January 26, 2015, President Ellen Johnson Sirleaf addressed the Liberian nation yet again for the purpose of delivering her annual speech. After offering grand salutations to her "honorable" friends and colleagues --- Honorable This, Honorable That, Honorable Mumble, Honorable Jumble, Honorable Blah, Blah, Blah --- she looked right into the glaring camera and spoke these words into the open microphones: "…our nation has remained strong…"
Politics Of The Belly: A Reason For Liberia's Under–Development
By Abraham M. Keita, VI
In Liberia, many Liberians enter politics or political contestations and activism because they seek wealth. The term "POLITIC" in the Liberian setting now means, "personal satisfaction" or "wealth", "business" and "belly struggle". Politics is different in Liberia. Since the foundation of this nation – Liberia, those who referred to themselves or claimed to be politicians have always said that their Political Goal is the general interests of the masses.
West Africa turns into dumping ground for e-waste - (CIO)
As measures by countries in East and Southern Africa to prevent the dumping of e-waste take effect, West Africa has become a destination for old computers, mobile devices and components.
Enough of this Nonsense – A Call to Crush Rape and Rapists
By Martin K. N. Kollie
On December 23, 2014, Africa's first female president, Madam Ellen Johnson Sirleaf, presented Christmas gifts to the perpetrators of rapes in Liberia in the form of "Presidential Clemency". Yes, she freed them without thinking of the repercussions. Within less than a month, a 49 years old Musa Kanneh allegedly raped a 12 years old child to death. The Redemption Hospital rejected the girl when she was taken there for medical attention. The female President is perhaps waiting for another Christmas to release this alleged perpetrator, if he will even be prosecuted.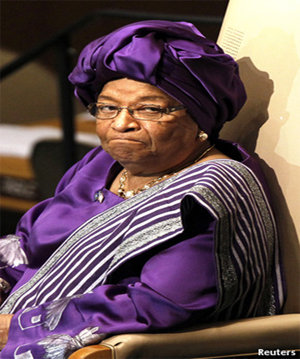 Ellen Johnson Sirleaf
President Sirleaf Annual Message To The 53rd Legislature
We assemble here today in compliance with Article 58 of the Constitution which mandates the President on the fourth working Monday in January of each year, to present the Administration's Legislative Program and report to the Legislature on the State of the Republic covering the economic condition including expenditure and income.
Development- A Process, Not An Event
By Tiawan S. Gongloe
Although, most often, events or incidents are described as development, such as when something happens and people refer to it as development. However, when it comes to the transformation of a community, country or changing how people live in a community, development refers to a process of changing the conditions under which people live.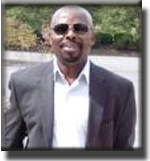 Bartholomew Doe Toe Sr.
Oct. 29, 1962 - Jan. 14, 2015
Tribute To Dr. Bartholomew Doe Toe Sr.
Dr. Bartholomew Doe Toe Sr. First came to the United States from Liberia in Sept. 1993, when his brother Francis Wreh sent for him to improve his standard of living. Dr. Toe left his pregnant wife, Agnes Toe (pregnant with Mahwoti Toe) and two toddlers and a 6 year old back in Liberia. Those toddlers were Liana, and Bartholomew Toe Jr. and six year old Dekonti Toe. Liana was 2 years old and Bartholomew Toe Jr. was almost a year old.
A Marriage Between Promise and Pretense: Cabinet Retreat without Action Is Worthless
By Martin K. N. Kollie
Retreat for cabinet members and heads of public agencies is a regular phenomenon in almost many countries. During this time, key stakeholders within the Executive Branch of government meet to review government's overall performance with specific focus on sectorial successes and challenges. In addition, forecasting of achievable development targets and operational goals is done.
Liberia: Gender Ministry Reports 554 Rape Cases in 2014 - allAfrica
The Ministry of Gender, Children and Social Protection has reported a total of 554 rape cases in the country in 2014. Montserrado County accounts for 428 cases, while the other 14 counties account for 126 cases during the period under review.
U.S. $1.2M Bribery Fees: World Bank & Global Witness Are Silent!
By J. Yanqui Zaza
The hottest news in Liberia, after the Ebola crisis and the recent senatorial elections, is, once again, corruption. This time, lower-paid employees such as police officers are not involved. Rather, they are well-paid Liberian lawmakers who sought additional payment that is beyond the legal form of bribery (i.e., consultancy fees paid to elected officials to increase investors' profits).
After The December 20 Elections, Back To "Business As Usual"
By Bai M. Gbala, Sr.
While some well-meaning, law-abiding, patriotic Liberians are wishing, hoping and postulating a Moral Revolution - change, transformation, or reform - in political thought and practice, beginning at and on Capitol Hill, the Nation's seat of Law- and Policy-making, after the hotly-debated issue of whether or not to hold the just-ended elections, we are back to and in business.
Front view of an open Indian Crematorium used to cremate Ebola victims in a Residential community
Ebola Aftermath in Liberia:Health, Psychological, and Environmental Implications for the Resident of Boys Town
By:Tibelrosa Summoh Tarponweh
Necessity, says an adage, is always the good mother of invention. This aged-old proverb seems to be holding true in the wake of the continuing fight to find a cure for, and to eradicate the Ebola virus.
"Two Ivorian Soldiers Killed At Border . . .",Ivorians Accuse Liberia
A Commentary By Bai M. Gbala, Sr.
According to the New Democrat newspaper some six months ago (New Democrat, June 13, 2014), the UN Security Council predicted that there will be "more cross border attacks between Liberia and the Ivory Coast before the 2015 (presidential) elections" in La Cote d'Ivoire. That prediction was and is based, apparently, on the reality of the prevailing anger and discontent, the result of a decade of deadly rivalry between the northern Moslems and southern Christians for socio-economic, political and ethnic/tribal superiority an control of the nation.
Travel Warning Advising Against Non-essential Travel To Liberia Amended
On August 7, 2014 the U.S. Department of State issued a Travel Warning advising against non-essential travel to Liberia. After review of health conditions, the U.S. Department of State ordered the departure of family members residing with Embassy staff in Monrovia. The Embassy recommended this action out of an abundance of caution following the determination that there was a lack of options for routine health care services at major medical facilities due to the Ebola outbreak.
Let There Be Moral Resolution On Capitol Hill Instead Of Cashing In At The Expense Of Hapless Liberians
By James Torh
It was truly a wonder and utterly mesmerized and the press picked it up and utterly did not escape its Argus eyes on Monday January 12, 2015 on Capitol Hill when the newly elected Senators were inducted into office to serve the people of Liberia for the next nine years.
Neither a Jubilee - Nor a Decade of Sustainability…A Reflection of Our Beloved Liberia
By Artemus W. Gaye, PhD
On December 24, 2014, Africa oldest independent nation, Liberia marked the 25th anniversary (barely noticed or observed) of the bloody Liberian civil mayhem, culminating in death and destruction of nearly 250 thousand lives, more than a million displaced, and over a billion dollars in infrastructural damages.
Man wanted in 2010 on charges of child rape in New York caught in Britain after he first fled to Africa and began leading one of Liberia's largest public hospitals - Daily Mail
After his $10,000 bail was posted, Bowen fled to his native Liberia, where he was administrator of a government hospital.

Liberian Doctor wanted for raping a child in the U.S. will be allowed to stay in Britain after judge rules extradition will breach his human rights because he faces a lengthy jail term - Daily Mail
A fugitive foreign doctor accused of child rape in the U.S. has been allowed to stay in Britain - in case the Americans lock him up for too long.
A Witness To Pres. Doe's Last Major Public Appearance
By Gardea Varney Woodson
Few months ago, I documented my admiration for my fellow journalists who have detailed and consistently chronicled their experiences of the civil war in Liberia. And my promise was to attempt to wear similar shoes, but not as big as theirs. So, I visited Arthington and came up with: In Search of Charles Taylor's Mother. Now, my second article is my experience at covering President Samuel Kanyon Doe's final and major public appearance at the Executive Mansion (EM).
Ebola and African Solidarity: Ivory Coast Has a Short Memory
By Abdoulaye W. Dukulé
The United Nations adopted a resolution [last year], calling on countries of the West African sub-region to put an end to the isolation which they have imposed on nations affected by the Ebola virus. Currently, to get medicines and aid to the affected countries, United Nations and the United States which will deploy 3,000 soldiers and medics in Liberia have to use airports in Ghana and Spain. Because despite assurances from everyone, including WHO and other, Côte d'Ivoire refuses to opening of its borders...
We are denying ourselves the opportunity for change in Liberia
By Charles Russell
The mid-term senatorial election is over and winners are rejoicing while losers are yet to figure out why they fought a losing battle. I am not surprised with the results that surfaced because, many of the defeated senators had alienated themselves from the voters after got elected, seeking instant gratification and therefore, not making any significant contributions in the lives of the electorates. The voters began to cry out loud at the reckless and corrupt behaviors of elected officials and they played deaf, dumb and blind.
The 10th Year Syndrome: A Curse On Liberian Presidents
By James Thomas-Queh
In a reflection dated March 2014, I first mentioned the effect of the "10th Year Syndrome" which, in my view, has been the detonator overthrowing all our presidents since William R. Tolbert, jr (1971-1980). But mind you, when this idea was being crystallized (nothing empirical, I beg) , I did not foresee the Ebola virus in the equation, but only the other endemic socio-political viruses embedded into the DNA of this government (corruption, rampant unemployment, impunity, bad governance, incompetence, etc). So, now that the Ebola horror has cut the wings off our current regime in its 9th year, this paper is meant mainly for the attention of the aspirant political leaders of the post-Sirleaf era.
Who Is Jucontee Thomas Woewiyu?
By J. Jaye Larblah
For some time now, I have been following your publications concerning key national issues in Liberia. The most recent of such publications is the quoted letter of caution said to have been written by Mr. Jucontee Thomas Woewiyu to the incoming members of the upper house of the Country's first branch of government on Capitol Hill.
Rethinking Liberia's Healthcare Delivery System
By Francis W. Nyepon
The Ebola outbreak showed how vulnerable Liberia's Healthcare Delivery System is. It proved how the health of the vast majority of Liberians remains in jeopardy, with many still suffering from diseases that are relatively simple to prevent or treat. The virus also proved the urgent need for a modern healthcare delivery system. It confirmed the challenges face by the Healthcare System, which makes it near impossible to impact the lives of ordinary Liberians in a meaningful way.
Varney Sherman (R), Tom Woewiyu (L)
The Election of a New President Pro Tempore: Woewiyu Cautions Senators against "Wolves in Sheep's Clothing"
By Our Philadelphia Correspondent
Mr. Jucontee Thomas Woewiyu, the former President Pro Tempore of the Liberian Senate during the Taylor administration, cautions newly elected members of the Senate to be wary of "wolves in sheep's clothing." In a congratulatory note to the new senators, Mr. Woewiyu lauds the conduct of the recent mid-term senatorial election in Liberia, but he is deeply concerned about who becomes the new President Pro Tempore.
A Strong Case for Government to Subsidize Private and Public Institutions
By Martin K. N. Kollie
Liberia as Africa's oldest independent nation is yet to rise above the devastating manacles of poverty, ignorance, and disease. The country has been through series of unpleasant incidents. Even though this sovereign state is greatly endowed with abundant human and natural resources, but these resources have not made any substantive impact in terms of economic growth, political development, and social refinement. The status of Liberia amongst comity of nations in Africa and the World is not only humiliating, but very embarrassing.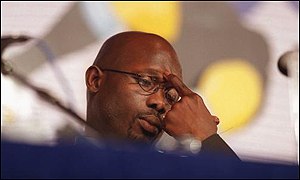 George Manneh Weah
Post Mortem on Liberia's 2014 Election and Implications for 2017 – the CDC factor
By Atty. Wonderr Koryenen Freeman
Alright, the 2014 election is over and by we all know who stands where – if we did not know before then. But even as the election is now history, it is important to ponder on its results, impact and implications for 2017. This of course is not to discount the certainty of uncertainty in predicting any future event.
Senator: Liberia Is Safe for Travel - Roll Call
Sen. Chris Coons, D-Del., used his 4-day trip to Ebola-stricken Liberia to emphasize it is a safe place to travel - and additional investment may be needed to keep it that way."By my coming, I was hoping to demonstrate it was safe; that it is possible to come and engage in Liberia," said Coons, who is the first member of Congress to visit the country since the disease spread across West Africa earlier this year.
Commander Dominic Ongwen Of Uganda's Lord's Resistance Army Is Reportedly in Custody
A commander of the rebel group the Lord's Resistance Army (LRA) has been taken into custody by US military forces, according to news reports. The US State Department indicated that a man who identified himself as Dominic Ongwen, the commander, had surrendered to US military personnel in the Central African Republic.
In Liberia: A Disgraceful Government
By George Fahnbulleh
"The further a society drifts from the truth, the more it will hate those who speak it" ~ George Orwell. I read with the utmost amount of shame and disgust, the recent 17 (seventeen) page missive, by a national security operative of the Government of Liberia, Grant Solomon, against the former Justice Minister of Liberia, Christiana Tah. Three months after Madame Tah resigned from the Sirleaf government, the government is still undertaking an intense effort to discredit her. To me, it is evident the President and her National Security Team feel the need to impeach her credibility, to preempt and discredit anything she may say about her time in government.
DECENTRALIZATION: "Rationalization, Sensitization . . . Matrix of Decentralization" - Ministry of Internal Affairs: Some Thoughts.
By Bai M. Gbala, Sr.
Throughout the 167-year history of our nation, administrative, economic and political power had been and is rigidly centralized, controlled and dispensed from the Republic of Monrovia, Montserrado County, preserved under the doctrine of the Unitary System. This System was duly passed into law and enshrined in our Constitution, the Nation's organic law. Also, the 167-year history was, and is, characterized by dissent, protests, up-risings and sporadic armed hostilities, due to iron-fisted, dictatorial rule by the very few - political tyranny, systematic denial of human dignity, freedom, justice, equality and basic, civil liberties that led, inevitably, to and climaxed by the April 12, 1980 Event.
President Sirleaf's New Year Message
Today, as we Liberians across this great resilient nation gather with our family and loved ones, I want to wish you a happy and healthy New Year. New Year is always a hopeful moment. As we look back at the end of a very difficult 2014, we do so with the knowledge that we have the capacity and the commitment to each other to reach out for a better and brighter Liberia. The people of Liberia have made great personal sacrifices in the fight against this Ebola virus disease. As a result of our sacrifices, the numbers of Ebola cases have declined considerably.